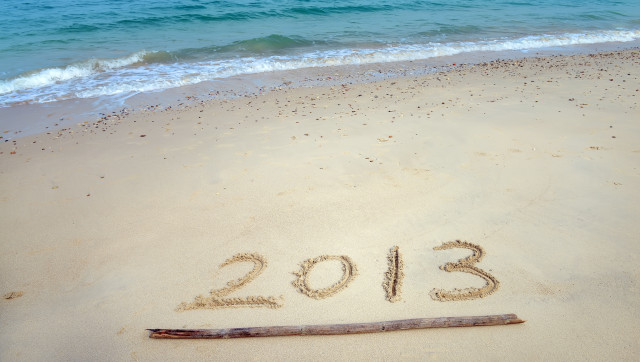 "It's New Year's again. Do you think we can get it right this year?" asks Oprah Winfrey.
And if you have a hangover today, well -- in the words of my late pro drinking brother, Bobby: "Celebrating on New Year's Eve is just for amateurs."
****
I am thinking of the world's young women today and want to print here one of the greatest pieces of advice for young female wannabes in this difficult world, the ones longing for love and romance.
And, of all people, this advice comes from someone I don't know but who I admire -- Lady Gaga. She is a creative life force and she has succeeded beyond her wildest dreams. Gaga says this:
"Some women choose to follow men, and some women choose to follow their dreams. If you're wondering which way to go, remember that your career will never wake up and tell you that it doesn't love you anymore."
****
Taking one's mind off what's right behind us and ignoring what is laying before us, this might be a day for recollection and tranquility. And, surprise.
I pick up what's on the coffee table right before me and lo and behold, it is a beautiful book by the Hearst company's ace Debra Shriver. It is titled In the Spirit of New Orleans.
This is a beauty, celebrating what makes the Crescent City so special from its fascinating past history to its rich musical legacy and its enduring traditions. Debra includes an insider's list that features the bars and restaurants and other things you should not miss in the Big Easy.
I have two famous friends in New Orleans -- the witty portrait painter Peter Rogers and food writer and political expert Julia Reed. I always imagine them together, lifting a cocktail in some exotic place or other and strolling down Bourbon Street. Now I will have Deb Shriver strolling with them in my imagination.
Deb writes: "This is possibly the least American town in the country. Most of America is a giant strip mall. New Orleans gives you a glorious past. There are 300 new restaurants since Katrina. Across race and class, they seem to realize that they are all in show business and they play their parts admirably."
This beautiful book is published by the remarkable Assouline Publishing.
So, now I will let you enjoy the first day of 2013. The world didn't end. You are here.
And I will try not to belabor you with too much advice as we all face the New Year together.