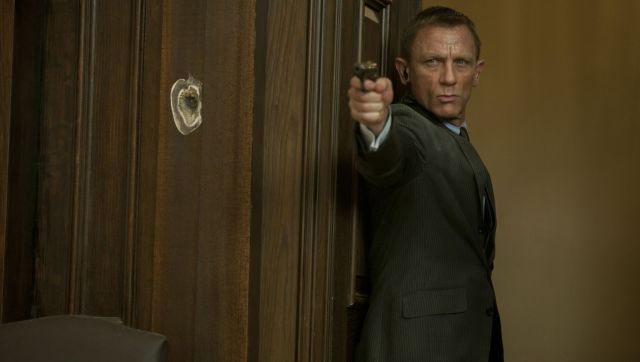 "YOU CAN take Hollywood for granted like I did, or you can dismiss it with the contempt we reserve for what we don't understand. It can be understood too, but only dimly, in flashes. Not half a dozen men have ever been able to keep the whole equation of pictures in their heads," wrote F. Scott Fitzgerald in The Last Tycoon.
SPEAKING OF Hollywood, what is being understood right now -- and not at all dimly -- is the expected gargantuan box office of the new James Bond movie, Skyfall. Overseas it has already taken in just under $300 million dollars.

Sometimes the foreign take is misleading, but Sony feels Skyfall will not fall in the U.S., as it has already out-grossed the two previous Daniel Craig 007 epics -- Casino Royale and Quantum of Solace.

Skyfall opens on Friday. After Hurricane Sandy and the elections, we all need some good healthy sex, violence, speeding cars, snappy tuxes and dangerous women.
AND SPEAKING of F. Scott Fitzgerald, the other night on TCM, I caught the 1974 version of Fitzgerald's The Great Gatsby with Robert Redford and Mia Farrow. It was a huge flop then, and I wondered if time had been kind to it, as often happens with unpopular films down the road. (Everything is "re-evaluated.")

Nope! The movie is as hilariously bad and wretchedly miscast as I recall. I have to say, however, it is hypnotic, and Theoni Aldredges' Oscar-winning costumes are ravishing. I stayed right to the end. Giggling. Mr. Redford and Miss Farrow went on to better things. As did Sam Waterston and Bruce Dern. Karen Black went on just as she was in The Great Gatsby and for that, cult film fans are eternally grateful.

P.S. Perhaps the coming remake of Gatsby with Leonardo DiCaprio and Carey Mulligan will be less laugh-inducing.
Boy! Oh, Boy! Swifty's restaurant in the '70s on Lexington was churning and burning the other eve. There was the Queen of all she deigns to survey, the incredible Suzy who has kept her jaundiced wit on what passes for "café society" these many years.

Add also those "girls of the year," Blaine and Cornelia Guest, still gorgeous. Then I glimpsed Arthur Loeb who before the Internet, gave up the lovely Madison Avenue bookstore, which everybody who can read and hold a bound book, still misses. Add to this his niece, Daniella Chiara, lit agent Mimi Strong, fashion's fave Ellin Saltzman and onetime Saks 5th Avenue mover shaker Helen O'Hagan who now dwells half time in Charleston. (Like Rhett Butler -- remember?)

Swifty's hosts, Blaine and Robert Caravaggi, were both on hand, savoring the fact that they had no empty tables and turning away the hordes who want to get the two lobsters-for-one-plus-dinner-and-a-bottle of wine winner every night. But it is only given on Sundays -- sorry!
THE HEARST Corp. soldiers on without Helen Gurley Brown. And, looking ahead -- the new attractive Joanna Coles will join "100 NYC Fun Fearless Females" to the sexiest power lunch in town at Michael's media café on Nov. 12 at noon! You weren't invited? Well, you can start reading Joanna Coles' Cosmopolitan magazine and soon, you'll probably find yourself included.
SAD: The very last song Whitney Houston ever recorded will be included on a coming greatest hits album. It is titled, "Never Give Up." And the terrible thing is, despite her many issues, the great star hadn't given up. She died while bathing, readying herself for Clive Davis' pre-Grammy party and looking forward to the release of her new film, Sparkle. Self-destructive? Yes. Ready to toss it in, no.
TYPICAL: Five months after crashing her Porsche into the rear-ended of another car, Lindsay Lohan will be charged with lying to the L.A. cops about the incident. She is still on probation from that "accidental" jewelry heist in Hollywood, sooooo... if the Lifetime network is lucky, when Lohan's Liz and Dick movie premieres later this month, their star might be behind bars. La Publicite!
CONDOLENCES to the divine Brooke Shields on the death of her mother, Teri, who passed away after a long bout with Alzheimer's. She was one of the most controversial stage moms ever, allowing Brooke to be photographed provocatively and to in appear in daring films such as Pretty Baby and Blue Lagoon. But the relationship between mother and daughter, remained close, if sometimes edgy. (Eventually Brooke "fired" Teri as her manager.) But essentially, to paraphrase Brooke's famous Calvin Klein motto, nothing came between Brooke and her mother.
I KEEP telling you but nobody listens. The New York Daily News, perhaps emboldened by the Daily Beast's constant reminder that "royalty" sells, has again put Prince Albert and Princess Charlene of Monaco in the "royals" column.

These two attractive souls were recently at the 30th anniversary of his mother, actress Grace Kelly's charity at the Caravaggi.

But, they are not "royals" as stated. They are, at the very best -- just Serene Highnesses, because their Principality, sitting between France and Italy, has been only going for a few years historically.

We like attractive well-born people so much here in the rustic Colonies, that we constantly hype them beyond what might be called -- their station!
"I'm very happy!" That's what Heidi Klum says about her impending divorce from the singer Seal and her current romance with her bodyguard. Isn't that great? For those of you today who are unhappy (you know who you are!) just think of Heidi. Because now that it's over -- I hope -- we have to get back to thinking about people like Heidi. Back to, uh -- "real" life?