Farmers working in rain-fed agricultural systems notice when the rains are late. Standing in unexpectedly dry fields in 42 degrees Celsius heat in early November, this is just one of many variables for Zambian smallholder farmer Veronica Banda to manage.
Veronica has a lot on her mind. Using labour-intensive conservation agriculture techniques, she is maximising production on her two hectares of land. Her crops include ground nuts, maize, rice and cowpea. She also keeps chickens, and has several bee hives. Veronica is a senior lead farmer, and as such is responsible for helping others in her farmer group to correctly adopt conservation agriculture techniques and improve productivity. Away from her work on the farm, she provides for her own children and several others in her extended family.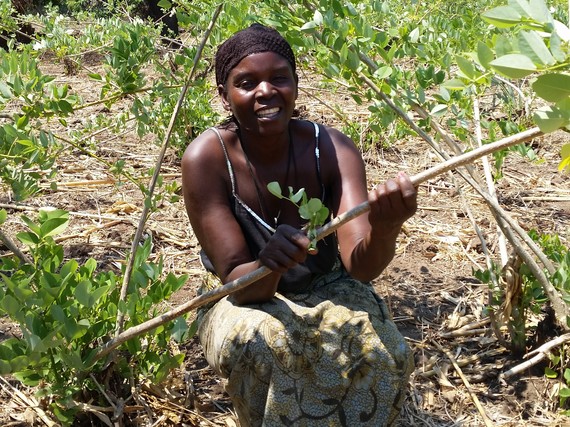 Nevertheless Veronica is eager to show how much her life and that of her family has improved in recent years. She lists acquisitions as a result of her increased income: a metal roof, television, radio, and a bicycle. Most significantly she has become a landlord, receiving rent from another piece of land she was able to purchase.
Veronica receives a higher than market price for her agricultural products. This premium comes from her relationship with COMACO, a social enterprise that has developed and markets 'IT'S WILD!', a special brand of high-quality, organic, value-added food products. Originally motivated by a wish to preserve fragile ecosystems in Zambia's Luangwa Valley, COMACO's founder Dale Lewis soon realised that his goals were aligned with - and dependent on - tackling hunger and poverty in poor and vulnerable local communities. COMACO has created a new market for small-scale farmers, thereby offering an alternative to making illegal charcoal or poaching bush meat and ivory, as well as a financially-rewarding introduction to farming techniques that preserve and improve local land.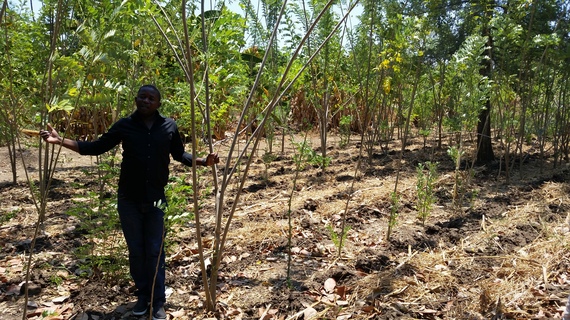 In 2011, Africa spent $35billion on food imports. A World Bank report in 2013 indicated that Africa's farmers and agribusinesses could create a trillion-dollar food market by 2030. Sub-Saharan Africa is the only region in the world where the rural population is rising, and even with increased migration to the cities, a growing number of people - especially women and young people - will continue to live in the countryside. These and other conditions show that there is huge potential for agribusiness growth and development in sub-Saharan Africa.
Yet for companies like COMACO who see and want to be part of this opportunity, the path to success and scale is not easy. They often lack the knowledge, finance, technology and markets to realise their goals.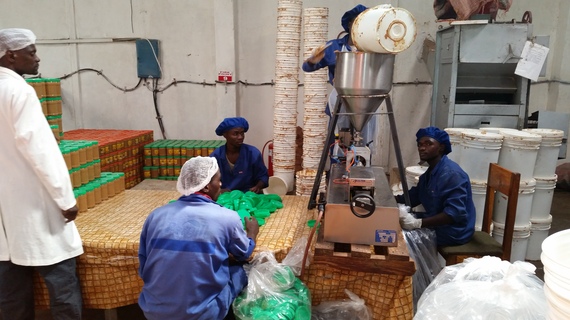 In COMACO's case, a partnership with Partners in Food Solutions (PFS) has delivered support on several fronts. PFS links the technical and business expertise of volunteer employees from General Mills, Cargill, Royal DSM and Bühler to small and growing food processors and millers. Working closely with and through the local offices of their partner TechnoServe, PFS volunteers have helped COMACO troubleshoot issues from improving processing efficiency, designing packaging, branding and executing marketing strategies.
Another PFS client in Zambia is Sylva Food Solutions, a company that works with rural women to aggregate, process and sell vegetables. Sylvia Banda, founder and Managing Director, is so convinced of the need to increase agribusiness knowledge that she has partnered with international NGOs to teach entrepreneurship to her women farmer suppliers. Separately she has also founded Sylva University, a training college where courses are developed according to the needs of the local food technology and processing industries.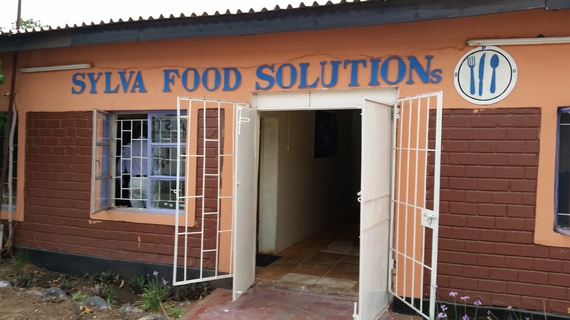 On the outskirts of Lusaka, Mohamed Salim Dawoodje, CEO of Savanna Streams Ltd, has worked with PFS to optimise his company's fish feed formulation. PFS expert volunteer advice has helped him get the production price down, and enhance the feed with more nutritious locally-available ingredients. Despite having a successful integrated fish fingerling business, he speaks compellingly about the challenges of fast-changing local and regional market conditions. He has worked hard to continuously improve his products, and also keep the business diversified to mitigate risk.
These PFS-linked agribusinesses are all led by dynamic and highly-driven people. Given the particularly tough challenges that agribusinesses face in many parts of Africa - economic, political, structural, as well as biophysical - they need to be. The risk of failure is a constant presence. However, for those who are willing to take on the daunting risk-return ratios, the social, as well as financial, rewards of success are sweet.
PFS and other entities do vital work to improve access to knowledge, finance, technology and markets, for agribusiness SMEs in Africa. Yet there is an urgent need to do more. Only with more support and investment in all these aspects of the business ecosystem in countries such as Zambia will agribusinesses thrive and reach their full economic and developmental potential. Veronica Banda and the over 100,000 other farmers that COMACO work with are already growing their incomes. But there are millions more small-scale farmers across the African continent that have yet to see increased choices and opportunities to improve their lives.