A Most Violent Year
A Film Review by Dr. Lloyd Sederer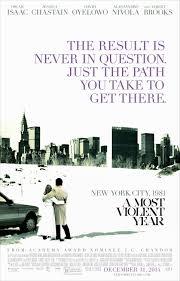 In 1981, there were 1,841 homicides in New York City. The rate proceeded to escalate to a record high of 2,245 in 1991. In 2013, there were 333 people murdered in New York City, a remarkable drop even from the 417 deaths of the previous year.
The lawlessness of New York in 1981 is the subject of Participant Media's Company With a Conscience, year-end release of A Most Violent Year, as well as one man's effort to find a way past the violence that threatens to ruin him, his family, and his life's work.
The film opens with Abel Morales (forcibly portrayed by Oscar Isaac) running full tilt in gym clothes through wintry New York streets. The movement continues with trucks, boats and cars and we listen in to a radio report of the news of three cops shot. His blond mobster daughter's wife (a street-wise Jessica Chastain), driving a Mercedes and always smoking, counterpoints Morales coloring, background and conscience.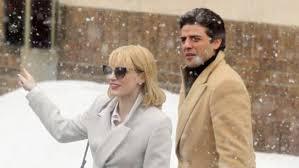 But they are in it together, trying to leave their pasts behind and enter, with their children, the world of rectitude and the upper middle class. It's an all-American tale of confronting seemingly inescapable adversity and revealing true character within.
Morales has built a successful oil distribution company in the city, and is about to close on a property deal that will position him well above his competitors. He has put down a small fortune, his entire fortune, as deposit and has 30 days to close or he loses it all. The noose begins to tighten: his trucks are being hijacked and his drivers beaten by competitors whose principal tactic is violence. The family's troubles then burgeon when an ambitious District Attorney (David Oyelowo) tells Morales he is about to slap him with a 14-count indictment for illegal business practices. His bank which was to supply the balance of the money for the property abandons him. Caught in an ironic vise of lawlessness and the law, Morales, despite the counsel of the Teamsters' boss and his wife, wants to find a way out, a way through to his future that repudiates violence, more or less.
That's the moral tale and journey constructed by JC Chandor, who wrote and directed this film. Chandor has range (recently, All Is Lost and Margin Call). Here he uses a bleak New York landscape to accent the cold indifference of evil. Chandor is unsparing in how he disrobes the cloak of respectability worn by so many of his characters. There is no escape for some, victims in a Darwinian world where raw power seems to rule. Yet, for some another way is possible, but not easy to achieve.
I was reminded of the great, early book by Geoffrey Canada (Fist, Stick, Knife, Gun, 1995), a memoir of growing up amidst violence and a sociological study (and cautionary tale) of how violence begets greater violence. There are other ways than following the advice offered Eliot Ness by his beat cop mentor in The Untouchables: "They pull a knife, you pull a gun. They send one of yours to the hospital, you send one of theirs to the morgue."
Each Participant Media film is accompanied by a social action campaign. An organization or movement whose values and activities resonate with the film is highlighted and assisted in achieving on its mission. Courage needs fellow travelers. For A Most Violent Year Participant has chosen Cure Violence, formerly Cease Fire) -- which approaches violence as a public health problem that can be controlled with a scientific approach, as has been done with other "epidemics" like cholera or tuberculosis, or like with common injuries and accidents.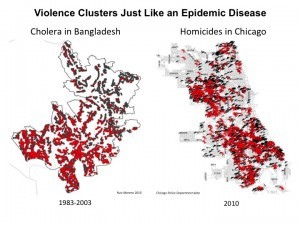 Whether you see the film for its story, character depictions, New York habitat, or message -- or all of the above -- remember that since 1981 things have changed. Brutal social problems can be tackled. Safety and fairness can stand a chance. One person, one community, one city at a time.
=========
Dr. Sederer's book for families who have a member with a mental illness is The Family Guide to Mental Health Care (Foreword by Glenn Close).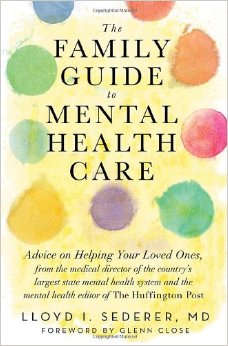 Dr. Sederer is a psychiatrist and public health physician. The views expressed here are entirely his own. He takes no support from any pharmaceutical or device company.