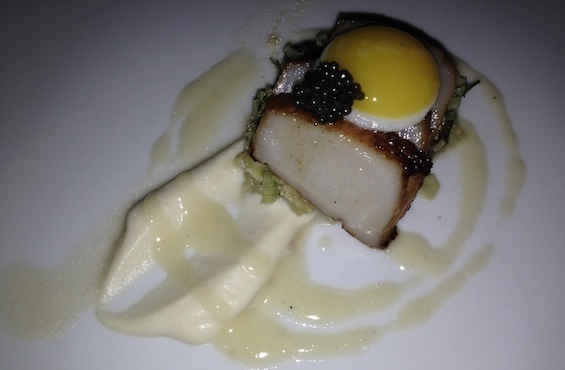 On a recent trip to Portland, Oregon, my daughter and I ate dinner at The Heathman Restaurant. From the roasted figs with smoked feta cheese to the scallops with quail egg and cauliflower, this was a meal in which every course was full of fresh flavors and unexpected, delightful combinations. Most surprising, my daughter was able to have a vegetarian version of each delicious dish.
Because we're still talking about that meal, I wrote to Executive Chef Michael Stanton to gush a little and find out more. Here's what he had to say, along with a special recipe.
Lois Alter Mark: Portland is such a foodie city. Why do you think that is, and how does that impact your menu?
Michael Stanton: It's about the passion of the people and the bounty that we have available to us. With the amazing products we get from the Pacific Northwest, we're able to buy the freshest in season product available for our ever-updating menu.
LAM: I love that, according to the Heathman website, your philosophy is "organic." Those fresh, vivid flavors are apparent in every delicious dish of yours. Tell us what organic means to you, and why it's so important.
MS: I believe that the best flavors come from procuring the best products possible and keeping the integrity of those ingredients on our plates, authentically showcasing their truest expression.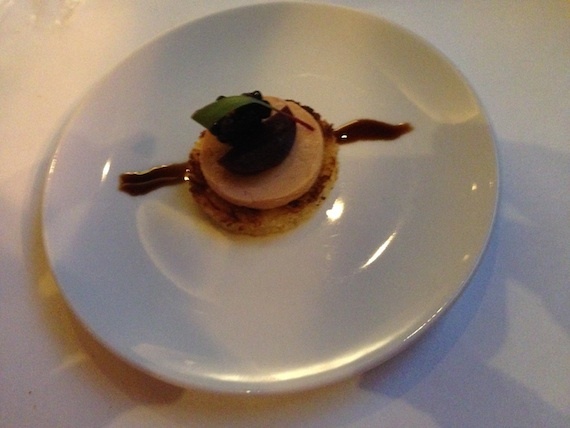 LAM: What are some of your favorite local ingredients to use? Are there ingredients that you weren't able to get as easily when you worked in other parts of the country?
MS: Salmon, salmon, salmon! Coming from the East Coast originally, as well as spending years living in the Southwest, I had never experienced the quality of the wild salmon that we have available here. Of course, I'm also excited by the seasonal aspect of produce we wait for - peas, berries, melons, mushrooms, and huckleberries, to name a few.
LAM: Have you changed your approach to cooking at all since being in Portland?
MS: No. My approach has always been that cooking should be simple, fresh and clean. I combine classic French training with the bounty of local ingredients to showcase this approach in my dishes.
LAM: As you know, my daughter is a vegetarian and she is still talking about the fact that you made her the best meal of her life (that's a direct quote). How have people's eating habits changed what you cook? And how were you able to pretty much replicate my meat and fish-filled meal vegetarian-style?
MS: Our customers' eating habits are always at the forefront of what we do on a daily basis. We continually look at new ways of doing things to fulfill and elevate expectations.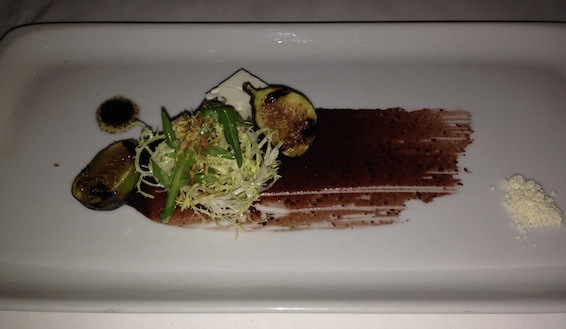 As for the replication of meat dishes for vegetarians, we think of the meats as a form of protein, and we look closely at what we would do with these proteins. For example, smoking firm tofu prior to seasoning and pan roasting yields a similar characteristic to a scallop. Similarly, marinating and grilling a large meaty mushroom such as a king oyster or portabello, gives you a similar texture to a delicate piece of meat. From there, you can build the remaining components of a dish.
LAM: How often do you change your menu? How do you decide what to include?
MS: We change the menu quite often for different reasons. Sometimes the season has finished and the seasonal ingredient is no longer available, or a new season has begun and we've received beautiful produce. Other times dishes just don't evolve well or we want to do something new for our diners.
LAM: What are some of the most popular dishes on your menu? What's your personal favorite?
MS: Our menu changes often, but I will usually go with a braised dish at any given time. Today, that would be the pork shank. The next most popular will usually be the newest thing we put on the menu. Today, that would be our newly reworked Bouillabaisse. It's a fisherman's stew, still made from a classic recipe of fresh fish bones and saffron, but finished with a house made roasted tomato paste with saffron and yuzu koshu. It makes for a nice contrast of flavors while keeping with the fresh simple seafood stew for our diners.
LAM: When people talk about your food, how would you like to hear them describe it?
MS: Well-balanced with clean, bold flavors.
Speaking of which, enjoy this special dish from Chef Michael Stanton.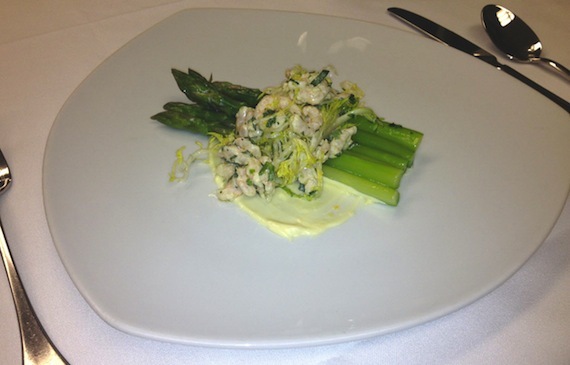 Asparagus and Bay Shrimp Salad with Lemon Aioli
Serves 4.
20 ea Asparagus - Medium, peeled and blanched
8 oz Bay Shrimp
1 head Frisée
1 Tbl Celery - fine diced
1 Tbl shallot - Fine dice
1 sprig Parsley - chopped
2 Tbl Extra Virgin Olive Oil
2 Tbl lemon Aioli
¼ cup Pasturized Egg Yolks
1 Tbl Dijon Mustard
1 Tbl Lemon Zest
Juice of 1 Lemon
1 ½ cup Blended Olive oil 75/25
Pinch of Salt
Method:
1. Asparagus
• Trim Peel and blanch Asparagus in salted boiling water for 3 minutes until cooked with a slight bite, shock in ice water pat dry and set aside
2. Lemon Aioli
• In a food processor combine the egg yolks, Dijon mustard and pulse, Add lemon juice and pulse. With the blade running slowly drizzle in the olive oil until a mayonnaise consistency. Add lemon zest, season to taste.
3. Bay Shrimp
• Add celery, shallots, herbs, lemon aioli and olive oil and gently blend together.
Plating:
On your choice of plate place a dollop of aioli in the center making a circle with a spoon.
Toss the cooked asparagus with olive oil and salt and pepper and place 5 each in the center of the plate.
In a small bowl combine the frisée and the bay shrimp salad and mix. Place two ounces of the salad over the asparagus.
Enjoy!