My favorite gifts to give - and get - are books. If you're a reader, I don't think there's anything more personal, thoughtful and meaningful than a book someone picked out especially for you.
So, when my friend Pamela Lear wrote a post last April about World Book Night - What?! An annual event where Givers all over the globe hand out a total of half a million free books to people?! Really?! Where had I been?? - all my senses went on high alert and I immediately applied to become a Giver. Seriously, this was a job I was born to do.
I was thrilled when I heard I had been accepted and I pored over the list of books that were available. I tried to approach this strategically. I could give out Salvage the Bones or Mudbound - books that should be on everyone's reading list. I could give out bestsellers by John Grisham or Nora Roberts - books that would appeal to a mass audience. I made this a much more difficult process than it needed to be, but I ultimately chose Tina Fey's Bossypants, figuring it was a good combination of both. It was a smart read by someone loved by pretty much everyone.
Because everything is more fun when my mom, a.k.a. The Cute Tomato, is involved, I asked her if she wanted to give out books with me and she not only agreed enthusiastically but suggested we give them out at Mira Costa College where we could reach a young, diverse audience and maybe even encourage some reluctant readers. My mother is brilliant.
I was so excited to pick up my box of books from Brenda Wegener, branch manager of the Carmel Valley public library. Inside were 20 special World Book Night editions of Bossypants, plus a couple of stickers for my mom and me to wear, a lovely thank you certificate (Are you kidding me? Thank YOU, World Book Night organizers!) and letters to include with the books, asking recipients to share their thoughts after they finish reading.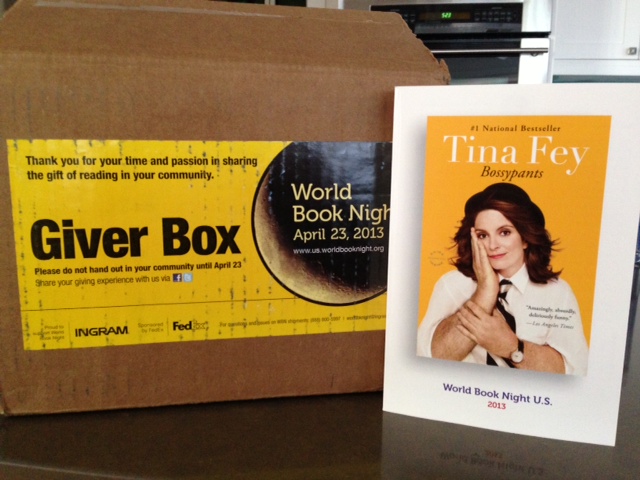 April 23 was the big day and, in signature style, I decided that morning it would be great to make t-shirts with the iron-on transfers Giver Adam Frey had generously shared on the World Book Night Facebook page. I headed over to my parents' house because, even though I had the transfer paper, they had the ink-jet printer. I picked up a piece of oak tag along the way so we could make a poster as well.
My mother, who is a pro at just going with the flow, quickly grabbed a white t-shirt from my dad's drawer and started ironing. She also nonchalantly pulled out 20 World Book Night bookmarks she had printed out from their website, and started drawing a border around the text-only poster I had quickly created. ("It was a little plain," she pointed out.)
We Tweeted that we were on our way, and by the time we arrived at Mira Costa College, Dr. Nikki Schaper and her wonderful team had set up a table for us outside the Student Activities Center, where we set up the books. As I was taping our sign, I suddenly heard my mother calling out, "Tina Fey's book is here. Who wants a free book?" as if she were hawking hot dogs at a carnival. Apparently, this was a job she was born to do, too.
Students cautiously walked by, interested but wary. One girl said, "I'm sorry, I don't have any cash with me." Another asked, "What do I have to sign up for?" They couldn't believe there were no strings attached!
Every time we finally convinced a student the book was totally free, their face would light up, they would tell us how much they loved Tina Fey, and they would thank us profusely. This happened time and time again. Tina Fey, your ears should have been ringing.
A couple of students told us they had already read Bossypants, and, after studying the choices on our t-shirts, informed us they wished we had been giving out Fahrenheit 451 instead.
Within a couple of minutes, professors and faculty members joined us, saying they'd heard we were giving out free books. We had great conversations, met fantastic people and had our faith restored in the future of reading. Although we tried to drag it out, the books were gone in about 15 minutes and we, sadly, had to disappoint some people.
People asked if we were coming back next year, and requested we bring more books. It was a really special experience, and one that revealed the power of actual, paper books. Giving out e-books would not have had the same impact.
If you're interested in participating next year, sign up now for the World Book Night newsletter. Although the recipients of the books may feel differently, being a Giver will prove to you that it really is better to give than to receive.