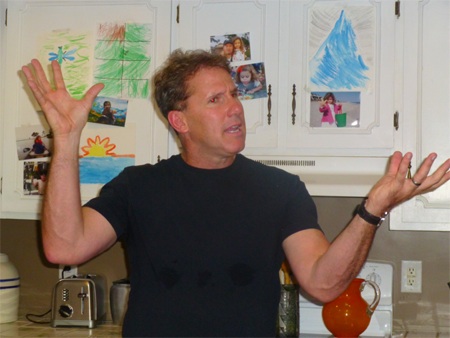 Last summer, I was invited to visit the set of Safe Haven, the movie based on Nicholas Sparks' bestselling novel. I flew to beautiful Southport, North Carolina, where I got to meet the author along with stars Julianne Hough and Josh Duhamel.
I really enjoyed talking to the prolific Nicholas Sparks, who has written 16 novels, all of which have been New York Times bestsellers. His first book, The Notebook, is especially beloved and defines a genre, which has become Sparks' signature. Safe Haven is the eighth of his books to be turned into a movie, and it opens, appropriately, on Valentine's Day. Here's what he had to say about it:
You've had so many stand-out characters over the years. How would you define a Nicholas Sparks character?
A Nicholas Sparks character -- unless it's a specifically bad character -- is someone you feel could be your brother, your sister, your kids, your neighbor, your friend from high school. Someone you know and like. You don't want to create a character that's perfect because the simple fact is that nobody walks around being perfect. They have to have flaws. And yet, most of my characters are created with my own worldview, which is that 80 percent of the people try to do the right thing 80 percent of the time. They try to do what's best for their kids. They try to support their friends and family. I tend to see the glass half-full when it comes to humanity. A Nicholas Sparks character would be the glass half-full type of person.
Your writing appeals to readers who are grandmothers as well as those who are teenagers. How do you manage to do that?
It's always a challenge but the age of the characters is the first thing I decide on when writing a novel. I try to vary it from book to book because most people like to read about people they relate to, right? The Last Song was about teenagers so I though I'd do 20s for Safe Haven. But, then I said, "Oh, my gosh, where are my middle-aged people?" So, here comes The Best of Me characters in their 40s and 50s. But everyone wants to enjoy the books, so, in my teenage story, I also make it a father-daughter story. And in my 40- and 50-year-old story, they had a love story as teenagers. Believe me, all of that is done purposefully to keep everybody happy.

It seems like you have your writing down to a science. Is that how you turn out this amazing work at such a rapid-fire pace? Are you just always thinking ahead to the next project?
No, I only have one project at a time. When I sit down to write -- and it's not every day, but when I actually sit down to write -- it's 2,000 words. You have to have a goal because you're on your own. There's no boss. You've got to have some measuring stick that's a reasonable number. Any more than that, I find, and the writing gets poor. Anything less than that, and I lose the pacing of the novel. So, how many days is that? Well, let's say it takes me 150,000 words to get the 100,000 I'm going to keep, and I'm editing as I go, taking out a paragraph here and there. That's 75 days of writing. And that gives me time to produce films, do Broadway, do my foundation, write my television shows, all that other stuff, write other screenplays.
This book is definitely a little darker than your other novels. Did you make a conscious shift to go more violent, suspenseful?
I have to make a lot of decisions while creating one of my novels, but I always know it's going to be a love story, right? We all know that. It's love and something. You can have love and mystery, love and forgiveness, love and loss, first love... This was love and danger. I chose love and danger because it'd been a long time since I'd done that one. I did it with The Guardian, which was about a stalker-type danger. A woman goes out on a date one time with a guy, and he will not go away. The guy is psychotic and nuts. That was stranger danger. I look back, say, "Okay. Now, I can do it. It's been a long time. It was never a movie. No one's familiar with it. No one will even remember The Guardian. It'll feel similar but I will make it different."
It's perfect that Safe Haven is being released on Valentine's Day! How does your expertise with love stories translate to your life off the page? Are you just the most romantic man on the planet?
You know, I get asked that question a lot. My wife would say I am a romantic man. And I know this because she has said it in interviews before.
Can you give us an example of something romantic that you have done?

Ha! Sure. Every year for our anniversary, I write my wife a love letter and it takes me four days or so to get the words perfect. I type it up first. And then after I have it all typed, I handwrite it. It recaps the year, the ups and downs and points out that through it all, she's the only one for me. Some women find that romantic. And they're really well-written letters, by the way. I work really hard on them.