We all crave that sweet serendipity of being in the right place at the right time: When the Northern Lights are most likely to dance; when that sleepy scruff-bucket town transforms for its once-a-year fabulous fiesta; or when a mass mob of whales gathers at the nearby reef. That's why our book, The Best Place to be Today, exists -- to help zoom in on precise dates or periods to ensure the very best experiences, be they wildlife migrations, active escapades, raucous festivals or cultural showstoppers. Each month we'll pick two of these timely experiences right from the book and share them here.
If you want to find out the best place to be on any day of the year--today, tomorrow, your birthday or wedding anniversary--check out our interactive calendar.
This month, we're taking you to surf the world's longest waves off Australia's Gold Coast.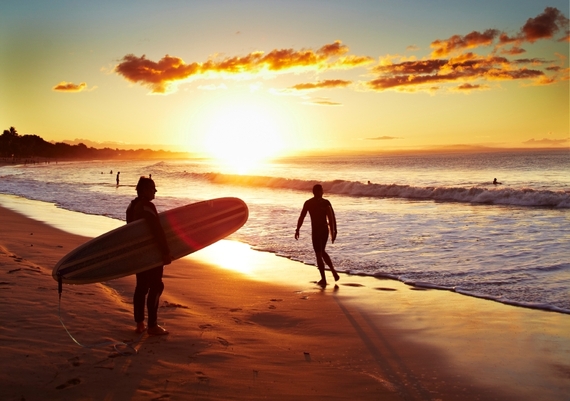 Surf the Superbank

Why now
In cyclone season, incoming storms see super-big swells line up

Where
Gold Coast, Queensland, Australia

Dates
January to April

Until a few decades ago, there was no such place as Superbank, the great white sandbar off Queensland's Gold Coast that's now home to the world's longest waves and barrels. In 1999 a 'sand bypass' project aimed to move northerly flowing sand past the mouth of the Tweed River and on to the Gold Coast. Instead it resulted in the creation of Superbank - all praise to failed bureaucracy! - which stretches in a ruler-straight line from Snapper Rocks to Kirra, with summer cyclone swells creating tubes as long as an oil pipeline. Indeed, Superbank - which is located at Tweed Heads, just north of the New South Wales-Queensland border - is so good at this time of year that you'll even find a handful of surfers still riding their fortune at night. The waters are always packed, but don't fret - there are waves enough here for everyone.
Excerpted from The Best Place to be Today, 365 things to do and the perfect day to do them.