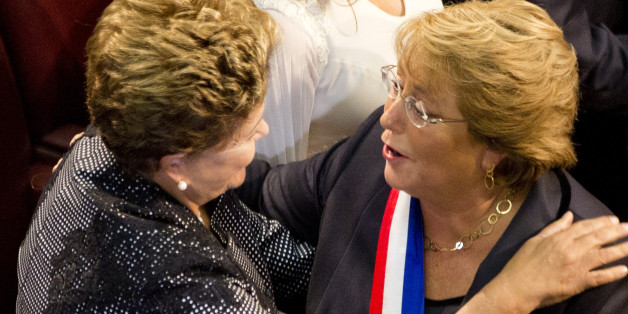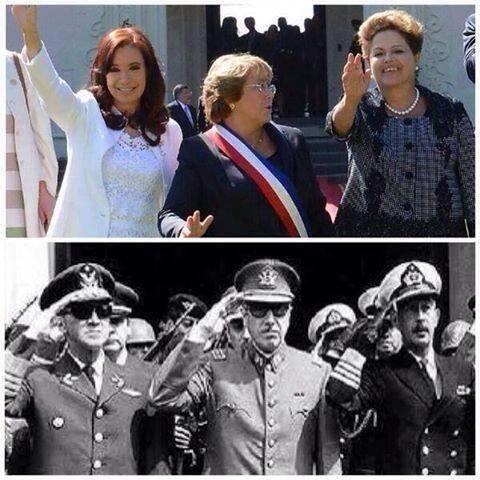 Last week, a colleague of mine sent me this incredible picture that compares three current Latin American women presidents to three former dictators in those same countries. A part of the world traditionally known as the stronghold of men who took power, rather than being elected to it, has done a remarkable about-face. Presidents of Brazil, Michelle Bachelet of Chile, and Cristina Fernandez de Kirchner of Argentina are leading their nations into the 21st Century.
An explosion of feelings filled my heart. I was bewildered, amazed, happy, but mostly it gave me hope and confidence that it is possible to transform society for the better.
The struggle for gender equality and women's empowerment in Latin America has been long, difficult, and full of push backs. In some places it has been marked by violence that has led to the indiscriminate killing of women, based solely on their gender.
These three presidents in the picture are not the product of chance. They walk on roads that have been paved by thousands of brave women (and some men).
For Latin American women like me, who have embraced the struggle to be the creators of our own history and more than just inhabitants of our nations, it has not been easy. We live in the least egalitarian region in the world. This is according to the Gini Index, which measures the degree of inequality in the distribution of family income in a country. Latin America and the Caribbean region have the highest net income in the world at 48.3 (out of a high of 100), a ratio even higher than sub-Saharan Africa (44.2) and Asia (40.4).
Today we still face so many inequalities. For example, in some indigenous communities in Guatemala, girls are not registered when they are born while the cows and other animals are. This means they will never be citizens with the right to vote, to be elected or have access to services such as credit.
The gender gap in Latin America with regard to ownership of land is also noteworthy. In most countries women don't represent even one-quarter of the landowners. Inequality in land ownership is associated with male preference in inheritance, male bias in state and community initiatives/programs related to land distribution as well as gender bias in the land market, with women less likely than men to be successful buyers.
So this photo brings us some hope. For goodness sake, it is possible! We all know it takes a long time to change cultures and nations, but I have seen an impact in my lifetime and look forward to many more.