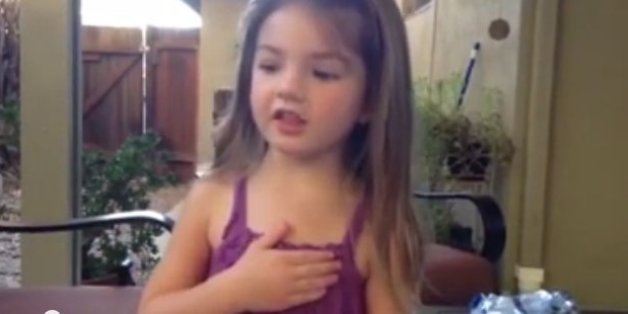 My adorable almost-4-year-old cousin-twice-removed -- hope I got that right! -- is learning the Pledge of Allegiance in pre-Kindergarten. Her teacher is helping the class prepare for the year ahead, and Elise is working really hard to get the words right. Her mom, Kim, who was born and raised in Scotland, says, "Not bad for the daughter of an immigrant!"
Elise enjoys swimming, ballet and tap, and is really looking forward to her very first dance recital this December.
"We do almost nightly videos of her and they are almost always entertaining and unexpected," says Kim. "Elise recently told me her dream is to someday 'be on the stage.' Oh. My. Lord!"
I always enjoy the Facebook videos of Elise. My personal favorite, after the Pledge of Allegiance, is "The Poke, by Elise." It involves a highly theatrical song/dance number performed in front of her bedroom closet where various toys receive pokes and "Hit it, boys!" is shouted from under a cardigan sweater draped over her head. This girl needs an agent.
Elise's mom says, "She is a strong girl who knows her own mind and is going to be an awesome woman!" I couldn't agree more.
Watch at :20 when Elise knows her performance is over and can't wait to see the raw footage. At a time when girls and women are underrepresented both behind and in front of the camera, little Elise is on course to change all of that!

WATCH: Elise Recites the Pledge of Allegiance
Lori Day is an educational psychologist, consultant and parenting coach with Lori Day Consulting in Newburyport, MA. She is the author of Her Next Chapter: How Mother-Daughter Book Clubs Can Help Girls Navigate Malicious Media, Risky Relationships, Girl Gossip, and So Much More.