As a kid I watched The Jetsons -- I couldn't wait to grow up so I could live in the future.
I looked forward to a life where I rode in my spaceship to the mall, could see someone on a video screen when I talked to them on the phone and had my own robot maid.
One of those things did happen (unfortunately not the robot maid, but FaceTime), and it still kind of blows my mind that one part of my Jetsons dream came true.
My boys can talk to their grandparents in Arizona and show them things they've learned in school, show them their new haircuts... even the dog gets in on the FaceTime action.
Below is a partial list of things that occurred at some point during my childhood that revolved around technology.
For me, each of these things individually was an exciting advancement in the world that pretty much made my head pop off:
Electric locks and windows in the family car
Games like Speak & Spell, Simon and Merlin
Answering machine
Recording shows off the television
Cordless phone
Remote controls
Electric garage door opener
Cable television
Intercom radio in the house
The Walkman
Camcorder
Call waiting

I remember the absolute thrill and wonder I felt with each of these new advances in my small world.
Speak & Spell:
A TOY THAT TALKS!
Call waiting:
"Can you hold, I'm on the other line."
BECAUSE THERE ARE TWO LINES ON MY ONE PHONE.
Cable television:
Hello HBO. Grease, Mommie Dearest and Rocky on a loop?
MOVIES ARE ON MY TV.
And don't get me started on my Sony Walkman...
I CAN WALK AROUND LISTENING TO MUSIC.
Again, this was all new exciting stuff.
With kids today anyone can hand them a tablet and they can navigate their way over to Angry Birds... no big whoop.
They never knew a telephone that wasn't also a camera.
They walk up to the television and try to swipe it to make the picture bigger or change the show that's on.
*Le Sigh*
Where's the wow?
How can technology truly wow today's kids when the expectation is so high? Who's blown away anymore? What will happen to our kids' wow factor in a world of such advanced technology?
It will be a sad day when my robot maid finally arrives, and I'm the only one who's impressed.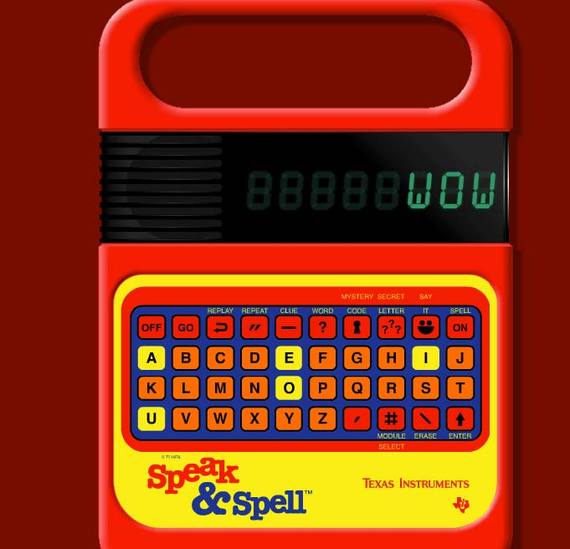 Also on HuffPost: