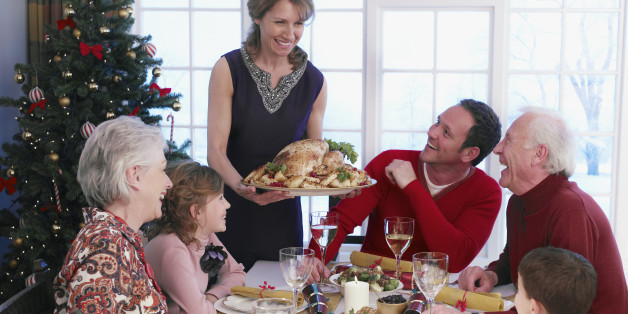 It's official: the holiday season has arrived. For many, it means an exhausting and exhilarating schedule of shopping, cooking, entertaining, big traditional family gatherings, overindulging on festive dinners, brightly decorated homes, children squealing with joy, travel, and unexpected visits from friends.
However, for the more than five million Americans who have Alzheimer's and their families, the holidays can be a time of great stress and sadness. It's easy to understand why some families in the Alzheimer's community elect to dial down the holidays or not to celebrate at all.
The good news is that with some common sense, cooperation from others, and the willingness to be flexible, not only will you survive, but this season of wonders will become a time to create new memories and traditions -- ones that will bring joy for years to come.
The first key to surviving the holidays for an Alzheimer's caregiver is to manage your own expectations. Take on only what you can reasonably manage. For instance, it may not be practical to continue long-standing traditions like hosting a holiday open-house or a family dinner for 20 people. Consider simplifying the occasion, or asking someone else to host.
Whether you are having guests to your home or visiting friends, make sure they understand your situation. Prepare family and friends for changes in your loved one's behavior and appearance.
The unpredictable behaviors of some people with Alzheimer's may make last minute schedule changes unavoidable. Ask your friends to be flexible and to respect your judgment about if and when to visit. Be sure your visits are a distraction and a pleasure rather than an added burden. Never drop in unexpectedly.
It's important for the person with dementia to maintain as normal a routine as possible. Disruptions to sleep patterns, dinner times or medication schedules may cause the person with Alzheimer's to become hyperactive or confused. Even when a big dinner is planned, make sure there's some finger foods or snacks on hand. A person with dementia doesn't always have to wait for dinner to be served.
A word of caution: Avoid using candies, artificial fruits, vegetables or other edibles as decorations. A person with Alzheimer's may not be able to distinguish the difference between the fake and the real. Also, blinking lights may be bothersome for a person with dementia.
Spending quality time is what the holidays are all about. So, it's important to involve the person with Alzheimer's in manageable tasks at which they can succeed. While the person with dementia may no longer be able to write holiday cards, ask them to stuff the cards into envelopes or affix postage stamps. Wrapping presents may be too difficult, but sticking bows on boxes is easily accomplished. Maybe your family member can no longer cook the entire meal, but rinsing the vegetables or setting the table can make them feel included in the preparation.
Building on past traditions and memories is important for all of us at the holidays. So try to find activities like singing old holiday songs, looking at family photo albums or watching a favorite Christmas movie that may bring comfort to the person with dementia.
Remember the caregiver even if you cannot visit during the holidays. Telephone, send a note or find other ways to say, "I care. I am thinking of you." It's probably much easier for you, rather than the caregiver, to keep in touch. Sending a practical gift -- like a supply of frozen homemade meals -- can really help ease the caregiving burden.
Finally, if you are a caregiver, I implore you: treat yourself well during the holidays. Take advantage of the people who offer to help you. Above all, take some time for yourself. If you have a holiday tradition that is important to you, such as attending the Nutcracker with your grandchildren, arrange for home care and then go and see the show! Or, if you simply want to take a nap, see if one of those same grandchildren can lend a hand.
When my dad was very sick with cancer and in the mid-to-late stages of dementia and no longer able to walk, my mother did not want to leave him alone at the holidays -- even for a single meal. After much cajoling and prodding, the family convinced her to come to a local restaurant with us, while we left dad in the care of a loving and able attendant.
I'm sure mom hated every minute of that first holiday meal out. But, when she rushed home and showed my father his care package filled with turkey and all the trimmings, he lit up like a Christmas tree. And, in that one moment, I saw her fear and guilt melt away, and I knew we had created the start of a new tradition and new memories.