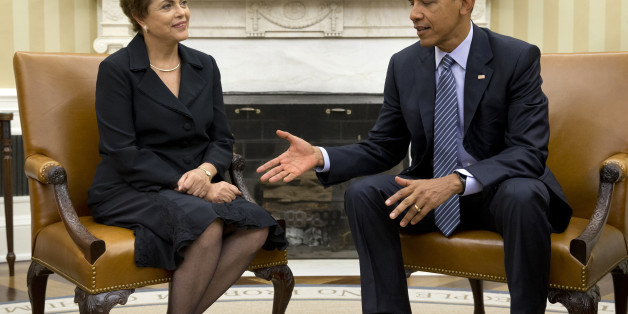 When President Dilma Rousseff of Brazil visited the United States last July, it opened a new chapter in the long-standing friendship between the two largest democracies of the Western Hemisphere. A friendship that goes back to the 19th century fight for independence, remains unabated during the two world wars (Brazil being the only Latin American country that contributed to the war effort in Europe alongside the U.S. in both wars), withstands the upheavals of the sixties and seventies, and gets boosted by new ties of investments, trade and people-to-people contact over the last 30 years.
What really counts in a mature relationship is the long-term trajectory. If one looks not at snapshots of any given moment but at the movie as a whole, with all its movement and complex narrative, there is no doubt that this trajectory has been highly positive. Based on a firm foundation of common values and shared interests, Brazil and the United States have forged an exemplary partnership. Many Americans who understood that have bet long ago on the strengthening of our bilateral relations and on the continued development of Brazil. They were not disappointed.

But if the relations have already attained a high degree of maturity, how can a presidential visit help start a new chapter? The diplomatic, political and personal efforts required to nurture a friendship between nations, even large ones in the same region, constitute a never-ending enterprise. As relations grow in complexity, the challenges are greater, and high level dialogues become even more important. The visit of President Rousseff could not have been more timely, as both countries are laying the groundwork for sustained economic growth, continue to expand trade and investment, and become increasingly engaged in fostering innovation and prosperity. The visit was meant to galvanize the political will to make things happen in a wide range of important areas of common interest.

Despite the complexity and density of our relations, there is an untapped potential to be explored and progress to be made through new initiatives and enhanced cooperation. It is worth mentioning, among other opportunities, trade facilitation and regulatory convergence (a Brazilian study estimates that bilateral trade can be increased by 10 percent in the short-term by trade facilitation measures alone); the reform of global institutions (particularly the IMF, the World Bank, and the United Nations); the strengthening of the dialogue on defense and security (which can open new avenues of cooperation for our defense industries); a new partnership in agriculture (Brazil and the U.S. are two agriculture powerhouses and can coordinate their efforts to open new markets overseas); cooperation in technical and vocational education as well as in innovation; and joint initiatives that contribute to fighting climate change, which has been correctly considered a major threat to our common future on Earth.

In all of these and in other issues, Brazil and the U.S. have much to gain from a strengthened partnership that will take this relation to a new level in the 21st century. Brazilians and Americans are not that different. They live in two multiethnic nations with vibrant civil societies and strong democratic institutions. They cherish freedom and pluralism. Their love for music and sports is unsurpassed by any other people in the world. These similarities do not dilute our respective national identities, nor do they equate all challenges facing our societies, but they are an important magnet to bring both countries closer together.
Presidents Dilma Rousseff and Barack Obama conveyed a powerful message to the world, when both gathered in Washington to talk about the most important issues on the bilateral, regional and global agendas: our great nations, bound by history and shared democratic values, will continue to follow a path of understanding and mutual respect as they pursue national objectives and contribute jointly to make the world a more prosperous, safer and better place for the current and future generations. And as we turn to follow up on the commitments undertaken during the visit, this message will continue to resonate with all those who know that a strong and enduring friendship depends on the ability to find common ground and learn with each other's experience.