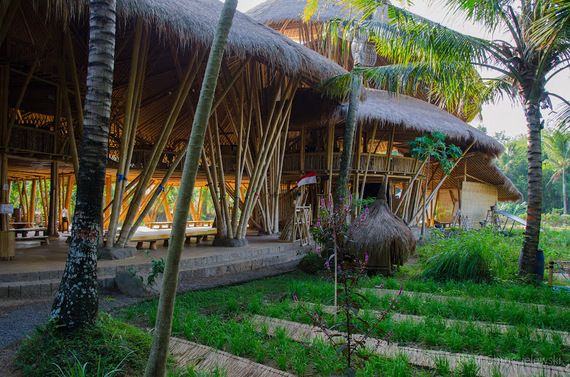 I had pretty much given up on the idea of ever entering a school classroom again as a K-12 teacher. Maybe it was the accusation of professional misconduct for giving a group of students a hug that left me soured? Or could it have been the struggle of being a visionary, passionate teacher, full of innovative ideas, who was shut down most times I presented them to the administration? Perhaps what ruined me in the end was the way I had to teach to a test, pretty much the entire school year.
All of these feelings changed when I visited The Green School in Bali, Indonesia, last week. As I trekked through the rainforest to find the starting point of my tour, I was immediately taken aback by the massive bamboo structures which served as outdoor classrooms and the students swimming in the natural spring during their physical education class. I then came to a sign that read, "We the undersigned students and staff of Green School, Bali, shall collaborate to support our planet positively for future generations."
Welcome to the sustainable community known as The Green School. The school's vision is to provide a natural, holistic, student-centered learning environment which empowers and inspires students to be creative, innovative, green leaders. While the focus of the school is rooted in environmental education and sustainable living, it doesn't neglect academics at all. The Green school is committed to providing students with a world-class education in preparing for the competitive marketplace they will encounter upon graduation.
My tour started in the hydroponic garden, where water from the river was being pooled to create tanks. Fish swim in the tanks, eat and excrete waste, and that waste is then pumped into gravel planters, where a variety of plants are grown for research, eating, and other uses by the students. Adjacent to the hydroponic garden were several food plots where students learn to cultivate their own fruits and vegetables for school meals.
From composting, to solar panels, to a future hydroelectric station, students are immersed in a variety of subjects every single day and learn to solve problems in a hands-on way. These principles should be a core component of every student's educational experience--because, as educators will tell you--we know that students learn best when they "do". We also know that when students are interested and invested in the content and delivery, real learning takes place.
The tour ended in the public common area, where students gather to socialize and eat their meals--raw, organic, vegan meals prepared in the Living Food Lab. This concept was proposed by parents of the school, who wanted to offer students a healthy alternative to traditional school lunches. The administration and parents know that what we feed our students has a huge effect on the quality of work and thoughts they produce day in and day out.
As a former public school teacher of the U.S. education system, I left The Green School feeling inspired about the innovative approach many are taking to educate future generations. I was invigorated by the learning environments that can be created when school leaders, communities, and teachers work together to propose quality education rooted in experiential learning and authentic experiences. But above all, I left this wonderful environment situated amidst the Indonesian rainforest with a spark--perhaps there is a place for me again in a (non-traditional) classroom.
Images courtesy of Piotr Chrusciello.