Students, teachers, and parents are getting back into the swing of school routines, and this reminds us once again that learning never stops -- even after our formal years of schooling. One of the best ways to explore our own curiosities, learn something new, and understand and connect with others comes from reading a good book.
Parents and teachers -- gather around the virtual fireplace, grab your mug of tea or coffee, and curl up with some of my recommended book choices in the field of public education. From books depicting what really goes on in the teacher's lounge, to those teaching us how to reach our children by infusing more passion and new learning strategies, something on this reading list is sure to interest you!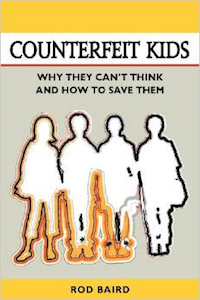 Written by Rod Baird, a high school English teacher and published writer, Counterfeit Kids: Why Our Students Can't Think and How to Save Them is an insider's account of what's really happening at "award-winning" high schools. Baird's personal narrative reveals his own classroom experiences, traces the events that led to today's parents' terrified obsession with college acceptance at any cost, and describes through poignant  personal anecdotes how our culture and schools dangerously acquiesce to the demands of the college rat race at the cost of children's imaginations, intellectuality, individuality, and creativity, their very humanity. Public education faces a crisis on a number of fronts, but Baird's impassioned plea that parents and schools are failing at their most basic mission of nurturing young people will demand the attention of us all.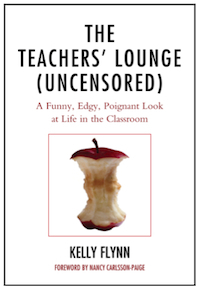 The Teachers' Lounge (Uncensored): A Funny, Edgy, Poignant Look at Life in the Classroom, by Kelly Flynn, is a love letter to teachers -- and a rebuke to politicians and corporate reformers who don't understand the issues. In this age of data-driven reform, author Kelly Flynn maintains that anecdotes -- true stories about the classroom -- ARE data, and are a valid and compelling way to influence change. Using anecdotes from her 20-year teaching career, Flynn paints a vivid picture of life in the classroom and demonstrates how the current corporatized reform movement completely and utterly fails both students and teachers.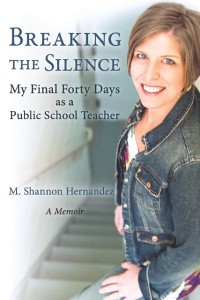 America's public school system is broken, and M. Shannon Hernandez knows why. After fifteen years in the teaching profession, Shannon was forced to leave the career she loved so dearly.
In Breaking the Silence: My Final Forty Days as a Public School Teacher, Shannon invites you into her classroom for the final forty days of her teaching career to understand the urgent need for school reform. You will witness the challenges teachers like Hernandez face as they navigate the dangerous waters between advocating for and meeting students' needs, and disconnected education policy. This book is a love letter to her students and fellow teachers, and the reformed educational system she envisions.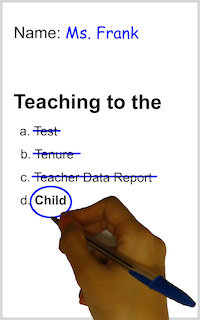 Teaching to the Child, by Lori Fettner, tells the stories of amazing children who came to my classroom sometimes as teenagers having never held a pencil, and the progress they made that no test could possibly reveal. The term "teaching to the child," coined by Lori, counters the idea of teaching to the test. 
Through this book, teachers have found many useful ideas and activities to incorporate into their classrooms that follow this Lori's philosophy. For parents, retired teachers, and those new to the field, this book has shed light on a troubled system.  Something has to change to stop the constant bullying and harassment of teachers, and to get the nation refocused not on testing, but on teaching to the child.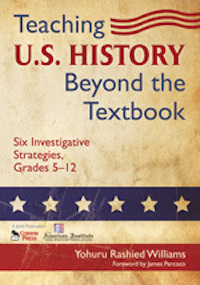 Written by Yohuru Williams, a history educator, Teaching U.S. History Beyond the Textbook, is an exciting guide which provides a unique approach to make it easy for middle and high school teachers to engage students' critical thinking in history and social studies.
Using a "CSI approach" to history, the author's six powerful strategies tap into students' natural curiosity and investigative instincts. Students become detectives of the past as they ghost-hunt in their neighborhoods, solve historical crime scenes, prepare arguments for famous court cases, and more. Each ready-to-use technique:
Demonstrates how students can use primary and secondary sources to solve historical mysteries
Includes sample lessons and case studies for Grades 5-12
Aligns with national standards, making the book useful for both teachers and curriculum developers
Features review questions, reflections, and Web and print resources in every chapter for further reading
Incorporate these strategies into your classroom and watch as students discover just how thrilling and spine-chilling history can be!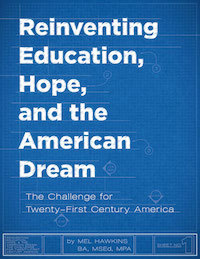 Reinventing Education, Hope, and the American Dream: The Challenge for Twenty-First Century America, by Mel Hawkins, rejects the current reform initiatives that are sweeping the nation and suggests that blaming teachers for the problems in education is like blaming soldiers for the war they were asked to fight.
The book challenges conventional wisdom about why so many children are failing and provides a blueprint for a strategic action plan to 1) restructure the educational process so as to better support teachers and students, 2) to reach out into our communities to pull parents in as partners with their children's teachers, and 3) to attack the hopelessness that contributes to a disdain for the value of education on the part of a burgeoning population of American parents.  The 33 specific action items shift the emphasis to subject mastery with a focus on success rather than failure; integrate real and sustainable accountability into the educational process; and preserve the vital relationships between schools and the communities they exist to serve.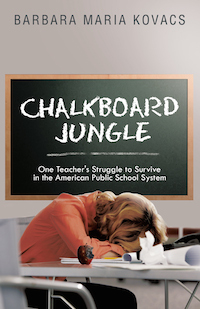 Chalkboard Jungle: One Teacher's Struggle to Survive in the American Public School System, written by Barbara Kovacks, details the experiences of Brenda, a first year middle school math teacher, who is forced to navigate the challenges of working with difficult children, unsupportive parents, and an overbearing administration.  She enters the profession with the greatest of hope, but gradually burns out and loses hope when her students fail to make gains on the state's standardized exams.  
By the second year, she's targeted and harassed relentlessly by her administration for the previous years' low test scores. She does everything she can to keep her job, including requesting a transfer to another school and enlisting the help of the union, but to no avail. Her only real comfort during this difficult time is her friend and fellow math teacher Mr. Fisher, who like her, has failed to meet the testing requirements mandated by the state, and faces the threat of losing his job.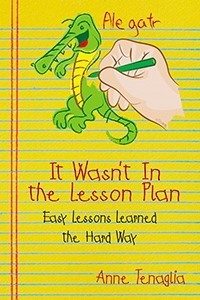 It Wasn't in the Lesson Plan, by Anne Tenaglia, contains a series of vignettes about the author's own students throughout her 37-year career as a teacher in Philadelphia's public schools. It demonstrates a little-discussed topic: what teachers learn from their students. Very little of what a teacher should know is found in a textbook or course, but it's on-the-front-lines experience which helps a teacher make the opportunities for students to learn their own way. Music, perseverance, respect, and humor are the keys through which most students learn to love learning.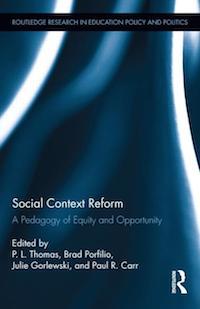 Social Context Reform: A Pedagogy of Equity and Opportunity, Brad Porfilio, Julie Gorlewski, Paul R. Carr, and P.L. Thomas, includes a wide variety of essays from leading critical scholars addressing the complex elements of social context reform. Currently, both the status quo of public education and the "No Excuses" Reform policies are identical. The reform offers a popular and compelling narrative based on the meritocracy and rugged individualism myths that are supposed to define American idealism. This volume will refute this ideology by proposing Social Context Reform, a term coined by Paul Thomas which argues for educational change within a larger plan to reform social inequity--such as access to health care, food, higher employment, better wages and job security.
Since the accountability era in the early 1980s, policy, public discourse, media coverage, and scholarly works have focused primarily on reforming schools themselves. Here, the evidence that school-only reform does not work is combined with a bold argument to expand the discourse and policy surrounding education reform to include how social, school, and classroom reform must work in unison to achieve goals of democracy, equity, and opportunity both in and through public education.