It's nice to let a fellow community member know when one of their comments is outstanding, which is why we have the favorite button. But what if you find a post to be particularly noteworthy and you'd like to do more than "fav" the comment?
Well, here's your chance to do exactly that. Introducing the new Gift Badges feature. You can still favorite as many comments as you like, but now you can also award users a gift badge to let them know when you think their contributions are truly exceptional. What makes gift badges special? Well, for one they look nice, but they also are limited, so when you get a gift badge it means that the giver really respects your comment. Veteran users have extra gift badges to give for the launch of the feature, and every day you'll get one more to give -- so use them wisely!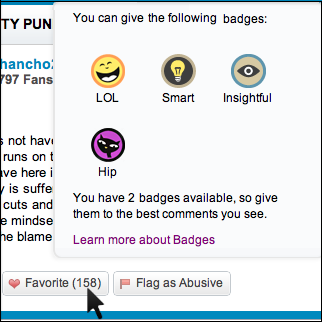 Also, keep an eye out for different badges that you can give depending on which section you are commenting on. Take a look around and give your fellow community members the specialized gift badges that they deserve. To see the badges that you've accumulated, take a look at your user profile page.
NOTE: Until you receive several Gift Badges, they act as a specialized 'fav,' meaning that if you receive one, it will only show on that comment. However, if you get enough badges of one type, it will show on all of your comments and on your user profile.
As always, if you'd prefer to not participate in the badges program, you can opt-out by going to your user profile preferences:
http://www.huffingtonpost.com/users/social-preferences/
Uncheck the box below "Badge Mode"
You also may have noticed our new section: HuffPost Backstage, created to provide a space for you to find out about new community features and site announcements. Visit us often to stay up to date!