It was the summer of 1997. Bill Clinton was president, Hanson was everything, and I was 7 years old. My family was on what seemed like an endless road trip throughout the Midwest, and that August day found us in Iowa.
After hours spent getting lost (what we wouldn't have given for a Garmin back then), eating at roadside burger joints, and playing The Alphabet Game, my father pulled over at what looked like an average Iowa cornfield at the end of a dirt road. He announced to my sister, Emmy, and I that we were at the Field of Dreams. While I was far too young to have an appreciation for Kevin Costner, if there was one thing I knew, it was baseball. So I looked up from my Game Boy Color and joined him for a walk to the diamond.
Baseball was my thing. I was born with the initials MLB, so my fascination was probably inevitable. My dad took me to my first game when I was six months old and I spent the rest of my childhood jumping at the chance to spend an evening with him in the upper deck of the Kingdome, the former home of the Seattle Mariners, cracking peanuts and talking Ken Griffey, Jr.
I eagerly picked up one of the smallest bats propped up against the fence. I already had big plans to become the first woman to play in the majors but I figured I could slum it in the amateurs for one game.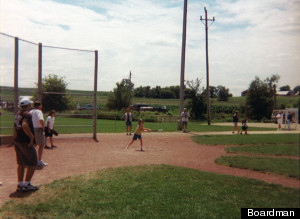 I waited -- albeit impatiently, with my hands stuffed in the pockets of my jorts -- for my turn at the plate. By that point, eight years after the movie was released, the grass was packed and imperfect from years of use and the bases were anything but pristine. But to me, it was everything I wanted it to be.
The other visitors had organized themselves flawlessly into a fielding team of nine -- although it was far from anything I had seen at the Kingdome. The motley crew was made up of men and women from the ages of 5 to 85 and athletic ability ran the gamut.
After what seemed like ages, it was my turn at the plate. A middle-aged man who was that game's pitcher threw me a couple of zingers (they were definitely 10 mph lobs) and my years of tee-ball and coach-pitch paid off. I hit a grounder over to second and ran as quickly as my lace-up Keds allowed me to make it to first base. I had hit a single at the Field of Dreams.
For years to come it was the most exciting day of my life -- college graduation was a close second.
Now, a development company, Go the Distance Baseball LLC, has big plans to put $38 million dollars towards completely redesigning Dyersville's Field of Dreams. Should the plan come to fruition, the original, picturesque, simple diamond will turn into 24 ball fields.
The people of Dyersville are voicing concern about the development, and I have to agree with them.
The irony of "If you build it, they will come" is not lost on me. I'm sure the project wouldn't turn into the absolute Disney-esque monstrosity that I fear it will become. But the problem is, it has already been built. They've already come.
James Earl Jones as Terence Mann says in the film, "The one constant through all the years, Ray, has been baseball. America has rolled by like an army of steamrollers. It has been erased like a blackboard, rebuilt and erased again. But baseball has marked the time. This field, this game: it's a part of our past, Ray. It reminds of us of all that once was good and it could be again. Oh ... people will come Ray. People will most definitely come."
The current Field of Dreams, the original Field of Dreams, is exactly that. It is a part of the past -- a reminder of all that once was good and it could be again.
It may not be the cash cow that Go the Distance Baseball LLC can promise, but in its simplicity, it is perfect. It answers the iconic question of "Is this heaven?" with "No, it's Iowa." It's a place where visitors can step foot on the field, and much like the movie's characters, be transported to a world where baseball is everything and all that matters. It's a place where a skinny 7-year-old kid can wait just 15 minutes, play in a pickup game with complete strangers, and feel like Babe Ruth.
I have to argue that this the one time to alter the everlasting wisdom of James Earl Jones: If you save it, they will come. People will most definitely come.
PHOTO GALLERY
Baseball Movies