It's right out of central casting.
That's what my American friend Anne told me before inviting me to what's become my favorite restaurant in Rabat and that I went to on a trip to the Moroccan capital this month.
Anne, then based in Morocco, took me to dinner the first time I visited the country to speak at a media conference.
A man in traditional garb carrying a lantern led the way through the maze-like alleys from the entrance of the médina, the old part of the city, to Dinarjat.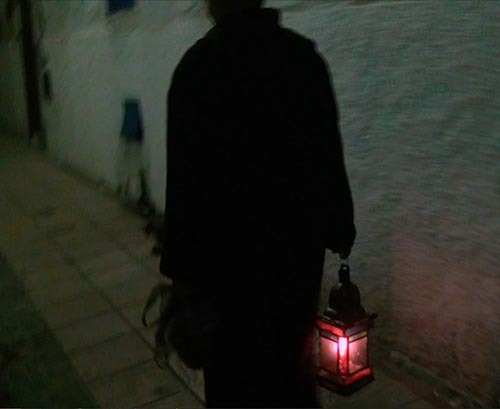 Follow the lantern (Abu-Fadil)
A Hollywood scenario par excellence, as our guide knocked on an ornate wooden door. A hostess welcomed and escorted us into an old house transformed into a traditional restaurant.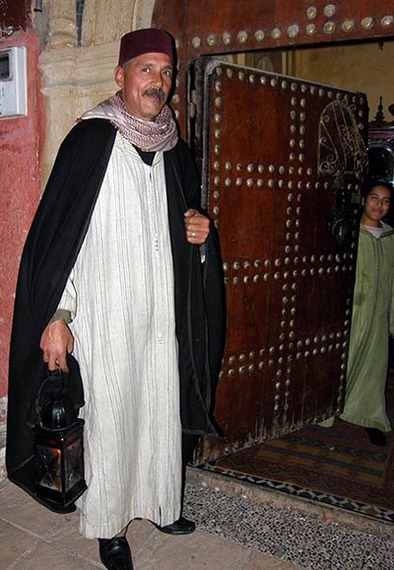 Knock to enter Dinarjat (Abu-Fadil)
Funnily, I introduced my French friend Frédéric (whose wife is Moroccan) to that restaurant on my recent trip.
He, in turn, was keen on showing me Le Ziryab that I'd walked past on previous occasions but had not discovered.
A Dinarjat waitress came by with the requisite rose water and towels to wash our hands in a bowl before eating.
A look around and above reveals a warm, beautifully decorated interior with columns turning into arches engulfing an inner court furnished with divans, chairs and tables.
The outer rim also seats patrons in separate rooms, and a bar adorns one side of the establishment.
I found a similar setup at Le Ziryab, to which two colleagues and I were also led by a lantern-carrying guide on a different night of this trip to train Moroccan journalists, but the interior was a bit gaudier on the ground floor and starker looking up towards the ceiling.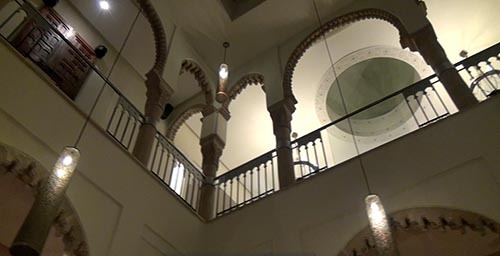 Le Ziryab interior (Abu-Fadil)
What I ordered and shared at Dinarjat was a starter of pastilla, a flaky pigeon pie with almonds sprinkled with powdered sugar - a true delicacy.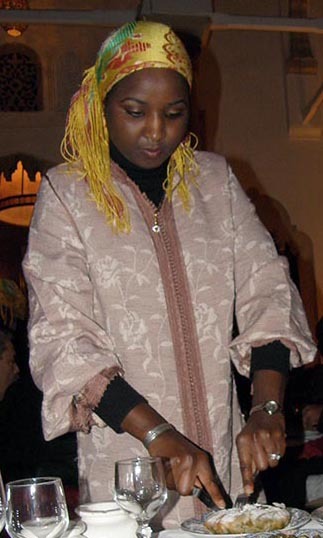 Dinarjat waitress serves pastilla (Abu-Fadil)
I avoided the assorted à la carte appetizers.
What my two colleagues and I got at Le Ziryab was a fixed menu that began with various vegetable platters and pastries stuffed with meats and other ingredients.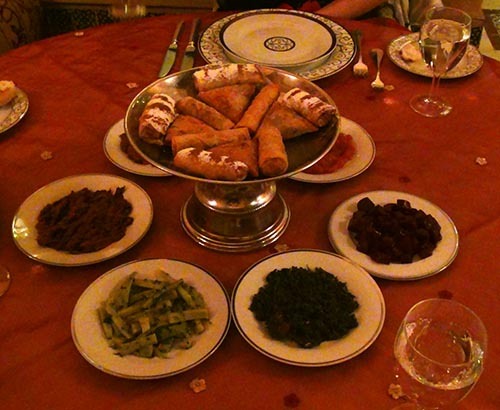 Le Ziryab appetizers (Abu-Fadil)
Both evenings included live entertainment. Dinarjat has two musicians playing the oud (Arabic string instrument) and a hand-held drum.

Dinarjat musicians (Abu-Fadil)
Le Ziryab has a trio performing on the oud, a drum and a violin who offered a wider repertoire of traditional and stylized tunes.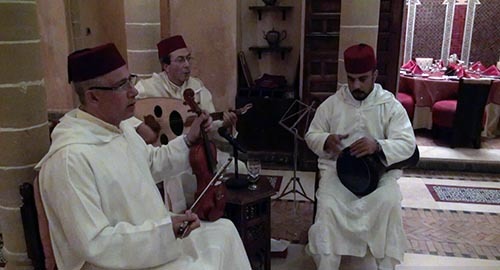 Le Ziryab musicians (Abu-Fadil)
The next course at Dinarjat was lamb couscous, washed down with good local beer and bottled water.
There was no dessert of sweet flaky pastilla with creamy milk and almonds as on an earlier journey, but a cup of sweet mint tea to help digest the rich meal.
Since Le Ziryab offered a fixed menu, there was no escaping the next platter, a very tasty but very filling lamb dish covered with tomatoes.
There was no menu from which to read the choices, only a wine list.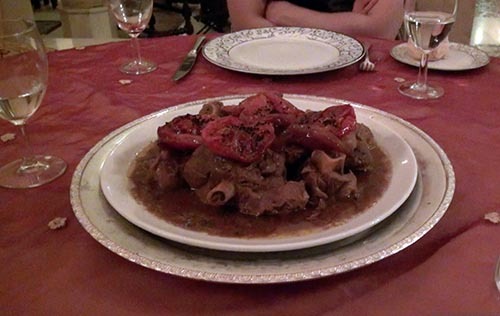 Le Zyriab lamb dish (Abu-Fadil)
We had ordered a bottle of local red wine and bottled water but the service was excessively slow.
Just when we thought we'd had our fill, the head waitress brought a huge platter of meat couscous to feed more than the two people who could eat it.
One member of our group was a vegetarian and had a separate version, also with an obscene quantity.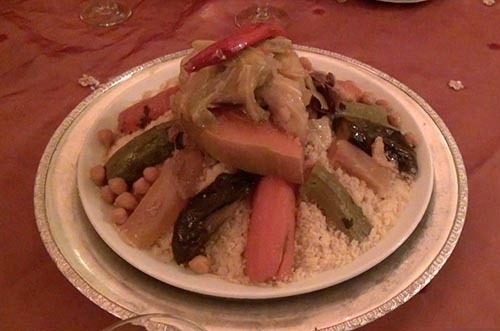 Le Ziryab couscous (Abu-Fadil)
What we didn't appreciate was the amount of food and not being advised on the restaurant's website that it was a fixed menu.
We invariably left a lot behind - a total waste - had no dessert or mint tea, and ended up paying a little fortune for that outing: $75 per person. Never again!
Once fully satiated from Dinarjat's epicurean delights at a more palatable $37 per person, our lantern-toting guide accompanied us out of the labyrinth and onto the main street near Rabat's impressive ramparts.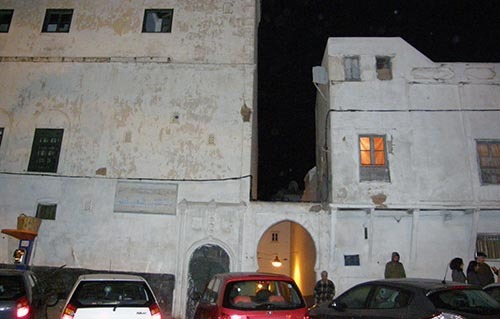 Entrance to Rabat's médina (Abu-Fadil)
Central casting indeed! I look forward to my next trip and to another meal at Dinarjat.
Calories? What calories?