It doesn't stop. Examples of unethical media behavior abound. Or do they?
A brief video clip this week on Lebanon's LBCI TV's and New TV's nightly news, that went viral on YouTube, shows a little girl being taught how to fire an AK-47 Kalashnikov.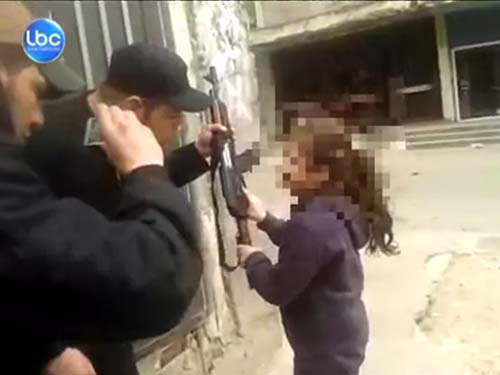 Teaching a little girl to fire an AK-47 in Tripoli screen shot
The amateur footage is purportedly shot by militiamen in the predominantly Sunni Muslim neighborhood of Bab El Tebbaneh in Lebanon's northern port city of Tripoli.
One of the fighters had to hold the girl steady because of the weapon's strong recoil.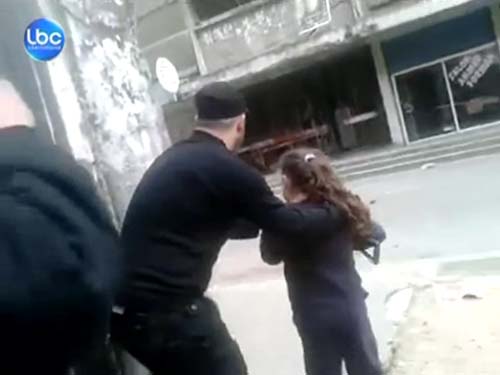 Little girl fires AK-47 in Tripoli screen shot
Lebanese daily Annahar headlined "Child...Potential Killer in the country of Learning and Enlightenment."
According to writer Salwa Baalbaki:

I believe she thought her relative was playing with her with the gun to point at the adjacent "enemy" neighborhood and fire tens of rounds, and with his help, against the "enemy neighbors" in Tripoli, amidst the adult warriors' celebration, their sadistic pride, their shooting of souvenir pictures, perhaps to immortalize a victory over what's left of our country's innocence and the meekness in children's eyes.
They made this girl, who couldn't be more than 10, and whose video shooting spree on the Bab El Tebbaneh-Jabal Mohsen demarcation line spread on social media and YouTube, and who hardly knows how to play house, age fast to play their dirty game.
Anti-Syrian Sunni groups including hardline Salafists from Bab El Tebbaneh, and pro-Syrian Alawite factions in Tripoli's Jabal Mohsen district (who share the same sect as Syrian President Bashar Al Assad) have been going at each other for years.
But the troubles in Syria have exacerbated matters.
So much so, that even grown women are claiming a piece of the action and flexing their weapon-carrying muscles.
Another amateur video gone viral that made it onto the news is of a woman being shown how to handle and fire a rocket-propelled grenade (RPG), also in Bab El Tebbaneh.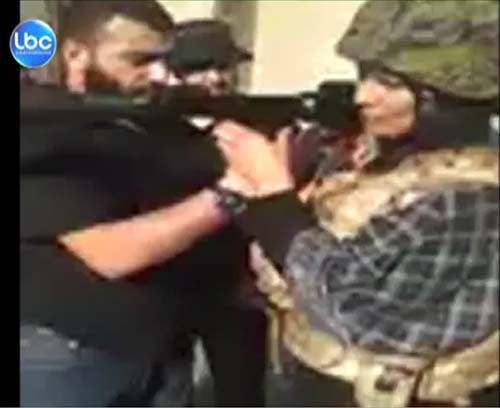 Screen shot of a Tripoli woman learning to fire an RPG
To the daily Assafir, YouTube's policy of zero-tolerance for pornography targeting children does not extend to protecting them from violence perpetrated by the dissemination of such visual representations.
YouTube's policies on violent or graphic content and on hate speech are important reminders of the fine line between our freedom to know and the need to protect innocent viewers.
Assafir's Youssef Hajj Ali equated the Tripoli incident with Little Red Riding Hood and the wolf.
Unlike the fairy tale, the wolf doesn't try to sink his fangs into the little girl and pounce on his victim but seeks to turn her into a wolf like him, while his equally vile comrade records everything on his mobile phone for posterity.
Across the border in Syria, where a civil war has been raging for over two years - and adding more fuel to the fuel and to an already spreading conflagration - the guns-and-media mix has taken on a life of its own.
Britain's Telegraph newspaper posted footage of eight-year-old Ahmed in Aleppo who smokes cigarettes, shoves bullets into an AK-47's magazine, brandishes his weapon around, cries out "Allahu Akbar" (God is Great), and announces he joined the rebel army to avenge his parents' death.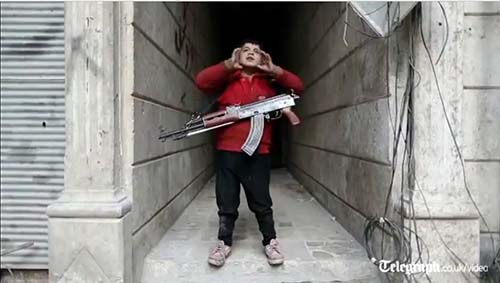 Screen shot of gun-toting Ahmed in Aleppo
Adult fighters accompany Ahmed and seem to encourage his under-age bravado.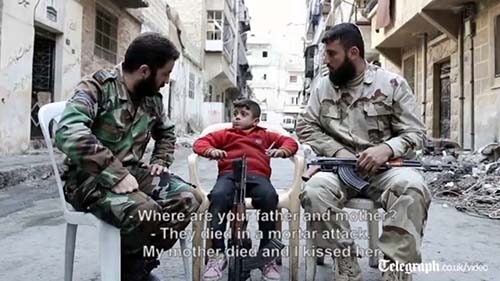 Screen shot of Ahmed recounting his mother's death
That's just the tip of the iceberg.
The agonizing pictures from Syria where a bloody conflict has left countless victims dead, wounded, and disabled, where millions of refugees in the country and spilling across its borders become faceless numbers given the sheer magnitude of the humanitarian catastrophe, where the unfinished war in Iraq with its own endless sectarian baggage also cries for attention, and where a dysfunctional situation in Lebanon is an ugly reminder of never-ending internecine fighting, have much in common.
All raise an inevitable question.
"An ethical question," according to a pan-Arab daily Al Hayat column by Ibrahim Hajj Abdi on TV's coverage of people's pain and hardships and whether cameramen/women have an obligation to help the needy.
Here's a TV cameraman engrossed in documenting a scene with a man calling for help, a child weeping, or a woman in distress. We see people under the rubble of a building, or victims of a natural disaster, or we see a burning field, or rockets that spell imminent doom...We view all these scenes on the screen shot by a photographer (or videographer). The controversial/ethical question is: should the photographer drop his camera and rush to rescue the disaster-stricken people? Will that change the course of these people's destiny and those tested by nature, murderous policies, and erroneous calculations a third time?

It's a recurring issue: media ethics and how we deal with it.
Do we have a responsibility to document events, to show what's happening through visual means, to tell the world about existing wrongs?
Are we voyeurs?
Where do we draw the line and spare viewers disturbing scenes that could also scar them?
Might not readers, viewers and browsers be suffering from disaster and conflict fatigue, just like patrons of charitable causes suffer from donor fatigue?
Nobody has definitive answers.
But no journalist, photographer, or cameraman/woman who jolts audiences with visual messages should stop asking questions about the ethics of that shot or clip.