Arab countries are making strides in trying to improve journalism curricula, but still face strictures, obstacles and challenges to press freedom as well as their own holdouts to change.
Two meetings in December of experts on journalism education in Morocco and Bahrain were further proof of a commitment by the United Nations Educational, Scientific and Cultural Organization (UNESCO) to help developing countries and emerging democracies find a voice through their media.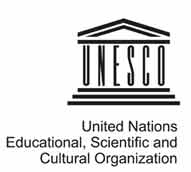 The group in Rabat hailed from Morocco, Algeria, Tunisia and Mauritania, as well as this writer who had served as a UNESCO consultant to formulate the proposed curricula.
Invariably, the issue of multi-media, online journalism, and social media caused consternation among the older participants, who saw it as a threat to their very existence or to their countries' stability and security.
They initially resisted the appellation "journalism" and pointed to online disinformation, but most were eventually persuaded that they ignored today's journalistic reality at their own peril.
The group also agreed on the importance of increasing the number of women in key media positions through a solid educational foundation.
Participants debated whether gender should be added to the curriculum -- already a rich mix of liberal arts, specialized, and hands-on courses -- to arm future journalists with the skills and tools needed in a 21st Century globalized and converged media environment.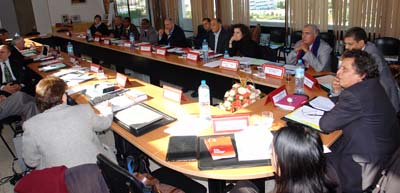 UNESCO journalism experts meeting in Rabat (ISIC)
UNESCO encouraged the North African academics to integrate human rights content into various educational modules and give weight to general knowledge courses.
The academics also discussed the need to include ethics in all their courses and ensure that their charges are well versed in their respective countries' media laws.
But the UN body doesn't plan to impose the program on those Francophone countries that for decades have followed rather rigid theory-laden and government-imposed curricula.
Rather, it has sought to get the academics' feedback to the curricula, which are meant to be adapted to different regions' requirements worldwide.
This writer stressed the importance of being multi-lingual to succeed as a well-rounded journalist, notably since curricula in countless Arab academic programs fail to emphasize the mastery of languages to understand, analyze and disseminate accurate information.
In Algeria, for example, journalism is taught in Arabic. In Morocco, students can choose to follow courses in Arabic or French - France having been the former colonial power in the region.
Tunisia and Mauritania also teach in French and Arabic. Tunisian programs are becoming more open to English but Mauritania lacks formal journalism curricula or journalism schools in the traditional sense.
So journalists from the four countries often miss out on a lot of news produced in English or other languages, given their limited linguistic skills.
In Manama, the College of Arts' dean at the University of Bahrain described the experts meeting as an important step towards quality journalism education, thereby renewing a commitment by Gulf Cooperation Council countries to adapt fully, or partially, to UNESCO's model curricula.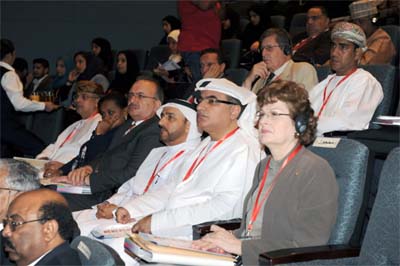 Gulf consultants' meeting (University of Bahrain)
Arab Gulf countries' university journalism programs have traditionally been taught in Arabic.
But some universities have begun to adopt Anglo-Saxon models (primarily American), with the requisite need to follow courses in English.
American-type institutions, or branches of U.S.-based colleges, have also made inroads by opening branches in the Gulf region, but they seem to attract expatriates for the most part.
The Rabat and Manama gatherings involved journalism educators, trainers and practitioners, including this writer who had worked on producing "Model Curricula for Journalism Education."
The proposed curricula are a launching pad for countries that initially sought UNESCO's help to upgrade their academic programs, and can be tailored to different systems' needs.
UNESCO first convened a consultative meeting in Paris in 2005 grouping experts carefully selected from Africa, Asia, Europe, the Middle East, and North and South America, to write the syllabi for core courses.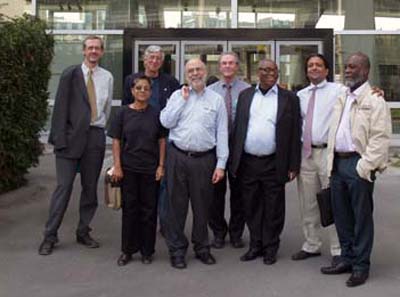 Journalism educators meet in Paris (Abu-Fadil)
That led to a second meeting at the organization's headquarters.
The initial group collaborated with 20 international journalism educators with extensive experience in developing countries and emerging democracies.
Their collective efforts, as well as final work by a core of four experts who hammered out the text, culminated in the road map that was launched at the first World Journalism Education Congress in 2007 in Singapore.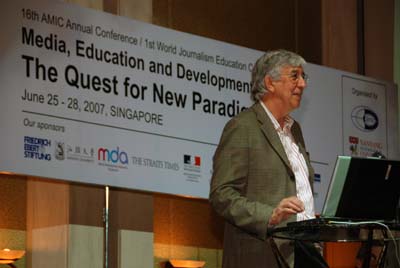 Model Curricula expert Michael Cobden at Singapore
Congress (AMIC)
The book http://portal.unesco.org/ci/en/ev.php-URL_ID=24824&URL_DO=DO_TOPIC&URL_SECTION=201.html is a downloadable PDF and available in English, French, Spanish, Russian, Arabic and Chinese.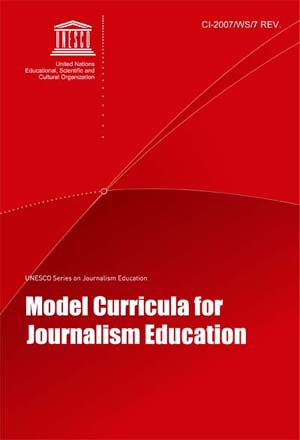 UNESCO' Model Curricula for Journalism
Education in six languages (Abu-Fadil)
In formulating the undergraduate and graduate programs, the writers took the social, economic, political and cultural contexts of developing countries and emerging democracies into account.
They also highlighted the connection between democracy and journalism, and argued for a more inter-disciplinary approach within journalism training centers.