Saturday's smaller replay in Copenhagen of Paris' Charlie Hebdo massacre that left three dead (including the suspected shooter) and several injured begs the question: are cartoons art and entertainment or lethal weapons?
The presumed target this week: controversial Swedish cartoon artist Lars Vilks whose 2007 depictions of the Prophet Mohamed as a dog has infuriated Muslims and who was at a seminar entitled "Art, blasphemy and freedom of expression," also attended by the French ambassador to Denmark.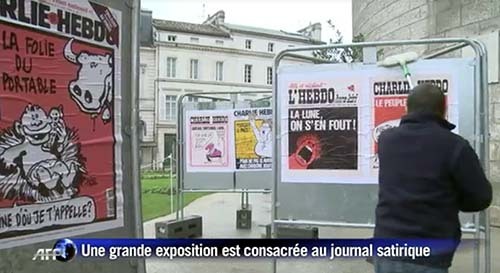 Screen shot of preparations for festival dedicated to Charlie Hebdo
Comics, cartoons and caricatures have had a centuries-long history of taking aim at people and institutions, but probably none with as deadly repercussions as those in recent years.
The Centre Belge de la Bande Déssinée (Belgian Comic Strip Center) in Brussels houses an impressive permanent collection, while other venues revere comics as part of an annual ritual.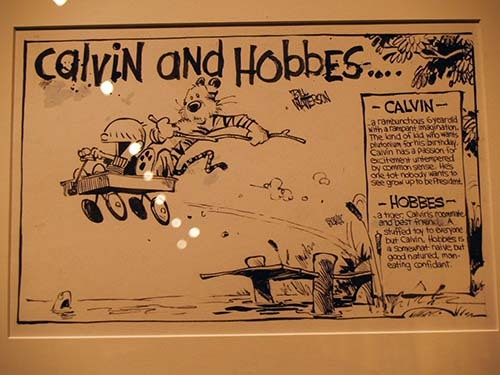 Original Calvin & Hobbes illustration (courtesy Chiniara)

The January 29-February 1 International Comic Strip Festival (marking its 42nd year) at Angoulême in southwestern France, was dedicated to the satirical newspaper Charlie Hebdo victims, presented a freedom of expression prize, and was said to draw some 200,000 visitors, France24 TV reported.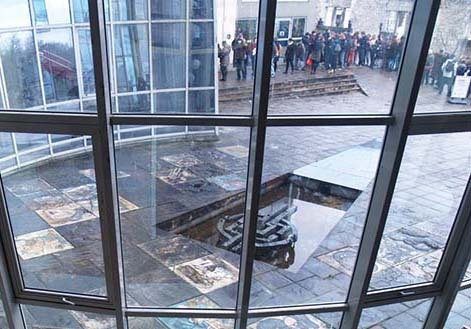 Queues of comic strip fans awaiting entry at Angoulême festival (courtesy Chiniara)
Small Angoulême, whose history dates back to the Norman invasions, becomes comic strip heaven for the occasion, but this year saw an unprecedented heavy security presence three weeks after the Charlie Hebdo attack amid fears of copycat attacks.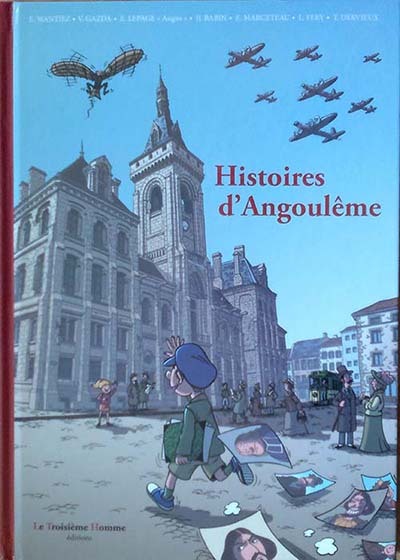 Comic strip history of Angoulême (Abu-Fadil)
Works adorned windows, walls, billboards, and public transportation; street signs and café awnings turned into speech bubbles; and official venues, including the local cathedral, served as exhibition halls for hundreds of artists from around the world.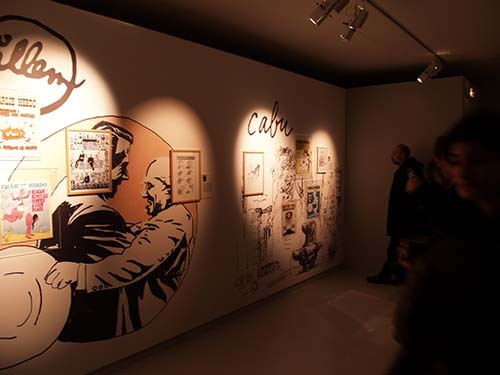 Tribute to Charlie Hebdo at Angoulême (courtesy Chiniara)
To say that a picture is worth 1,000 words couldn't be truer than in the case of a comic strip or cartoon that's rip-roaring funny or rapier sharp hurtful, hence the attraction of aficionados to study the art form and attend events like Angoulême.
Among the thousands of visitors to this year's festival were 12 undergraduate and graduate illustration students plus their professor from the Academie Libanaise des Beaux Arts (ALBA) in Beirut.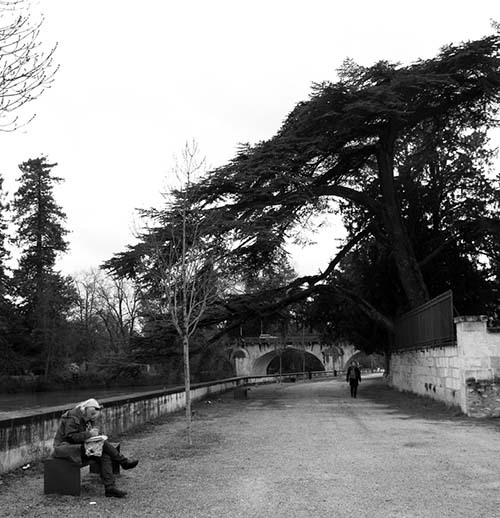 Lebanese cedar tree drapes over Angoulême river road (courtesy Chiniara)
They wanted to see how artists work, to be in a place entrenched in the culture of comic strips (as it's lacking in Lebanon), be exposed to a lot more comics than exist in their country, since a good many artists are not that well-known to them, may not be mainstream, have their work turned into movies, and may not be commercially viable.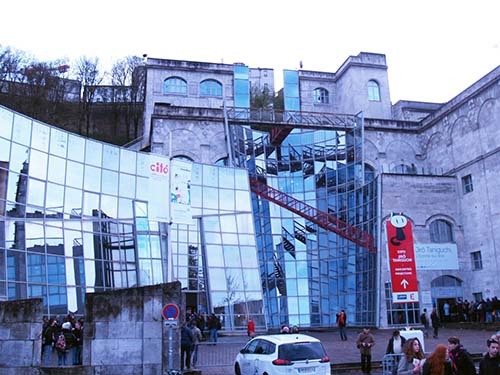 An Angoulême comic strip festival venue (courtesy Chiniara)
The ALBA students attended lectures featuring, among others, Japanese manga writer/artist Jiro Taniguchi, and took in as many exhibits as their time permitted.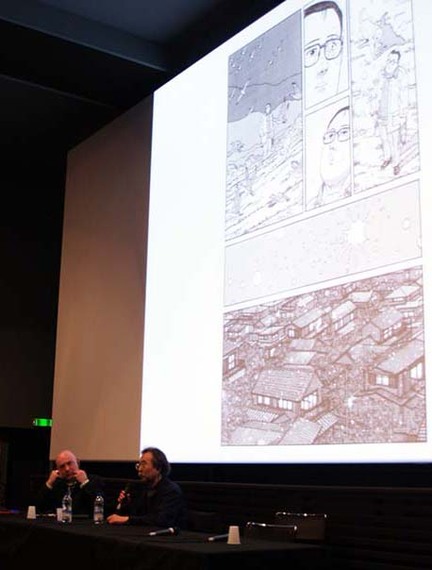 Manga writer/artist Jiro Taniguchi (courtesy Chiniara)
They also sat in on an illustrated concert by Blues performers L.C. Ulmer, Christone Ingram and his Band and featuring artist Mezzo, pen name of Pascal Mesemberg.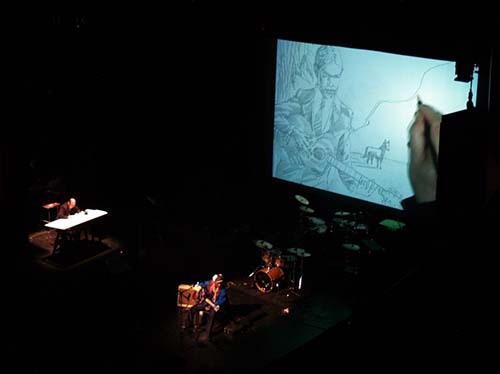 Blues musician L.C. Ulmer & artist Mezzo at live illustrated concert
(courtesy Chiniara)
Some of the ALBA students met up with alumni currently attending the Ecole européenne supérieure de l'image Angoulême-Poitiers, the town's famed illustration and comic strip university.

Angoulême is also reportedly home to the biggest comic book library in the world.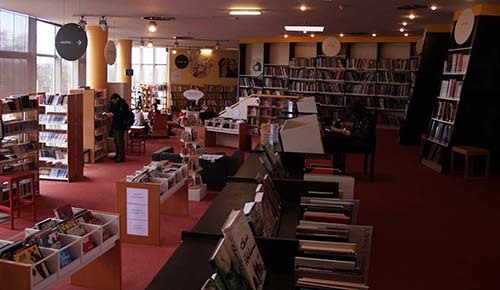 Cornucopia at Angoulême comics library (courtesy Chiniara)
The festival wasn't limited to famous artists. Even the work of French school children was exhibited.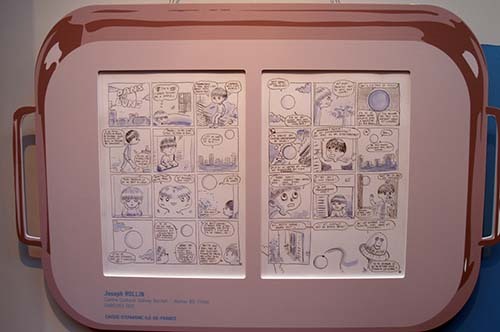 School children's work exhibited at Angoulême (courtesy Chiniara)
But will their comic strips and caricatures some day trigger angry riots or lead to deadly confrontations by offended readers?
Where does freedom of expression become a red line and should ethics be a consideration?
According to Patrick Chapatte, editorial cartoonist for the International New York Times, one needs to respect religious beliefs in general.
"But the notion of freedom of speech is also so deeply rooted in the fabric of not only French, but a lot of societies, that it's tantamount to something sacred. How do we move from there?" he said in an interview with Al Arabiya News.
The question won't be answered any time soon.