Naked Neo Lladro figurines draped in mini bikinis comply with local mores in Sharjah where authorities have asked shopkeepers to "behead" mannequins and not display them in underwear.
The idea is to avoid showing facial features and "uphold the traditional and religious values of the emirate," according to Gulf News.
It's one of a non-ending stream of quirky notions Alexander McNabb recounts in his book "Fake Plastic Souks: The Glory Years 2007-2008," a collection of blogposts about life in the United Arab Emirates (UAE).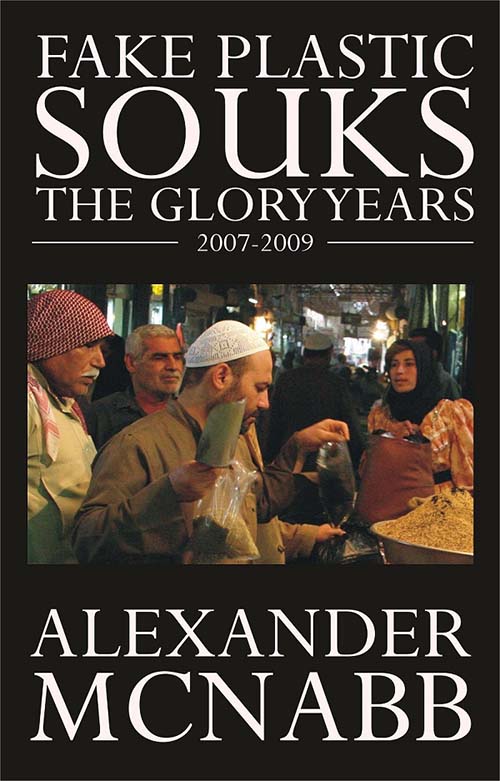 Fake Plastic Souks Cover (courtesy McNabb)
He's sarcastic, acerbic, funny and doesn't pull any punches on life in the Arab Gulf state but still manages to skirt red lines that could land him in trouble.
Trouble as a middle name would befit McNabb who takes potshots at shopping malls, traffic, government regulations, expat life and ignorant fly-by-night journalists who parachute into the country, write up nasty content and claim they've become experts on the place.
"At least it's not as bad as the silly arse from the Daily Mail who wrote up how fun she found it shopping last year in Dubai's 'delightful and traditional souk' - you guessed it, the Madinat Jumeirah,'" he wrote about the gentrified mini mall made to look like an authentic Arab market.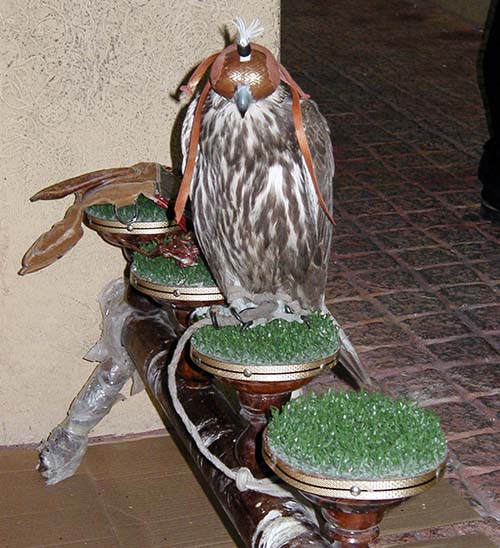 Falcon on sale at a traditional UAE souk (Abu-Fadil)
Madinat Jumeirah is the author's inspiration for a blog that morphed into the book.
He dishes out zingers like he hands out advice - the best kind reserved for Western visitors or residents unaccustomed to the ways of the east.
One example is of a Brit who flipped Emirati cops the finger after they pulled him over for some offense. Ill-advised, McNabb wrote, citing his own justified gripes at bank employees, the water company, the post office, technicians, functionaries and officials.
When the urge arises to lash back, as inevitably it will, he advises the following: "Keep your hands in your pockets. That way, the worst rap you'll get is for playing with yourself."
A riotous blogpost in the book is an apt description of Dubai's multicultural ambience.
It is here that cheap sub-continental Asian labor rubs shoulders with Western White Collars, where retail staff earning $200 a month serve shoppers earning $200,000 a year and more and where Indian laborers working for Irish contractors build Australian designed towers for Arab companies to sell Indian investors.

While McNabb and associates spend much time preaching and practicing the virtues of social media and online communications, they're not averse to obliging unusual requests from clients.
In another entry, he recounts shopping for a 37-seat private jet for one client and investigating private dining rooms and exclusive venues for another. "A real lalaPR week..."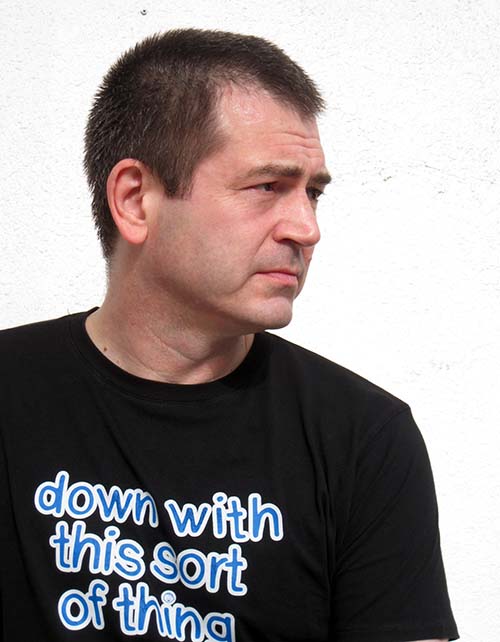 Alexander McNabb (courtesy McNabb)
An amusing exchange occurred as the author walked out of a meeting with a client to the building's parking lot when the latter asked him with a pronounced "WOW!" if the black car under the awning was his.
His back turned to the vehicle, McNabb replied yes, modestly about his Mitsubishi Pajero, saying it was enough to get him from A to B.
And then I turn towards the covered parking and walk to my car. I have to squeeze past the black Porsche 944 that's parked beside it as I get in.
Daaaammmnnn...
In a hilarious post on car crashes and who is likely to cause them, McNabb ranks "Khaleejis" (Gulf Arabs) atop a list of 25 nationalities causing the most accidents. Brits come in second and Australians/South Africans third.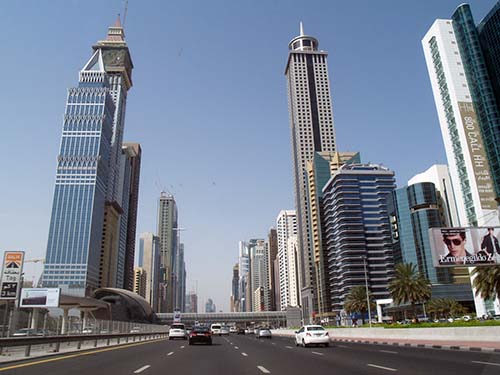 Dubai highways (Abu-Fadil)
Lebanese and Jordanians, known for crazy driving are ninth on the "hit" parade, with Afghans tailing last.
"If your country of origin is not listed above, use the country nearest to yours," he advises. One can almost hear him chuckle.
In the book's introduction, McNabb explains what turned him on to blogging.
I first sat down to a blank Blogger screen in April 2007 and have been feeding the beast ever since. It's like a particularly voracious tamagochi, consuming countless thousands of words over the past half-decade. I'm not even quite sure why I keep it going - it's become something of a habit, I guess. It's certainly not the traffic - at a tad under 20,000 views a month, we're not really taking Huffington Post class readership here.
Why did he name the blog and book "Fake Plastic Souks?"
It was the idea that Dubai was actually building, well, fake souks. Air-conditioned, fixed-price outlets that looked like Arabian souks - so much so that tourists actually preferred to wander around the concrete breezeblock alleyways with their fake adobe fascias and cod-barasti ceilings. So much more Dubai, really, than those nasty, dusty real souks down the road.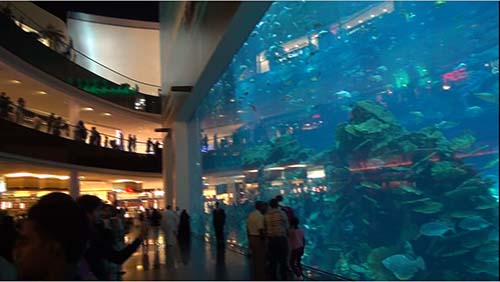 Dubai Mall with gigantic aquarium (Abu-Fadil)
McNabb works in Dubai and says, "I write books, I do communications, I cook. I spend quite a lot of my time laughing and do try not to be a stick-waving, spittle-flecked angry old man. I fail in this occasionally."
The Brit has penned "Olives - A Violent Romance" and "Beirut - An Explosive Thriller."
His next novel is "Shemlan," named after a village in the mountains overlooking the Lebanese capital Beirut and made famous by what was once known as "The Spy School," where mainly British intelligence operatives went to learn Arabic and other tricks of the trade.