Lebanon's cedar tree bent over and wept in front of a copy of the daily Annahar with a cover of Ghassan Tueni's profile and a pen resting across the page to mark the departure of the country's last journalistic giant.
That was the heart-wrenching illustration by the paper's caricaturist following the death of Tueni June 6, the paper's former editor/publisher and long dubbed "the dean of Lebanese journalists." He was 86.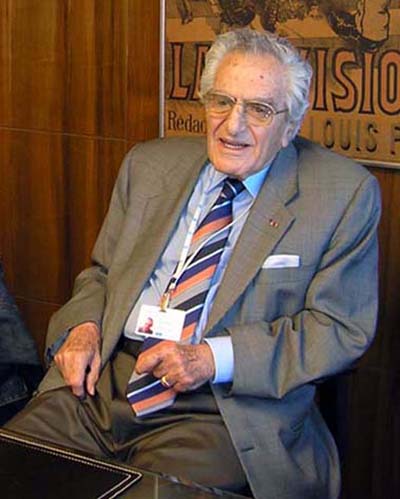 Ghassan Tueni in 2005 (Abu-Fadil)
"The loss is to the profession and the nation, as it is to those of us who worked with him and learned from him," wrote Ghassan Charbel, editor in chief of the pan-Arab daily Al Hayat in an tribute entitled "Hares Al Madina," (the city's guardian).
The respect he engendered from local competitors was equally profound.
"Ghassan Tueni turned his pen into a sword that cut through the heart of wrongs, and lit one's conscience with opinion, even if it differed from what prevailed, accepting others' opinions as an interlocutor, not a foe, maintaining animosity to the one and only foe: Israel," said Talal Salman, editor in chief and publisher of the daily Assafir.
My first encounter with Tueni was as a cub reporter on Lebanon's defunct weekly magazine Monday Morning in August 1972 when I was assigned to cover meetings he convened in his office to appease student leaders and prevent expected unrest before the academic year began.
He had served briefly as education minister -- one of several government posts he assumed during his long and illustrious career -- and was tapped by the government that year to help lower tensions among political factions at different universities given his strong ties to the youth.
Having been in a college student government just prior to becoming a reporter, I attended Tueni's gatherings as one of the leaders, unbeknownst to the participants.
I can see him smiling from up there that a journalist had snuck in (disguised as a student) to scoop other reporters on the hush-hush meetings.
Ironically, as the French say, "plus ça change, plus c'est la même chose," or, the more things change, the more they stay the same decades later with Lebanon's factional, sectarian, and political divides.
Addressing a conference at Beirut's St. Joseph University in 1999, Tueni struck an optimistic and defiant note in a speech entitled "Lebanon: Land of Perpetual Risk."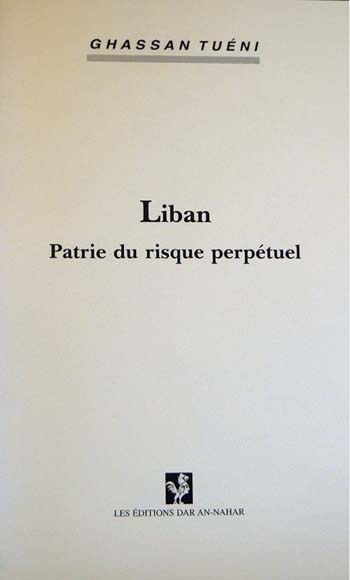 Ghassan Tueni's speech: "Lebanon: Land of Perpetual Risk" (Abu-Fadil)
"The risks we face today, as much as those we faced throughout our long history, and which we've overcome, could have, at one time, fragmented Lebanon," he said. "But, every time, we rebuilt it."
It was in that spirit that in 1978, as Lebanon's Ambassador to the U.N., he made the famous plea, "Let My People Live," to the Security Council after Israel invaded his country in the early years of its Civil War.
"Let My People Live" (Abu-Fadil)
Tueni's cry led to Resolution 425 calling on Israel to withdraw its troops and the creation of the United Nations Interim Force in Lebanon (UNIFIL), which is still deployed in the south.
He also assembled a 477-page tome a year later entitled "Peace-Keeping Lebanon: The Facts, the documents" that underlined the need for the resolution, its creation, and provided all related historical data.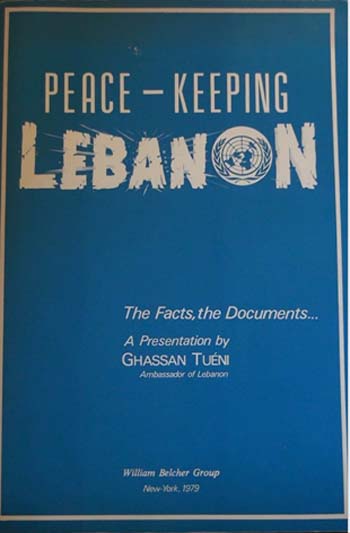 Tueni's U.N. tome "Peacekeeping Lebanon" (Abu-Fadil)
It wasn't until May 25, 2000 that Israel withdrew its troops from the area it occupied in southern Lebanon.
We met again years later and in 1999, although unwell, he briefly attended a dinner his remaining son Gebran had hosted for an international media ethics conference I'd organized in Beirut.
In the interim, fate had tested him by taking away his first wife Nadia Hamade, a noted Lebanese poet, to cancer, as well as his daughter Nayla at a young age, and his younger son Makram following a fatal accident.
But his strong faith as a Greek Orthodox Christian, his rock-solid belief in Lebanon's right to exist as a free and sovereign nation, and his unshakable determination to protect its press freedom kept him going and inspired all those around him.
It also landed him in jail on several occasions, but he remained uncowed and would not compromise on freedom of expression.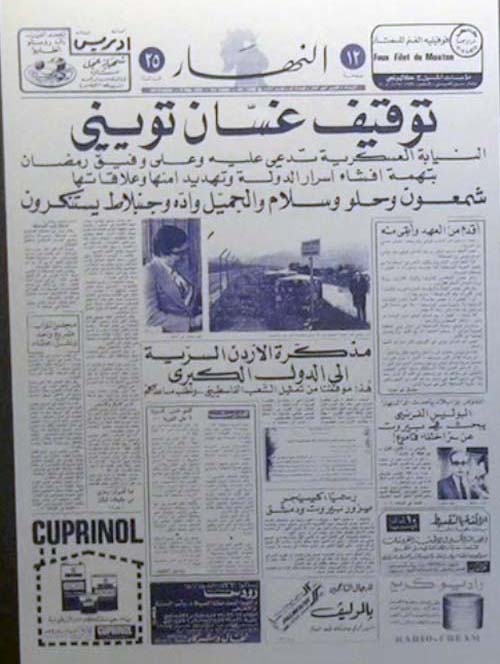 News of Tueni's arrest on Annahar's front page (Abu-Fadil)
Our paths crossed again in August 2005 when Tueni very graciously met me, and a group of Iraqi journalists I was training in Lebanon. He impressed everyone with his modesty, depth, knowledge and professionalism.
Although a great role model and mentor, he always told younger journalists he was their colleague, not some aloof boss. It endeared him to generations of reporters.
His resilience and faith were tested again four months later when his remaining son Gebran, who by then had become a member of parliament alongside his duties as Annahar's publisher, was assassinated.
Gebran Tueni had made a name for himself as a fighter for Lebanon's independence from Syrian tutelage -- Syria having been the main power broker in Lebanon with a military presence in the country for some three decades -- and as a defender of press freedom.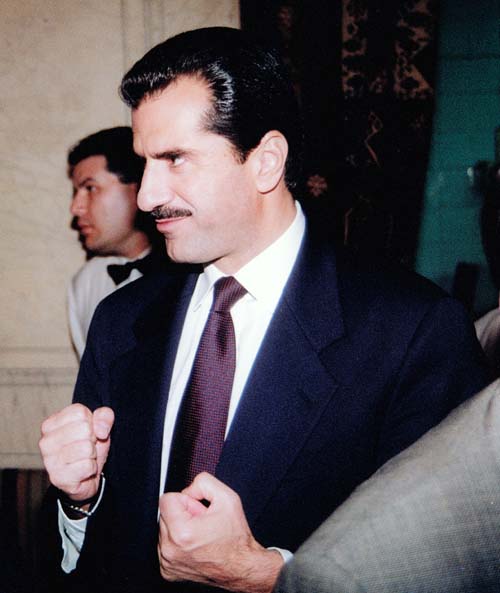 Gebran Tueni the fighter (Courtesy of Rodriguez)
At Gebran's funeral, Ghassan Tueni pleaded with all to put hatred and vengeance aside, and went on to serve his son's unfinished term, before handing that parliamentary torch to Gebran's older daughter Nayla.
Nayla, who Gebran had named after his late sister, had been working at the paper and has since become CEO and editor in chief and is a member of parliament representing one of Beirut's districts.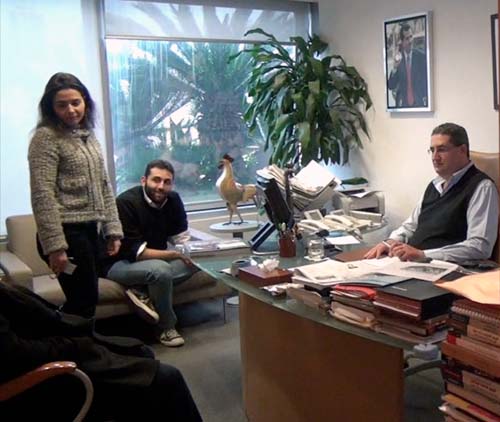 Nayla Tueni (standing) in managing editor Ghassan Hajjar's office (Abu-Fadil)
At her grandfather's funeral in a downtown cathedral he'd helped renovate, and across from the parliament building where three Tueni generations have served, Nayla pledged to carry on the family newspaper's mission with her sisters and colleagues.
"It's a great professional, historical, and constantly renovating legacy, but it's also a political, democratic, societal, intellectual, linguistic, literary, cultural, civilizational and ethical heritage," she said.