How can media firms strategize, plan budgets, and decide where to allocate their resources effectively?
"All things considered, if the biggest opportunities for media company revenue and content strategies for 2014 could be summed up in a few words, they would be Big Data analytics, paid content, native advertising, programmatic advertising, product development, tablets, e-commerce and smartphones," say the authors of an annual survey that examines such elements.
"Big data" in the industry has in recent years meant audience analytics, given its direct correlation to audience reader insights and monetization through advertising targeting, according to the World Digital Media Factbook 2014-15.
The book divides big data into the "Four Vs," which it translates into volume of information, velocity (notably of news), variety of structured and unstructured formats, and value in terms of high quality journalism, business insights and revenue.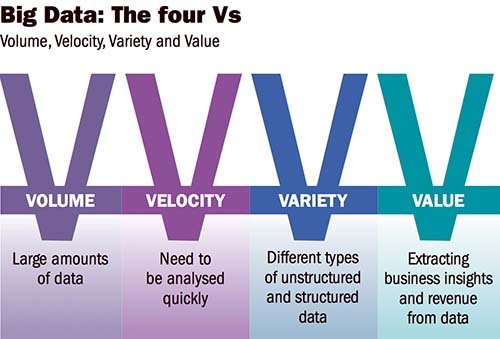 Big Data - The Four Vs (courtesy FIPP)
That's just a snippet of the voluminous information in the 238-page compendium published by the World Newsmedia Network, a not-for-profit research firm, and FIPP, the 700-member worldwide magazine media association.
Another key component is advertising, which media organizations are embedding into their news content and for which they're inventing all manner of creative permutations to financially sustain their operations.
In one of the book's countless tables and graphs, the authors illustrate how spending on advertising is shrinking in legacy media and being overtaken by digital outlets over the 2013-2016 period.
Globally, TV takes a dip from 40.1% to 39.2%, considering it is still the medium of choice in developing countries with high illiteracy rates.
But desktop Internet adspend edges up from 18.1% to 19.5% and mobile Internet advertising takes a bigger leap from 2.7% to 7.6% for the same stretch of time.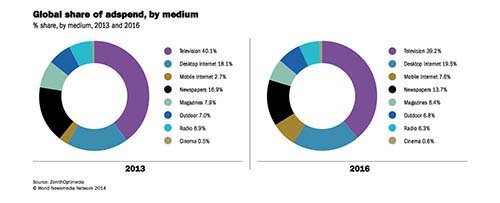 Global share of adspend by medium (courtesy FIPP)
Other slides are, predictably, in newspapers, magazines, radio and outdoor advertising while cinema is expected to see a slight nod upwards in adspend.
It's no easy matter compiling a mass of statistics on digital media when the variables are constantly changing.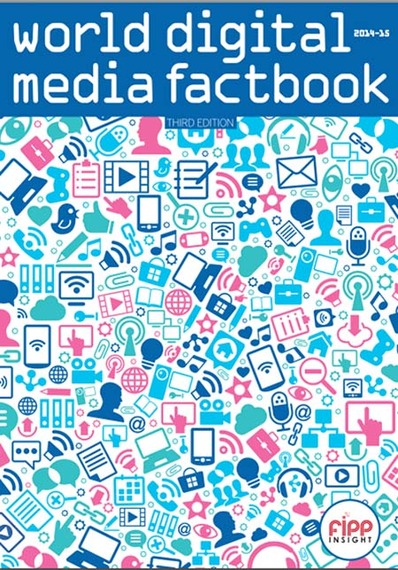 World Digital Media Factbook 2014-15 (courtesy FIPP)
A particularly interesting trend the factbook covers is Internet usage.
"The most popular destinations globally are Google, Microsoft, Facebook and Yahoo!, all of which have between four-fifths and five-sixths of their audiences accessing their sites from outside the United States," it said.
These sites apparently also command the majority of adspend, it added.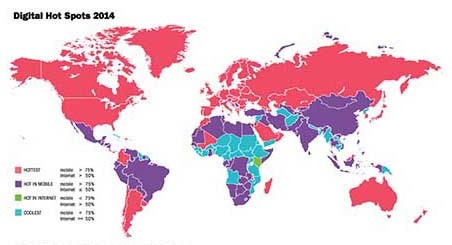 Digital hot spots 2014 (courtesy FIPP)
The factbook's publishers have since 2006 devised a digital hot spots map to show which countries had the highest-to-lowest Internet and mobile user penetration.
Red indicates the highest Internet and mobile users; purple shows the highest mobile but not Internet; green illustrates high Internet penetration but not mobile; and blue points to underperformers in both Internet and mobile.
"Digital media usage trends drive publishers and broadcasters to develop new products, change news judgment, revamp user interfaces, change strategies and earn more revenues," the book noted.
The fastest growing device from which to access the Internet is the mobile phone, according to figures measuring the 2011-2013 period, followed by the tablet, whereas desktop computers showed a marked disfavor.
A good portion of that access is devoted to social media, but that, too, depends on the country or region of the world, in-country accessibility via government or private ISPs, freedom of expression, age, gender and income.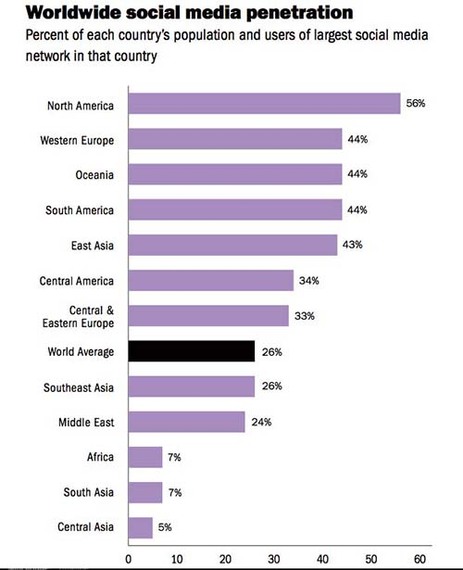 Worldwide social media penetration (courtesy FIPP)
The world average for social media user penetration is about one-fourth (26 percent); however, many regions of the world have social media penetrations that are much higher, and others that are just a fraction of the world average, according to GlobalWebIndex's 2013 "We Are Social" study.
Social media can be divided into publishing, sharing, discussing and networking, all of which require some form of engagement, the factbook reports.
Publishers and advertising stakeholders seek to define and leverage engagement in a bid to secure higher advertising revenues, higher dwell times on content (including editorial and advertising) and more efficient targeting to consumers interested in engaging in the content, it said.
It cited the Interactive Advertising Bureau's definition of it as,
Ad engagement: Is the creative compelling? Are the viewers interacting with it in some way?
Content engagement: Which content is the most captivating on the site?
Audience engagement: Which viewers are paying the most attention? Who contributes to the conversation?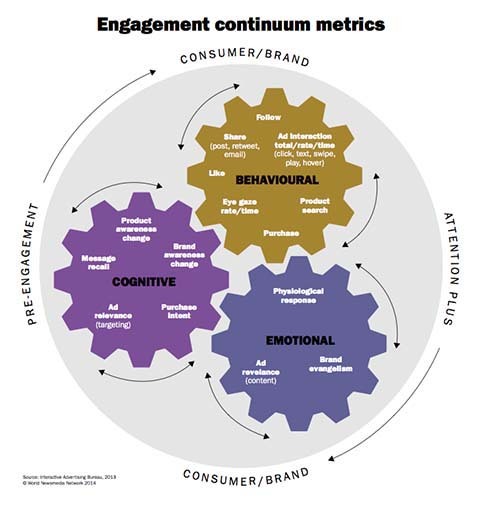 Measuring engagement (courtesy FIPP)
Engagement is then measured by time spent on smartphones, tablets and desktops - one of several methods - thereby enabling publishers and advertisers to cash in on the interaction.