Yes, it's a twist on the 1969 film starring Suzanne Pleshette and Charlie Cartwright "If it's Tuesday, this must be Belgium," about a group of American tourists zipping through Europe on a bus tour with barely time to see anything.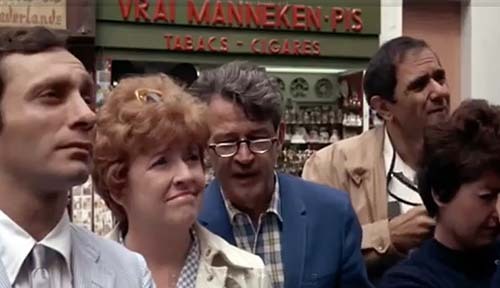 Screen shot of "If it's Tuesday, this must be Belgium"
In this case, I was on a one-day business trip to Brussels this month, but extended it by a day to re-visit some places I liked, and discover one or two new ones.
The whirlwind journey meant flitting between key locations, cramming as much as possible braving 0 degrees Celsius (32 F) with some light snow during the day and minus 4 at night.
I convinced some visiting Arab journalist friends to join me for an afternoon/evening tour of downtown Brussels since they were leaving the following day and I was staying a bit longer.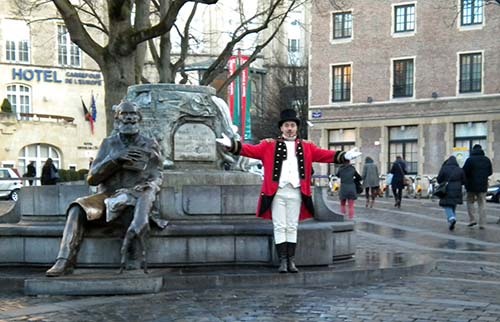 Belgian town crier advertising performing arts shows (Abu-Fadil)
No visit would have been complete without a stroll down Les Galeries Royales Saint-Hubert to feast one's eyes on the enclosed domed mall's classical architecture, marble storefronts, and exquisitely displayed merchandise.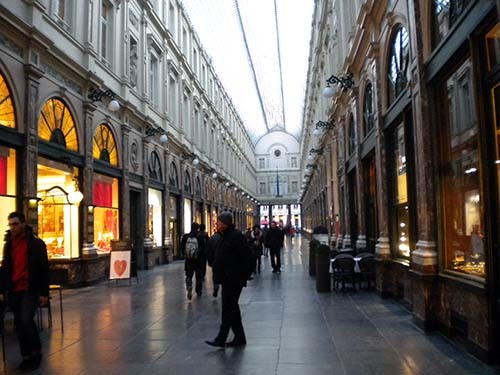 Galeries Royales Saint-Hubert (Abu-Fadil)
A key attraction in Belgium, besides historical monuments and fascinating museums, is the rich cuisine and mouth-watering selections of fine chocolates.
So our merry band made multiple stops at several famous chocolatiers to stock up on gifts and elaborate creations for personal consumption.
This isn't your supermarket variety, and calories aren't even part of the conversation.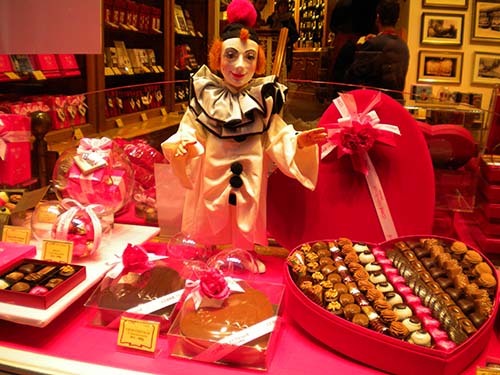 Valentine's Day treats (Abu-Fadil)
It's chocolate truffles with flavors such as tiramisu, classical cream, cappuccino, and dark chocolate. But I highly recommend the cognac and champagne varieties.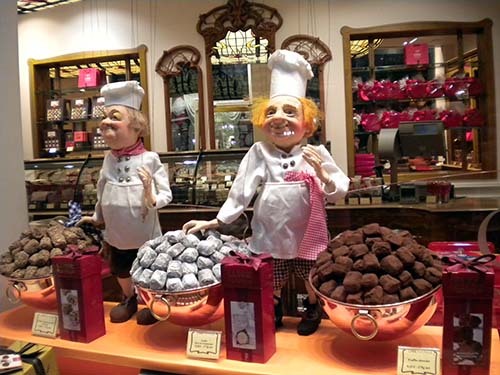 Chocolate truffles heaven (Abu-Fadil)
Whether it's caramels, pralinés, cones, marzipans, liquors, candied fruits dipped in chocolate, chocolate fruit cups, crunchy wafers or nougats from Neuhaus, Godiva, Corné Port-Royal, Leonidas, La Belgique Gourmande, or some artisanal mom-and-pop chocolatier, you indulge and you bulge, with a great big smile on your face.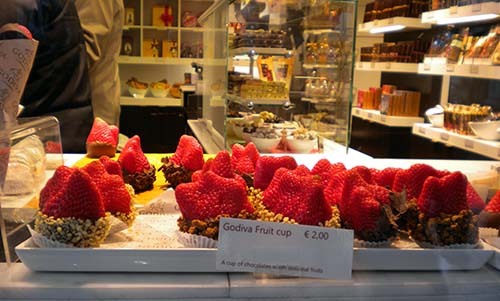 Mouth watering chocolate fruit cups (Abu-Fadil)
That chore and the purchase of a Tintin comic book done - the cartoon character is Belgian - it was time to think of dinner.
Several other colleagues joined us at the landmark Chez Léon on a side alley off the Galeries.
A sought-after specialty is mussels (prepared in more ways than I can remember), fries and beer for a decent 16 Euros ($18.41) service and tax included, but the full range of seafood is an epicurean delight and there's always fresh bread and butter to get one started.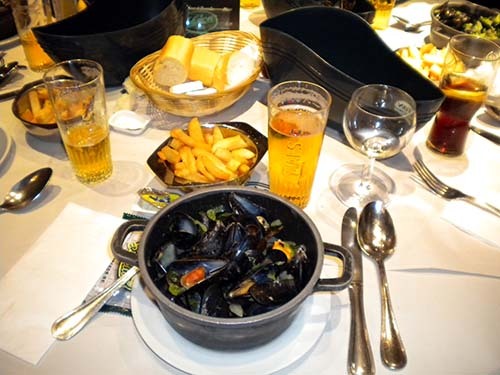 Moules, frites et bière Chez Léon (Abu-Fadil)
For the uninitiated, fried potatoes as we know them are Belgian, not French, and the best way to cook them is in lard. The country also boasts some 400 varieties of beer.
Did anyone say calories?
The following day I spent most of the morning at the Belgian Comic Strip Center, about which I've already blogged.
The art form is quite popular, has a substantial history in Belgium, and is enshrined in several museums.
Next stop was the iconic Manneken Pis statue of the little boy relieving himself into a fountain at the corner of two streets near the famous Grand-Place. It's been there since the 1600s.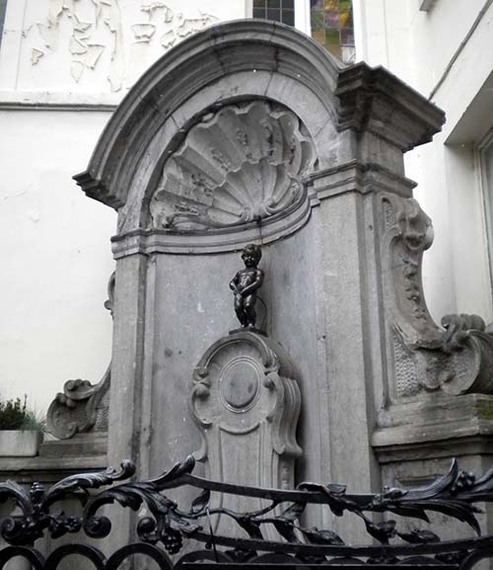 Manneken Pis statue (Abu-Fadil)
It's such an attraction that souvenirs of every stripe have been reproduced in its likeness and this month a special exhibition on Brussels at the comic strip museum features a caricature of a tipsy man with a beer glass quenching his thirst from the statue.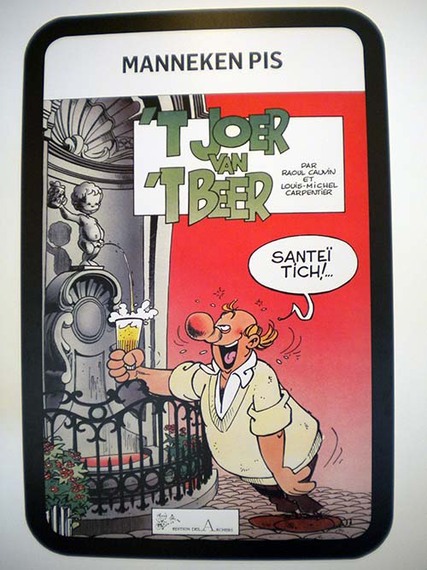 Manneken Pis statue featured in beer cartoon (Abu-Fadil)
Walking around the Grand-Place neighborhood there are the inevitable tourist trinket shops and traps, but also displays of dainty Flemish lace and other embroidered goods.
There's a costume and lace museum in Brussels that I must see on my next trip.
The freezing temperature and snow built up an appetite, which meant stopping at Bocconi, a delightful Italian restaurant with impeccable service for an "express lunch"- a fixed menu of soup or salad, main dish, and dessert for 19 Euros ($21.66).
My hearty choice of onion soup, preceded by house bread with imbedded zucchini to dip in olive oil, fresh pasta with small bacon chunks, bits of broccoli and carrots in a light pesto sauce, and a meringue-like dessert with raspberry, a sprig of mint and touch of vanilla sauce were divine. The house white wine and espresso with Italian cookies were extra.
The wind and cold meant limiting my outdoor gallivanting to a few more stops in the area, including the famous Grand-Place with its 17th Century buildings. It's considered a UNESCO World Heritage site.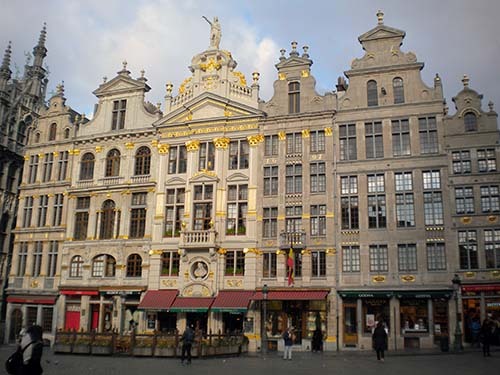 Grand-Place in (Abu-Fadil)
A bit more window-shopping and walking as far as the Brussels bourse (stock exchange), an impressive edifice built in 1873. Its exterior decoration is said to be partly the work of noted sculptor Rodin.
Next time I must stay longer and get a Brussels Card to go museum hopping for one, two or three days with the cost of entry and public transportation included.
So much to see, so little time.