The place for digital developers is in the newsroom goes the tune on the latest advances in the newspaper world since industry movers and shakers must cater to consumers' multiple senses across various platforms.
"The development of these expanded platforms and associated interactive strategies means that our newsrooms need more journalism-aware developers than ever before, firmly embedded in the day-to-day operations of our 'information engine,' not as IT people on the periphery," argued consultant Michael Agar.
A prime example of this creative approach is The Boston Globe where a web developer outside the newsroom but with access to the paper's servers and editorial systems turned countless unused photos into a very successful daily must-see gallery section called The Big Picture, said Agar.

Agar's advice came in the Innovations in Newspapers 2012 World Report, an annual survey by the Innovation International Media Consulting Group for the World Association of Newspapers and News Publishers (WAN/IFRA).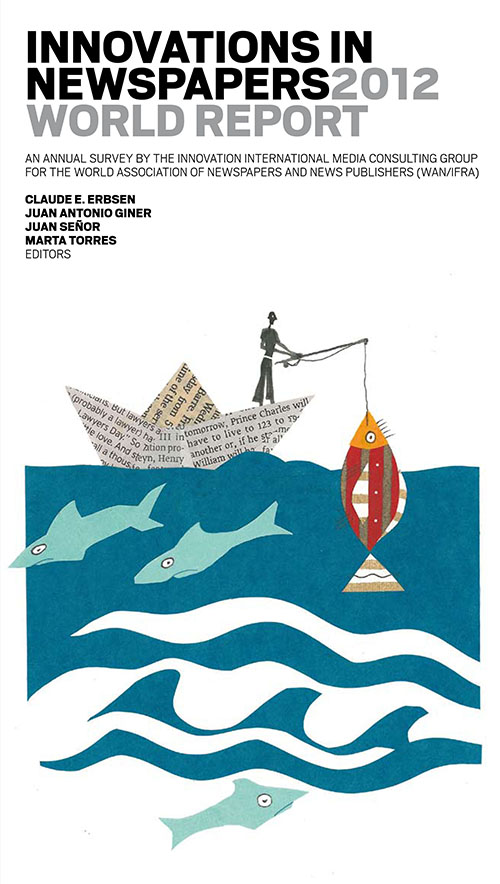 Innovations in Newspapers 2012 Cover (courtesy Innovation International)
The little book, which reviews the previous year's developments, is a must-read for anyone following newspaper trends and projections around the world.
An issue befuddling newspaper publishers is whether, and how, to erect paywalls to charge for content that was provided pro bono over the years.
To Innovation International director Javier Ramírez Bañares, more papers have jumped on the bandwagon in less than two years by offering select content that can only be accessed through payment.
"All pay models offer subscribers a richer content package than what is available in print: additional exclusive content, social media, video, etc., as well as such add-ons as reader's clubs, wine clubs, travel opportunities and so on," he said.
But the fundamental key to success lies in the quality of the content, he added, citing The Wall Street Journal, The New York Times, the Concord Monitor of New Hampshire, The Boston Globe, the Dallas Morning News, Britain's The Guardian and the Financial Times, and, Denmark's Politiken, to name a few.
A new and growing twist to the digital revolution is the capitalizing on electronic readers (e-readers) to support long-form journalism and to cash in from subscribers, according to Ismael Nafría, an Innovation International consultant.
"Clearly, e-books are one more piece in the transition of content consumption from print to digital, and Microsoft's large investment in Barnes & Noble's Nook division underscores this and, as a New York Times headline put it early this year, 'Miniature E-Books Let Journalists Stretch Their Legs,'" he said.
That includes both original content and abundant repurposed material for which publishers and editors are finding new outlets.
Nafría offered ten tips for getting into e-books: observe, experiment, look at your archives, watch the calendar, help your readers to understand important current issues, look for sponsors, define a strategy, bring the newsroom into your confidence, involve your top bylines, and broaden your offerings.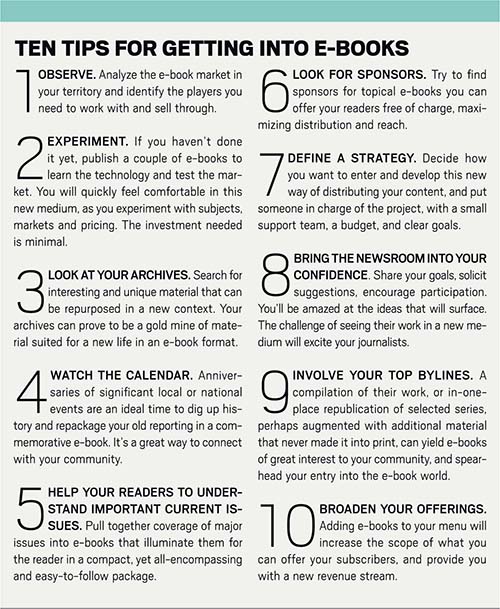 Ten tips for getting into e-books (courtesy Innovation International)
On the revenue front, ad sales seem to be on the rise in Latin America with advertisers buying large blocks of newspaper space in advance at discounted rates, Bañares noted.
Consultant Marta Botero, in turn, focused on Venezuela's Cadena Capriles newspaper group, which is apparently breaking records with the largest integrated multimedia newsrooms in Latin America.
The setup - a revolution that began in 2008 and ended in 2012 -- involves 300 journalists under one roof in a 1,000 square meter open-space futuristic glass and concrete facility working for multiple titles, Botero wrote.
The upshot: one kitchen, several media restaurants.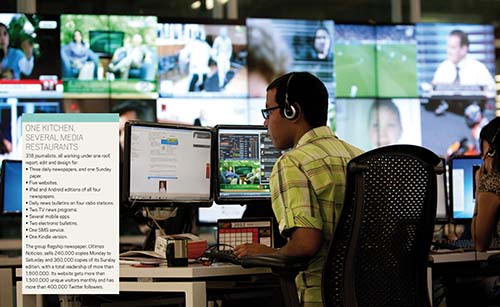 One kitchen, several media restaurants (courtesy Innovation International)
Despite all the innovations, not enough is being done to keep abreast of the digital revolution, argued Pedro Monteiro, adding that the revolution brought with it the loss of some of the most important content newspapers provided for readers: consumer services.
"We need to fully embrace the best things digital has to offer to our long tradition of telling non fiction stories," he said, because if newspapers don't, somebody else will.
Time-sensitive free HTML5s vs. print media's native paid apps are gaining wider acceptance, wrote Thodoris Georgakopoulos.
The Economist is a case in point. It scored well with a site called "electionism.com" that was designed exclusively for smartphones and tablets and focused on the 2012 U.S. presidential elections.
To avoid repeating other news websites' mistakes, Álvaro Moncada advised publishers and editors to break news as it happens, get rid of Flash (since Google doesn't read what's inside a Flash file and devices running IOS can't read or display it), have several front page templates, and, think mobile.
Innovation International's report also features customized widgets to help journalists create tantalizing infographics, and dedicates a chapter to an interview with The Associated Press' social media editor.
Among Innovation's countless projects is the development of the first integrated newsroom in Ecuador for El Comercio in Quito.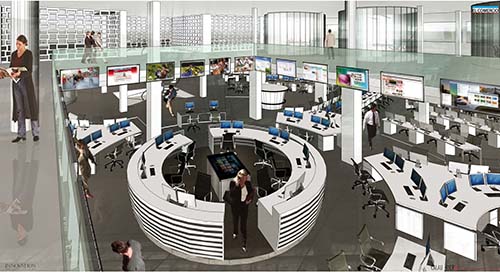 The central desk at El Comercio in Quito, Ecuador (courtesy Innovation International)