Pro-Syrian partisans in Lebanon battered a Future News TV journalist leaving him crippled in hospital six months after their group contributed to the siege of Beirut with Hezbollah and other allies who unplugged the channel, burned its archives and shot missiles through the offices of the media firm's daily, Al Mustaqbal.
The violent assault this week by Syrian Social National Party (SSNP) supporters on Omar Harqous, injuring him in the neck, head and chest occurred as he and a Future News cameraman covered municipal workers tearing down political party posters on Beirut's Hamra Street.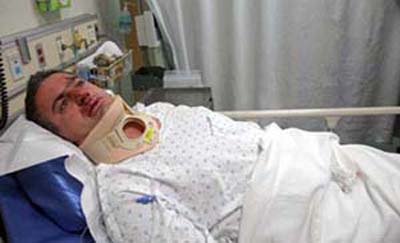 Omar Harqous in hospital (nowlebanon)
"I'm really sick and depressed about these repeated attacks," said a reporter/columnist who has long criticized Syria's influence in Lebanon and who has received threatening emails as a result. "This goes on with impunity and there's no protection."
Harqous, moaning with pain, said he went to see city workers take down political banners, notably those of the SSNP, in tune with a truce hammered in Doha, Qatar, following bloody street battles last May triggered by allies of Syria and Iran (known as the March 8 coalition) in Beirut and some Lebanese mountain areas.
He said his assailants identified him from TV and ordered him to leave. He told them he was a journalist and would do so after covering the story, but when he turned around, they pounced on him, and told passersby not to interfere because he was "a Jew."
The March 8 assailants oppose March 14 forces spearheaded by Saad Hariri's Future Movement, which the former consider puppets of the United States and, by extension, Israel.
Hariri's father, former prime minister Rafic Hariri, was assassinated February 14, 2005 by a car bomb. Saad Hariri has since led a parliamentary majority and accused Syria of killing his father.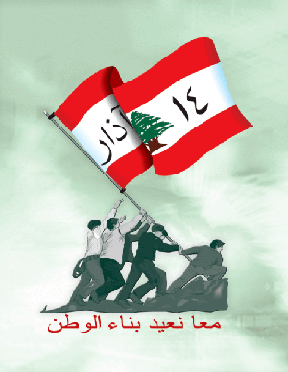 March 14 flag
On March 14, 2005 about a million people gathered in Beirut's Martyrs' Square to demand a withdrawal of Syrian troops then deployed in Lebanon, and liberation from what they said was Syrian hegemony over the country.
That event came six days after Syria's backers had staged a demonstration to show their loyalty to Damascus - hence the designations March 8 and March 14. The latter was also dubbed "The Cedar Revolution."

"This is a political/security issue par excellence," said Future TV CEO Nadim Munla.

Future News' news director told An-Nahar daily that a caller to the channel said SSNP members were beating up municipal workers taking down their posters, so he assigned Harqous and a cameraman to cover the story. When Harqous began nosing about, he was beaten to a pulp.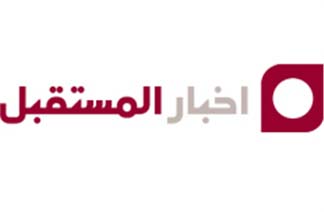 Future News TV logo
The attack on Harqous drew widespread condemnation from journalists, politicians and press freedom organizations, with scores gathering in front of the news channel's headquarters to express solidarity with the Future TV organization.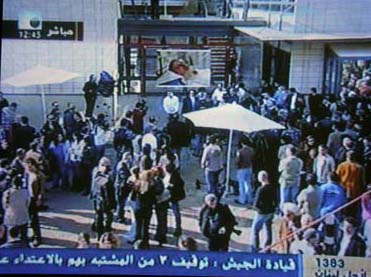 Demonstration supporting Future TV (Abu-Fadil)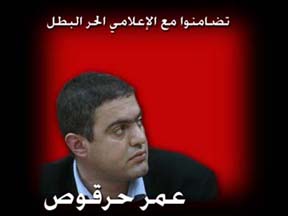 Omar Harqous solidarity poster (Future)
Lebanese Information Minister Tarek Mitri said the incident was "an attack on freedom of the press and journalists' dignity," adding that all political parties should cease violence against the media.
Mitri insisted there should be no delay or hesitation in nabbing and prosecuting the assailants.
"This cowardly attack comes just a few months after an attack on the offices of several media affiliated with the Future Movement, including Future News," said the Paris-based Reporters Without Borders, adding that press freedom in Lebanon was threatened by increasingly frequent attacks against journalists.
The terrestrial and satellite Future News and entertainment channels as well as Al Sharq Radio and Sivan, a radio station broadcasting in Armenian and connected to the media group, were knocked off the air in May after their staffs were terrorized and sent scurrying. (http://www.huffingtonpost.com/magda-abufadil/lebanons-future-media-unp_b_101258.html)
But Future media defied the attacks and resumed broadcasting and publishing days after the forced closure and diversion to makeshift quarters in a safer part of Beirut during a week of internecine fighting. (http://www.huffingtonpost.com/magda-abufadil/lebanons-future-media-def_b_102801.html)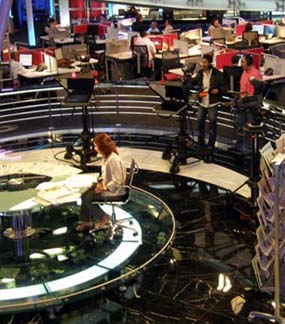 Future News (Abu-Fadil)
Lebanon's Press Federation and Journalists' Union joined a chorus of outrage at the latest attack, and a French Foreign Ministry spokesman condemned it saying it violated the spirit and text of commitments Lebanese politicians had made in Doha.
The SSNP meanwhile denied the attack was politically motivated, saying it resulted from a "personal matter" between Harqous and party members. Harqous had tried to shoot footage of an SSNP member against his wishes, which led to the fracas, the party said in a statement.
The party's media director also demanded that the information minister and press association heads halt all discussions of the matter, adding the party reserved the right to sue all those who slandered and defamed it.
March 14 sources said Harqous was attacked because residual effects of the onslaught on Beirut in May had lingered. They added that although political factions had agreed to remove their provocative street paraphernalia, the SSNP had established new security outposts in the Hamra/Ras Beirut district threatening all those who opposed the party.
Analysts tied the latest incident to a series of attacks on anti-Syrian groups ahead of Lebanese parliamentary elections set for spring 2009 and as an international tribunal into the murder of former prime minister Hariri begins its deliberations in March.
News media said the army had arrested three suspects in the attack, releasing one a few hours later, but it was unsure what fate awaited them.
To date the assassins of An-Nahar publisher Gebran Tueni, An-Nahar columnist Samir Kassir and a slew of other Lebanese journalists have not been brought to justice. Neither have the assailants who attempted to blow up LBC TV anchor and talk show host May Chidiac, who survived but lost part of an arm and a leg when a remote-controlled bomb exploded under her car seat.