Qataris are active on social media but users are constantly cautioned not to violate the country's laws lest they run afoul of authorities.
"Twitter is a tremendous means of communication, if it's used properly; I always focus on positive issues, participate in positive campaigns and hashtags, and constantly interact with followers through them," said TV presenter Asmaa Al Hamadi.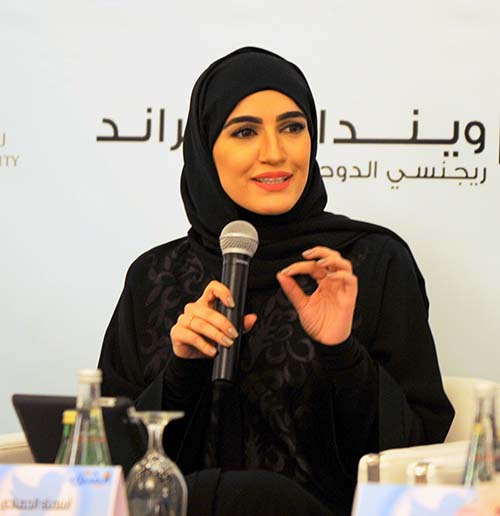 Qatari TV presenter Asmaa Al Hamadi (courtesy Al Sharq)
However, personal accounts don't always meet credibility standards since what tweeps publish -- except for official news that's tweeted or retweeted -- is a reflection of personal views, she added.
That creates its own set of problems when views or online actions violate privacy, foster hate speech, disseminate rumors, foment internecine and sectarian conflicts, and undermine conservative societies.
Al Hamadi was one of several Qatari and Arab speakers who shed light on such problems, while focusing on ethics and how to counter social media's negative impact at the "Third Tweeps Meet" in Doha organized by the daily Al Sharq.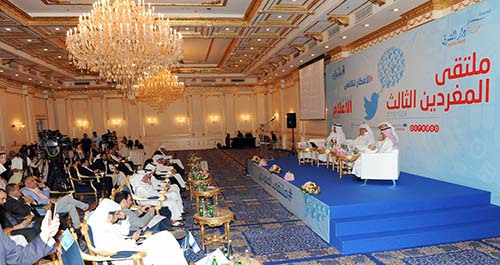 Third Tweeps Meet in Doha (courtesy Al Sharq)
Former Kuwaiti information minister and publisher Saad Al Ajmi described tweeting as a double-edged sword, noting that having the largest number of followers doesn't necessarily make users the most effective tweeps.
"Twitter has created a new speedy culture and provided people a space to express their views, and, achieve three goals: information, communication and pleasure," he said. "I don't think there's a print or broadcast medium that doesn't have a Twitter account."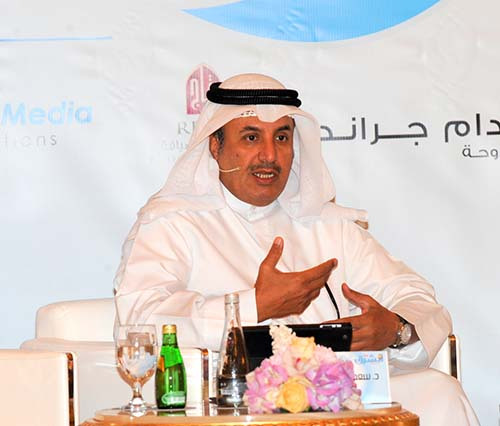 Former Kuwaiti information minister Saad Al Ajmi (courtesy Al Sharq)
To Al Ajmi, Twitter has had an impact on Arabic, a rich language that lends itself to lengthy prose and rhetoric.
"Twitter has had a noticeable effect on Arab culture: limiting oneself to 140 characters in a tweet deprives us of stretching and explaining, which is typical Arabic style," he said.
But Twitter has also contributed to the protection of Arabic letters and of the language because it has replaced digital writing, he elaborated, while it's also exposed countless PhDs who are incapable of writing it properly.
Jamal Khashoggi, the Saudi director general of Al Arab satellite news channel owned by Prince Alwaleed bin Talal, saw sinister uses of social media.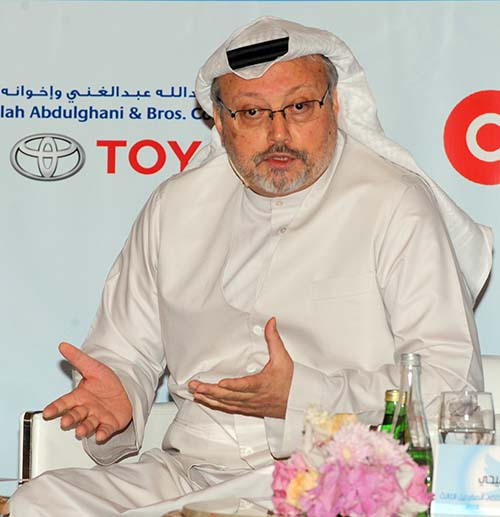 Saudi media figure Jamal Khashoggi (courtesy Al Sharq)
He warned against electronic armies or cells he equated with bacteria and germs that weakened Twitter.
"The electronic cells group five or six individuals with social media experience who set up 100-200 accounts on one of the social media, create a virtual world, and launch specific campaigns that may or may not be good and that are mostly run by political or military entities using mechanisms for premeditated assaults by paid individuals," he charged.
Khashoggi also said repeated lies and claims on Twitter by these cells become reality, prompting governments or institutions to reply and deny what is published and is untrue.
Jaber Al-Harmi, Al Sharq's editor in chief, said the Twitter confab provided a media platform for all to engage in a free discussion as part of its ongoing dedication to social responsibility.
Ethics and how to keep offending content in check are a recurring issue Arab Gulf states take very seriously and that detractors say is an impingement on their personal freedom.
There are ample examples of what turns off print and online content consumers.
On October 25, a horrific crash in Qatar involving a fuel-laden truck and a four-wheel drive passenger car with two male occupants led to the truck flipping over the vehicle, bursting into flames, and burning the men inside it.
No sooner did the accident occur than voyeuristic passersby shot and uploaded videos onto social media, to the dismay of the dead men's loved ones and in clear violation of the country's laws.
The incident triggered a wave of outrage and calls for bans on videos clips related to peoples' personal lives as well as for slapping fines on "anyone who interferes in individuals' privacy, notably traffic accidents, given the physical and psychological impact on the bereaved families," reported Al Sharq.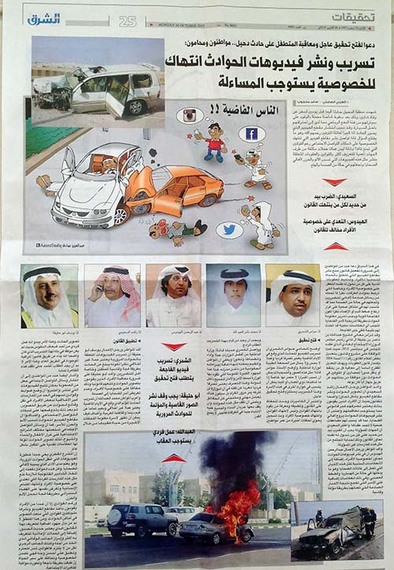 Report on filmed accident uploaded to social media (Abu-Fadil)
In September the Qatari cabinet approved amendments to existing legislation that would penalize anyone shooting or disseminating photos of injured or dead people without the consent of the deceased's representatives.