Yemen's government will pass draconian legislation aimed at stifling independent broadcast and online media in a bid to silence opponents and solidify its grip on power, Yemeni journalists and NGOs reported.


Yemen government logo
"There is a culture of hatred in current newspapers, but people are still not affected by this due to the limited distribution of newspapers," the Yemen Times quoted a ministerial memo as saying of the draft law.
Information Minister Hassan Al Lawzi, in his proposal to also gag offending broadcast and online media, said in his memo that destructive ideas broadcast on radio and television could lead to political and social conflict and sedition, which justified the measures.
"If passed, almost all Yemeni non-governmental websites, including my own, of course, could be subject to prosecution," said Walid Al-Saqqaf, administrator of YemenPortal.net (www.yemenportal.net), of the dizzying 77-article draft law that would probably run most independent media aground financially and chase their owners into jail.
The rules would apply to all non-government TV and radio stations as well as online media.
The government would set up an oversight committee grouping officials from various ministries and the country's national security apparatus, to crack a whip if the media run astray of regulations.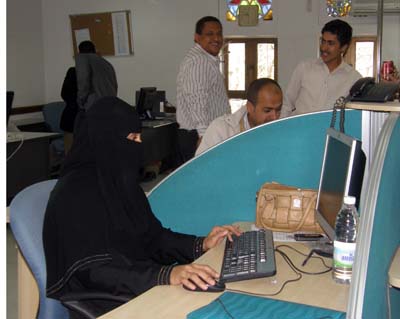 Yemeni government's Sabaa News Agency (Abu-Fadil)
To qualify for licenses to operate independent broadcast and online media, applicants would have to meet stringent requirements and cannot be members of political organizations or parties.
The Yemeni site Al Sahwa published (www.alsahwa-yemen.net/view_news.asp?sub_no=6_2010_04_08_77301) the draft law that stipulates, among other things, that journalists cannot uplink to satellites from mobile stations without government permission and that journalists are barred from using videophones.


Al Sahwa.net banner
"Imagine them taking a whole private TV studio?" asked Yemen Times editor Nadia Al-Sakkaf of the penalties to be imposed and threats to confiscate equipment from violators.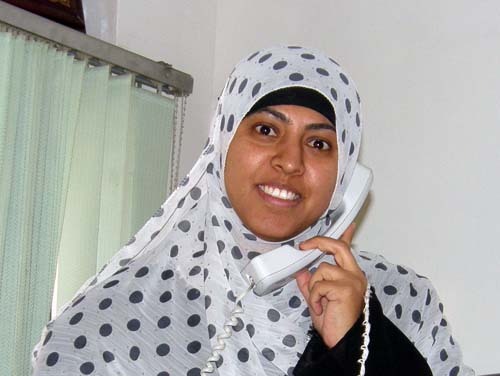 Nadia Al-Sakkaf (Abu-Fadil)
It's unclear what monetary fines would be imposed, but the government warned it would apply already outdated print media laws to regulate the Yemeni blogosphere.
Walid Al-Saqqaf's portal (http://www.huffingtonpost.com/magda-abufadil/yemeni-develops-program-t_b_209321.html) has allowed Yemenis barred from learning about problems facing their country to download his software called "Alkasir" - Arabic for circumventer.
He's horrified at the prospect of more restrictions on the media.
"They have planted 'electronic media' and 'websites' all over (the legislation) and added several restrictions," he said, adding that it aimed to clamp down on freedom of expression and impose massive taxes on independent media, including 10% on advertising revenues.
The measures would undoubtedly bankrupt already struggling media and signal a pivotal moment in Yemen's history, he noted, with a resultant regression that nobody could have anticipated.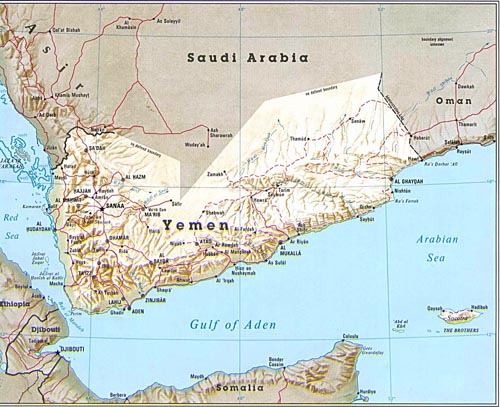 Yemen (University of Texas Library)
Setting up online news operations using websites, blogs or mobile phones requires paying a 1-2-year license fee of 20,000,000 Yemeni Riyals ($88,888 at current rates), which would cripple most organizations.
And the license may or may not be renewed.
It may even be revoked if the government's feathers are ruffled.
According to Yemeni sources, the government is strong-arming parliament to ram through the legislation to avoid any debate of the matter by journalists' unions, media representatives and civil society groups.
Critics say the proposed legislation is expected to gain easy passage by parliament where President Ali Abdallah Saleh's bloc holds sway. Yemen, at the southern end of the Arabian Peninsula, is one of the poorest nations in the Arab world.
The government has come under increased scrutiny by civil society groups and press freedom organizations inside and outside Yemen.
On April 6, Women Journalists Without Chains (www.womenpress.net), a Yemeni media watchdog, said parliamentary security guards had assaulted one of its activists as she photographed the organization's 43rd protest against the government's crackdown on journalists.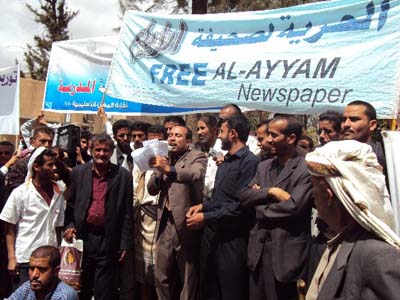 Women Journalists Without Chains rally in downtown Sanaa (WJWC)
It said security authorities had arrested Hadhramawt Press' editor Awad Kashmeem in March, seized his personal papers, and confiscated all his belongings.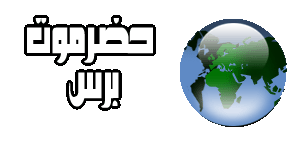 Hadhramawt Press logo
His site (www.hadhramoutpress.net) has not been updated since the raid.
On April 10, WJWC said the press court had summoned journalist Mohammad Al Maqaleh to appear before it on the 18th on charges of insulting President Saleh.
WJWC said Al Maqaleh had criticized the Yemeni president for promising in 2005 not to seek reelection in 2006, but he had run again, making him one of the longest serving Arab leaders.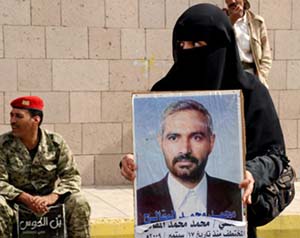 Protester demanding Mohammed Al Maqaleh's
release (Aljazeera.net)
Al Maqaleh was freed from jail in March 2010 after a six-month term on earlier charges of supporting the Houthi rebels in the north -- reportedly backed by Iran -- that have fought pitched battles against the Yemeni army.
Elsewhere, the WJWC reported that Yemen's chief district attorney had urged the press court to banish activist journalist Sami Ghaleb, editor of Al Nidaa newspaper, with four of his staffers to war-torn Somalia across the Gulf of Aden.
The reporters are accused of publishing sectarian articles that undermine national unity.
The government called for harsh punishment by "sending them to Somalia or Iraq and leaving them in the most incendiary war zones, amidst howling shells, moaning wounded and surrounded by the smell of death."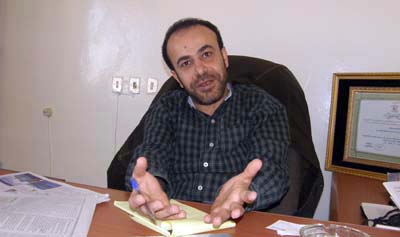 Al Nidaa editor Sami Ghaleb (Abu-Fadil)
Ghaleb's spartan, independent weekly paper is already financially strapped, it has no specialized journalists and no real beats, and its sustainability has been at stake for years.