Few weeks ago I got back from my long awaited trip to Argentina. Having had a bit of a hard time aligning everything into place before the trip, our travel crew made it a point to simply wing a few things here and there. With the trip now behind me, I feel obligated to take pen to paper (fingers to keyboard... ) in order share some tips for future Mendoza travelers that will make that trip simply perfect!
So you say I need a driver?
Yes, Mendoza is quite big! And the surrounding wine country is even bigger. On our trip, we took a cab/hired car from the airport to our hotel and hired a driver to take us around to various wineries for three days in a row. Our driver was a random find through our hotel and boy did we get lucky! Personally, I would call Leonardo (aka Vendimia) a local celebrity. Everyone we came across seemed to know him everywhere we went, and from our observations, he was very much liked by everyone too. He was a huge help to us as well, either making us reservations where our hotel concierge failed or managing to squeeze us into reservations at wineries that didn't technically have room for us. He recommended great restaurants and helped us exchange money. He is the guy to know in Mendoza and we were lucky to find him, which is why I recommend you try to contact Leonardo in advance and hire him for your entire stay; Airport pick up and all. You will not be sorry and you will definitely be in good company. If my word isn't sufficient, check out all the great reviews on his TripAdvisor page.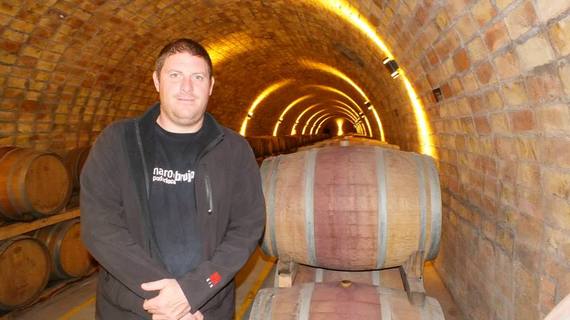 In vino veritas
Now onto the good stuff! We spent three days driving around Mendoza wine country in the rain. Although we didn't have the greatest view of the landscape and the Andes due to abnormal rainfall, we focused on tasting wine instead. When planning your wine adventures, definitely make sure to make reservations in advance. Despite the fact that we did not make any reservations in advance, we still were fortunate enough to visit over 10 of the best wineries in the area. However, I will focus only on my favorites, which I would genuinely recommend everyone tries. Here are the top three.
Andeluna
Andeluna was not even on our list of places to visit, because we did not know any better. Frankly, we had actually never heard of Andeluna until Leonardo added it to our itinerary at the end of the first day when we found out we would not make it to our last stop in time (Atemisque). He sold it through by praising their cab franc as the BEST cab franc he has ever had. Although we couldn't try the wine at the winery due to the extremely limited production, we decided to blindly buy a bottle and share it at dinner that night after tasting, and loving, all of their other wines. Nothing here was disappointing, even the entry level. Make sure to visit this cute boutique, lodge-style bodega and do not leave without a cab franc in hand!

Bodega Lagarde
Another example of a substitute winery when we could not get into Ruca Malen for lunch as planned on our second day -- again, this happens when you do not make reservations more than a day in advance! Visiting Lagarde means you get to visit a piece of Mendoza history. The bodega has been producing top quality wines since 1897. When planning your Lagarde trip, make sure you do actually stay for lunch! Their amazing tasting menu is paired with some of their best wines and may be one of the best meals you have in Mendoza. To top it off, you will have a chance to see how the wine is produced while taking a tour of their old cellars. If you're lucky like us (because Leonardo phoned in an extra request), you too might get a special tasting of their Primeras Vinas blend. That wine was not on the normal testing menu, but it was a wine brought to us because of Leonardo's relationship with the family. It was the one wine we took home from this vineyard, even though they were all worthy.


Achaval Ferrer
Achaval Ferrer is an example of what happens when Italian and Argentinian friends and wine lovers come together to make wine for fun (each owner still has a different, none-wine related career). The interesting thing about Achaval Ferrer is that during a harvest they cut off about 70 percent of the grapes from their vines and allow only the 30 percent to reach maturity at harvest. They use that 30 percent to produce some top quality single vineyard wines AND blends. During our visit here we tasted a lot of their top wines, most of them on the younger side and one straight from the barrel. Each of the wines was smooth and extremely good. I can imagine that with time those wines will only get better, so we ended up getting a case shipped home so that we can experience that 1st hand. Also, for all of the sweet wine lovers, this place may be your favorite. You will very likely have a chance to try, maybe for the 1st time ever, a Port-style Malbec. Its unique taste could be compared to taking a raisin and turning it into a thick, sticky alcoholic juice.

Secret Stash
Traveling with major wine lovers has its perks because those people will go out of their way to find the local secret stash. We definitely got a taste of some superbly unique new and old amazing Mendoza secrets.
The New: Rule Of Three
I definitely think that there is nothing better than having the honor of tasting one of the 1st ever bottles of wine produced by a brand new label created by 3 consultant friends who along with a corporate full time job in the States, simply share a love for Argentinian wine. The Rule of 3 is a true story of an American dream coming true, if you ask me. The wine we tasted from this young brand was a 100 percent baby Malbec. I say baby because this wine was only a 2012 vintage, but already had a rich Malbec taste. With just a 900 bottle limited production, Rule of 3's focus is solely on quality, which you can taste that in every drop. Although we couldn't take a bottle home, we were able to walk around their beautiful property in Uco Valley with hopes that once the bottles are ready to ship, we can be one of the 1st to order a case to go.

The Old: Carmelo Patti
Visiting Carmelo Patti was another unplanned event sprung on us by our driver, Leonardo. The main thing I remember Leonardo saying is that Carmelo does ZERO marketing. Meeting the man behind the wine in person made me understand why, and appreciate the wine even more. Carmelo is as old school as wine makers get. He makes, bottles and labels all of his vintages by hand, each one with love. We tasted each of the wines and engaged in some of the most interesting conversations with the man behind the bottle. He spoke about his life, his brand, his family and his 'fans', people who loved his persona so much that they made tee shirts in his name and would send him one as a souvenir. I also fell in love with the man and his wine. This experience was not a standard wine tasting, but truly a once in a lifetime opportunity to meet a legend.

Although there may be so many other wonderful wineries in the Mendoza area, I wasn't able to get to them all. These were my personal favorites, which in most cases happened to also be accidental finds. That is why I wanted to share with you my experiences with hopes to make Mendoza planning easier for you than it was on me. If you happen to have your own favorites share them in the comments section because I'll definitely be back for more wine fun in Mendoza.