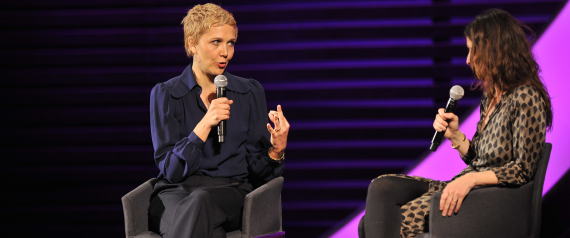 Friday, I had the distinct honor and privilege to take the stage with one of my dearest friends Lauren Shweder Biel from DC Greens at the Fifth Annual Women in the World Summit. For those of you who are unfamiliar, this summit brings together the world's most inspiring, motivated and powerful women for three days to talk about the most pressing worldwide issues affecting women globally. As part of this summit, three innovative women are recognized for their work addressing some of our most basic needs: food, water and light. Honored as Toyota Mothers of Invention, they are changing the world starting in their local communities.
Lauren, founder of DC Greens, is working tirelessly to educate children and parents alike in our nation's capital about the importance of including fresh fruits and vegetables in our diets, and ensuring that every resident has access to local and affordable produce.
I wanted to share with you a bit of the conversation with one of my closest friends:
Me: Hi, I'm Maggie Gyllenhaal, and I'm sitting here with my dear friend, Lauren Shweder who is the Executive Director and the Co-founder of DC Greens. I think if we had known that Pussy Riot was going to exist when we were 17 and we met, I can't imagine anything that would have been more exciting than following them onstage.
Which leads me to my first question, which is, did you anticipate or imagine that this is what you were going to do with your life?
Lauren Shweder (LS): No, I think I've always known that I wanted to put my energies toward making tangible change in the world around me. I think I've followed sort of a circuitous path to get there, but this is a place where I've been able to put my passions and where I've been able to find so many others who have those same passions to be able to work collectively towards some real change.
Me: So how did you end up here?
LS: Well, I really didn't start in this field, and I think in some ways that's a little bit of where the strength has come from. I started a farmers market in my neighborhood and in doing so became very involved with the food access community in the district, in DC, and I have a friend who's my co-founder, Sarah Bernardi, who was a teacher and had the experience of really wanting to run their school garden and not having the resources, and the two of us realized, you know, there are so many areas in which people have energy towards working, towards tackling the obesity epidemic, and we decided to bring together the school garden community and the farmers market community and we've had wonderful support from Wholesome Wave and reaching out to the health community and realizing that if we work across multiple institutions, we can affect that kind of collective change.
Me: What have you learned about yourself and about the world, doing what you're doing?
LS: I think I've learned that my strength is in bringing people together, and I think that I've learned that I'm an optimist and I've been hearing again and again on this stage, throughout the conference, so much optimism and a sense that we can move things in the world around us and I think that's mostly what I've learned.
Lauren, I can't express enough how proud of you I am for taking the plunge and establishing DC Greens. You are an inspiration to all of us and I am honored to be calling you, a Toyota Mother of Invention, one of my dear friends.
This post is part of a series honoring the recipients of the 2014 Mothers of Invention awards. Each post in this series is culled from remarks delivered by the author to an innovative Mother of Invention honoree, who demonstrated entrepreneurial spirit and creative responses to natural-disaster relief and inner-city issues. To learn more about Mothers of Invention, read here.