Good news for the bikers out there: The fashion industry has decided bike gear is totally hip.
At DKNY"s Spring 2010 show in New York, the audience was captivated by sassy winks of hot pink, khaki, and sharkskin gray bike shorts seen as layering pieces underneath both dresses and cuffed shorts, according to The Wall Street Journal. Who knew bike shorts could be so sweet and flirty? The shorts, dubbed DKNY Smoothies, were inspired by "the whole idea of biking -- put an extra layer underneath it, layer it on top," says Karen.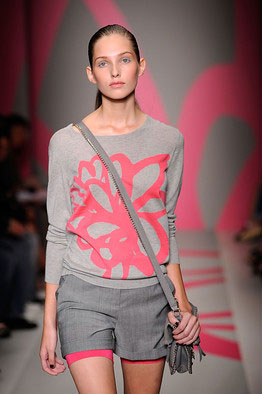 DKNY is just the most recent label to jump on this super cool bike trend: During Paris Fashion Week, luxury fashion house Louis Vuitton got all excited about New York's bike messengers, says StyleRumor.com.
Photo left: DKNY's sexy bike shorts. Via The Wall Street Journal
The line -- "Gentlemen Butterflies" -- sports rolled up pants and shorts, as well as cropped pants "because he's on a bike and doesn't want to dirt his pants," explains Louis Vuitton designer Paul Helbers.
And last June, bikes actually hit the runway for real -- underneath hot male models, naturally -- as part of Emporio Armani's show for Milan Menswear Fashion Week Spring/Summer 2010.
Since biking is a seriously green form of transportation, most bike commuters are a darn happy bunch, and even celebrities dig the two-wheeled saddle, it's great news that the fashion industry is finally taking the peddle to couture.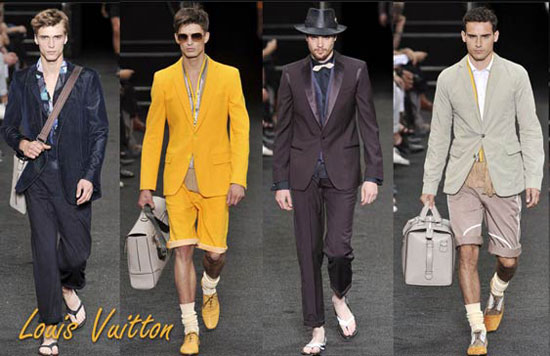 Louis Vuitton's bike-friendly Spring 2010 line. Photo via sooo.us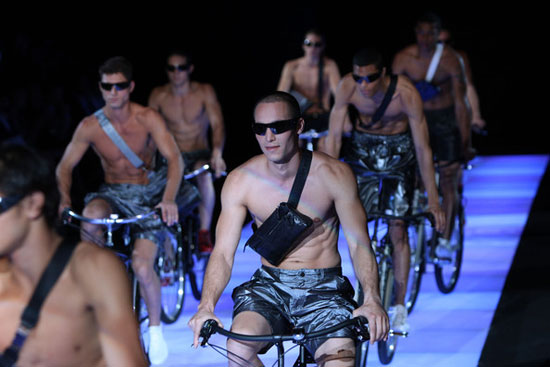 Models biking the runway for Emporio Armani. Photo via zimbio.com
More From PlanetGreen.com and TreeHugger.com on the Joys of Biking
Why Are Bike Commuters Happier Than You?
Ride a Bike to Work for These 5 Health Benefits
Our Favorite Girl Celebs on Bikes
More From Mairi Beautyman on Huffington Post
Does Your Toilet Really Need to Chirp Like a Bird? Japan's Un-green Lifestyle Expectations
Anti-fungal Drugs Could Save Endangered Frogs Around the World
Hurry Up and Kill the CD Already
Creators of the Hydrogen 'Urban Car' Attempt to Crush Hydrogen Car Challenges
Germans and Their Scornful View of Tap Water
Could You Live Without a Refrigerator?
The Octuplets and their Massive Carbon Footprint: 30,400 Disposable Diapers and Counting