A few weeks ago I mentioned that God seems to be going green. Or houses of God, that is. The most recent news on this front comes from Abu Dhabi, where students have designed a sustainable template for "mosques of the future in the UAE."
According to Khaleej Times Online, 38 students of the School of Architecture at the American University of Sharjah have designed a mosque that taps no electricity from the grid. Instead, it uses solar panels, wind towers, geothermal cooling, shading devices, wind turbines, and natural ventilation.
"We decided to focus on mosques because of the number of mosques that are in the UAE, the cultural significance associated with it, and the fact that it is pedagogically reasonable to design a green mosque," says Dr Ahmed Mokhtar, Associate Professor of Architecture at the school.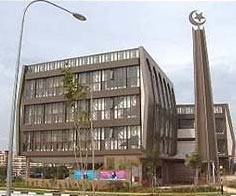 Singapore's first eco friendly mosque. Photo via Khaleej Times Online
In Singapore, the country's first eco friendly mosque opened last month, priced at S$10.5 million. Green perks there include energy-saving solar tubes that are also skylights, a garden rooftop, motion sensor lights, and low-flow fixtures.
Last year, Levenshulme, England landed an eco mosque fitted out with solar panels, under-floor heating, low-energy light bulbs wood from renewable sources, and reclaimed stone.
So how do you green your mosque? If you are an imam (Muslim spiritual leader), sign up for the environmental conference.
More From TreeHugger.com and PlanetGreen.com on Green Religious Issues
British Charity Launches Climate Change Green Guide for Muslims
Green Your Mosque, Learn Imams in Israel
Rabbis, Sheiks, Lamas and Missionaries See Green Eye to Eye at Israel's Sulha
More From Mairi Beautyman on Huffington Post
Germans and Their Scornful View of Tap Water
Could You Live Without a Refrigerator?
The Octuplets and their Massive Carbon Footprint: 30,400 Disposable Diapers and Counting