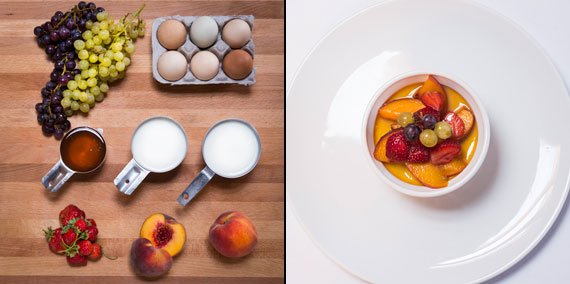 At this point in American food culture, everyone's heard of "eating local." "Locavore" has entered the dictionary. Farmers markets are popping up like, well, weeds, and so are community supported agriculture programs. But it wasn't always thus.
Nine years ago, a few of us at Bon Appetit Management Company sat down to figure out how a way to celebrate the local farmers whose food we were serving as well as to make our guests aware of regional variations in dishes and diets that were fast disappearing. We came up with the idea of asking our chefs to take the Eat Local Challenge -- to build an entire meal out of locally sourced ingredients, including at least one complete lunch or dinner entree, accompanying sides, and a beverage. This year, it"s on Tuesday, September 24.
Our chefs had to get really creative. These days, we count more than 1,500 farmers, ranchers, and artisan producers registered through our Farm to Fork program (reserved for small, owner-operated operations located within 150 miles of our kitchen). Back then, we had fewer than 500, so many of our chefs were starting from scratch when it came to sourcing certain ingredients locally.
Cut to 2013. Now that local has hit the big time, you'd think it would be easy for a company that serves millions of people a year to whip up locally sourced food at the turn of a whisk. I mean, pretty much anyone can toss together a salad with local ingredients. Right?
Actually, as we've learned, it gets complicated fast. Where'd the olives for that oil come from? The fruit for the vinegar? Oh, and sorry -- put that pepper grinder down!
Our chefs cook with local ingredients every day, and what we've found is that they love going all out for the Challenge. The team at the Musical Instrument Museum in Phoenix, not content with just finding locally raised tilapia last year (local seafood in Arizona!?!), has managed to track down salt this year -- the one foreigner that we usually allow. And forget simple salads: Executive Chef Edward Farrow at the Saint Louis Art Museum's new Panorama Restaurant will be serving a watermelon carpaccio with sorghum-chipotle candied jowl bacon and Missouri walnuts "dust" using ingredients from Double Star Farms and Geisert Farms.
Are you hungry for some local food yet? I hope so! It's so easy this time of year.
Here are five tips for the easiest foods to find locally (in summer):
Fruit: Your local farmers' market will have it. Strawberries in summer? No problem, in almost any state. Cherries? Probably not. Check out a seasonal food guide to learn about what grows when in your area.
Greens and other vegetables: Just-harvested lettuce will make a salad convert of anyone. But be adventurous, and try something new: Need a warm-weather recipe for that white-streaked eggplant? That"s what the Internet is for!
Eggs: Eggs from pasture-raised chickens are plentiful, and their rich yellow yolks brighten any breakfast. Note: Egg production declines as winter days shorten.
Dairy: Despite vast consolidation in the industry, small dairies can still be found across the U.S. Many survive by making "value-added products" from their milk such as yogurt, butter, and cheese. And don't overlook goat milk!
Honey: We get on our knees for local bees -- without them we wouldn't have local produce. Also, the honey they make contains local pollen, which some say helps fight seasonal allergies. Sweet!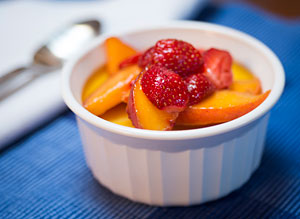 I hope you'll consider joining the local food movement -- and taking the Eat Local Challenge yourself this year. It's a tasty way to ensure the survival of our local flavors, farmers, and food artisans in years to come.
And if you still need convincing, try this simple yet delicious recipe by one of our chefs, which combines four of the five above easily found items for a 100 percent local dessert.
Local Honey and Milk Egg Custard with Late Summer Fruit Relish
By Thom Fox, Bon Appétit Management Company Executive Chef
Serves 4
For the seasonal fruit relish
2 peaches or other stone fruit, stone removed
1/2 cup strawberries or other local, seasonal berry like blackberries or raspberries, rinsed
2 cups locally grown grapes, squeezed or lightly blended, then the juice strained out (looking to yield at least ½ cup grape juice) or see note, below
2 tablespoons local honey
Cut fruit into 1/4-inch slices. In a bowl, combine the fruit with the grape juice and honey and let sit for 30 minutes to several hours.
For the custard
2 cups milk
1/2 cup local honey
6 egg yolks
Optional: Local herbs and accents such as lavender, lemon verbena, citrus zest
Preheat the oven to 300F. In a saucepan, warm the milk until just hot; do not boil or simmer. If using a local herb or zet, let it steep in the milk while warming, then remove with a strainer before combining milk with eggs.
In a stainless steel bowl, combine the egg yolks and honey by slowly stirring in the honey until it is well incorporated into the egg yolks. Do not whisk.
Slowly add the warmed milk into the egg yolk-honey mixture, stirring to mix together.
Strain the mixture through a fine strainer.  Divide the custard mix between four shallow custard dishes or ceramic ramekins (about 6 oz each).
Cover dishes loosely with foil and place in a water bath: a large (11x14 inches or so) roasting pan or ceramic baking dish filled with water that comes up the sides of the custard dishes to about half an inch from the top. Depending on the size and depth of your water bath, bake for 45 to 90 minutes until mostly set, still jiggly toward the center.  Gently shake one to test for doneness.
While custards are baking, assemble fruit relish. When custards are done, remove pan from oven and let custard ramekins cool before topping with simple seasonal fruit relish and transferring to refrigerator.
*Nearly all states and regions in the United States now grow wine grapes and make locally produced wine. You may substitute 1 cup of local wine -- red, white or blush -- for the grape juice. Warm it in a saucepan with the honey.  Simmer slowly for 3 minutes then let cool and combine with the fruit.