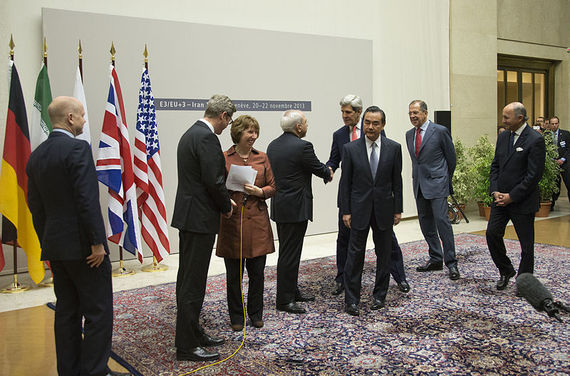 Who is the Winner and Loser?
A nuclear deal has been struck just months after Iran elected President Hassan Rouhani, seen as a relative moderate, replaced the hard-line Mahmoud Ahmadinejad.After four days of negotiations in Geneva, representatives of the P5+1 group of nations-- the US, UK, Russia, China, France, and Germany-- reached an agreement with Iran in the early hours of Sunday.
This deal raises the question as to whether it can truly be viewed as a deal as good as both sides project it to be. Who actually comes out of this deal as a winner? And is there a loser?
In order to answer these questions more effectively, we must look to the outline and details of the deal. The precise nuances, complexities, and details of the deal have not yet been released, but the general outlines are the following:
First of all, the international community (or P5+1) agreed not to impose new nuclear-related sanctions for six months on the Islamic Republic of Iran. Further, Tehran will receive about $7 billion worth of sanctions relief on sectors including its metal industry. This sanctions relief can be accomplished by an executive order, by the Obama administration, without the need to appeal to Congress. In return, Iran will halt the enriching of uranium beyond 5 percent, the level at which it can be used for developing weapons-grade nuclear material (a below 5 percent enrichment can be sufficient for energy production, but not bomb-making). Second, Iran will have to reduce its stockpile of highly enriched uranium at 20 percent by diluting it or converting it into oxide, and it will not be able to install any new centrifuges or build new enrichment facilities. Third, Iran will grant greater access to inspectors, including inspections and daily access at the Natanz and Fordo nuclear sites, but still not some other controversial sites such as Parchin.
It is crucial to point out that the sanctions relief and the agreement outline suggest that it will not roll back Iran's nuclear capacity and infrastructure, nor dismantle any centrifuges. As a result, Iran's nuclear dilemma will still be at stake few months later.
Who Scored A Political Victory: Iran or P5+1?
Just a few hours after the Iranian nuclear team and six powers reached a first-step accord in Geneva aimed at easing Western concerns--concluding that Tehran could seek nuclear weapons-- Rouhani gave a speech addressing Iranian politicians at home, pointing out that the nuclear deal was reached with world powers earlier in the day and world powers have recognized Tehran's rights to maintain an atomic program. "No matter what interpretations are given, Iran's right to enrichment has been recognized," Rouhani stated.
From the perspective of both sides of the agreement, the first nuclear accord was viewed as a total victory. For the Obama administration-- who has been very reluctant, cautious, and apprehensive about exploring alternatives such as the military option, tougher sanctions, or heightened diplomatic standoff, and thus has been pushing for any kind of deal-- this nuclear accord has achieved the political objectives of the administration by alleviating its concerns over pondering alternatives.
For many, this agreement represents a disproportionate sanctions relief to Iran, viewed as favoring the Islamic Republic because it will not only not roll back Iran's nuclear capacity, but will also lift economic pressure off of Iran, which would help the nation regain its currency (Rial) loss and recover its economy. As a result, in six months Iran will be in a much stronger position, feeling less pressure to dismantle its nuclear facilities and uranium enrichment, as well as its plutonium reactor that is believed to have no purpose rather than militarizing Iran's nuclear program.
On the other hand, in deeply analyzing the deal and negotiations, along with Iran's socioeconomic and geopolitical interest, it becomes evident that the deal will play out very differently in Tehran, as much more of a victory for Islamic Republic than the international community.
Primarily, Iran's staggering economy--the reduction of oil sales from approximately 2.5 million barrels a day to less than a million, spiking inflation, the increase in unemployment and domestic discontent towards the government, the devaluation of the Iranian currency, and Tehran's geopolitical isolation-- was bringing the Iranian government to its knees by significantly endangering the hold on power of the ruling clerics, political leaders, and the political establishment as a whole. However, this deal will allow Tehran to more freely trade in its metal industry, sell oil, receive several billions dollars of previously frozen assets, lure back Western oil companies, suppress domestic activists, and finally exercise its hegemonic ambitions.
Facilitating Islamic Republic's hegemony Domestically and Regionally?
From the perspectives of the regional countries, the deal fails to consider all the interests and concerns that would be associated with a more nuclear Iran; in other words, the security, strategic, and geopolitical concerns of regional countries were definitely not adequately addressed. Many scholars would argue that Iranian leaders will perceive this deal as a green light to pursue their hegemonic agenda and ambitions in the region, as well as to consolidate their power and influence in Syria, Lebanon, and Iraq. It will also be a powerful platform, allowing Iran the capability of militarily and economically funding its proxies throughout the region, including Hezbollah.
The deal will also remove a deep concern of the Supreme Leader Ayatollah Ali Khamenei, which emerged after 2009 disputed elections and domestic uprising, on the possibility of the West's efforts to subvert the regime by supporting the opposition parties, as well as human rights and democratic movements in Iran.
Furthermore, the other concern for other regional actors as well as IAEA is that the deal does not necessarily mean that the international community and the IAEA will have full access and be aware of nuclear activities in Iran. The argument is that Iran has built a record of clandestine nuclear sites that are revealed every few years. As a result, it remains unclear whether these inspections and verifications will target all nuclear sites, or whether Tehran is already continuing enriching at 20 percent in several undeclared underground nuclear sites to obtain nuclear-bomb grade materials.
Domestically speaking, Iranian human rights activists and democrats are significantly concerned, believing that the deal with the p5+1 as well as the prospect of further diplomatic thaw between Iran and the United States, will in fact herald a renewed vigor for the ruling cleric to suppress domestic opposition without reservation.
Although there is currently a considerable amount of hype, festivity, and optimism in the media about striking this first deal, scholars, politicians, and policy analysts who have closely studied Iran's nuclear file and its decades of negotiations, are cognizant of the fact that past negotiations on the Iranian nuclear program have passed the first stages of agreement many times, but they were later scuttled and fell apart during the second phase. This occurred particularly when an enduring deal was going to be concluded, and when regimes of inspections and verifications were going to be installed.
The agreements have previously failed, particularly when Tehran objected to many of the inspections and refused access to specific sites because it did not comply with Iranian law, or when Tehran disagreed on the interpretation, clarity, or meaning of the text which was first agreed upon. However, this first deal was viewed by Iranian leaders as a victory and a significant relief in considering its domestic hold on power, staggering economy, continuation of enrichment; it is also viewed by other countries in the region as a free hand for Iran to continue its regional hegemonic agenda, consolidation of power in Syria, and domestic suppression of democrats and opposition.
Majid Rafizadeh, scholar and political scientist, is president of the International American Council on the Middle East.
A shorter version of this article was first published in Alarabiya.