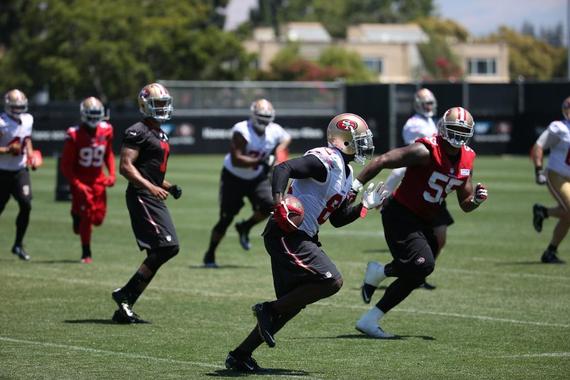 Photo by the 49ers
Santa Clara, CA - The Forty-Niners had a successful season last year. Despite injuries and not making it past the NFC Championship, their offense excelled and that was mainly due to one addition that was made last year. Anquan Boldin sparked the offense, he found himself open while Vernon Davis and Michael Crabtree were always doubled teamed.
His impact on the team set the offense in motion by gaining yards to set up first downs and touchdowns. Boldin singled handedly created space to get open. He caught 85 passes for 1,179 yards. This year will be drastically different because the 49ers added more depth to their offense.
"Offensively we're a lot farther ahead than where we were last year," said Boldin. "Especially from the receiver standpoint. This year we're a lot healthier and have more depth at that position."
Thanks to the new additions in the offseason, the 49ers have more depth which include Brandon Llyod who took a year off to return to his former team. He's wow'd his teammates in his first week at training camp. Stevie Johnson acquired from the Buffalo Bills has enough speed to surpass a cornerback and safety.
Johnson a versatile receiver will fit right into line up with Boldin, Crabtree and Vernon Davis. This will give Colin Kaepernick more options than what he had in years past. This will also allow the 49ers to open up their offense more using more bodies to move the ball. Hopefully, this is a stepping stone for the team to get back to the Super Bowl.
"We're not going to go away from how we run the football," Boldin said. "We're more effective that way. With the weapons we have now we have to find a way to implement that into the offense. I think for me my role changes because of our depth and guys who are back because we're healthy."