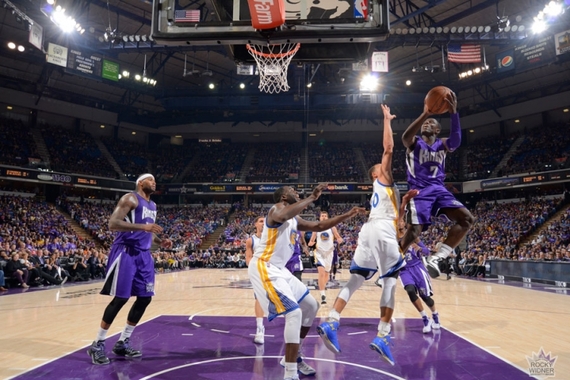 Photo by Rocky Widner
Sacramento, CA - A new start, a new season but the same old Kings. In their season opener, Sacramento didn't look any different from last season. After a surging effort in the first half the Kings fell 95-77 to the Golden State Warriors on opening night.
"We looked very similar to the Sacramento Kings of last season," said head coach Michael Malone.
The Kings did a great job on defense to start, they forced the Warriors to turn over the ball and rush shots that didn't fall. But by the third quarter, Golden State returned the favor and it was Sacramento who committed 27 turnovers that led to the Warriors scoring 26 points.
"It's our first game of the season," Rudy Gay said. "You can't say it's a step back. It's a learning experience. Obviously, we've got a lot to work on. Our defense has been pretty good. We have to work on the negatives, which are the turnovers and our offense."
Darren Collison was the only player who had more than one assist with eight. There was no effort in moving the ball or following shots that were missed throughout the second half. DeMarcus Cousins led the Kings with 20 points and 11 rebounds but shot 4-for-14 and got into foul trouble early.
Golden State's new head coach Steve Kerr didn't have to do much in leading his new team to victory. Despite playing without power forward David Lee, the Warriors looked like the same playoff team from last year. After the rust wore off, the shooting clinic began. Stephen Curry had 24 points and 10 rebounds while Klay Thompson added 19 points.
"Always good to win your first one especially on the road," said Curry. "Kind of slow and ugly in the first half, a lot of fouls, a lot of free throws and turnovers. But eventually in the second half were able to lock down and get more rebounds and turned them into easy buckets on the offensive end. You've got to win games all sorts or ways and this was a big win for us."