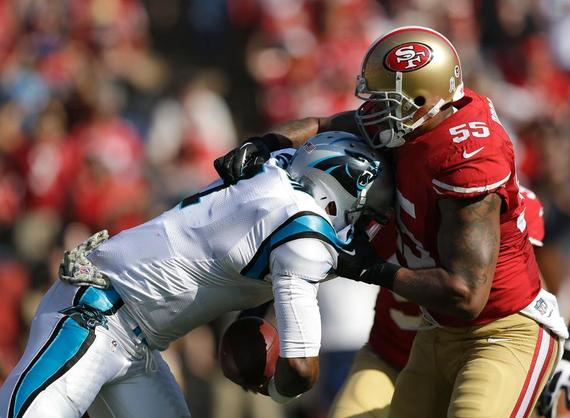 Photo by: San Francisco 49ers
San Francisco, CA - It was a huge accomplishment for the Carolina Panthers but for the Forty-Niners, something went terribly wrong when their five-game winning streak came to an end after losing 10-9 to the Panthers. Two of the best young quarterbacks in the NFL faced off but it wasn't what anyone expected.
"A win like this can boost us," said wide receiver Steve Smith. "A win like this can continue to give us life throughout the season and make us feel like we're working for something and we are."
The win over San Francisco indeed gave them life, it was their fifth consecutive victory. However, for the 49ers who got back Aldon Smith and Mario Mannigham. They lost Vernon Davis, Garrett Celek and Eric Reid to injuries and unraveled as the Panthers defense got stronger throughout the game.
"Vernon changes defenses," Colin Kaepernick said. "He makes them adjust differently. He makes them do things that they don't normally do. He's a big loss."
Both Davis and Reid were huge losses after taking hard hits which led to concussions. Davis creates plays in getting open for the 49ers offense but was limited. Celek's departure depleted San Francisco's power running game. Eric on the other hand, had a good first half with recovering a fumble after Brad Norton's punt was partially blocked.
"Yes, that took us out of the two tight end packages," head coach Jim Harbaugh said when asked about losing both tight ends. "I thought we played with great effort. It's just a sinking feeling not getting the job done today."
Kaepernick was sacked six times and in the final minutes of the game, Drayton Florence intercepted his pass. Carolina's defense stopped the 49ers surging offense and forced them to kick three field goals in the first half. The Panthers made the only touchdown of the game when DeAngelo Williams broke through two tackles for a 27-yard touchdown.
"They're a good defense. But, today was more our lack of execution than what they were doing," said Colin.
Cam Newton wasn't as successful against San Francisco's defense who forced Carolina to fumble twice. Unable to move the ball on offense at all in the first quarter, didn't matter to the third year quarterback who praised his defense for keeping them in the game.
"This game is a maturity jump for us, because in the past what I've been a part of, we've been somewhat uncertain of how we will turn out in these type of games," Cam said. "We needed that type of game, just to be in a dog fight, in somewhat of a barnburner, to show what type of team this really is."
The anticipated match-up between the two former roommates (combine) who captivated the league with their style of play struggled against two dominate defenses. Colin went 11 for 22 for 91 yards. And Newton went 16 of 32 for 169 yards with one interception and being sacked only four times.
Now, the 49ers face a tougher task when they head to New Orleans next week. Aldon Smith played a limited number of snaps after missing five games and Manningham started and had three catches in his season debut after suffering a left knee injury almost ten months ago. With the new injuries upon them, the team must find a way to fight through it and get back on track.
"We'll do what we do, bounce back. Regroup, refit and reorganize and come back this week," said Harbaugh.