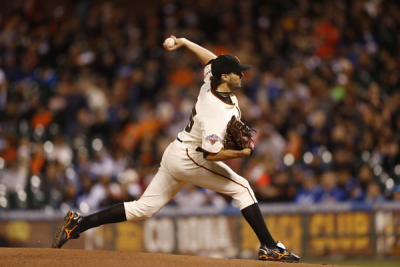 Photo by Josie Lepe, Bay Area News Group
After seven years with the Giants, Barry Zito's time has come to an end. Manager Bruce Bochy surprised the pitcher with one last start and in his final curtain call, he earned the decision with the 6-4 victory over the Dodgers snapping an eight game losing streak.
It's been a rocky road for Zito who recorded his first win since May 30th. He made his first start since September 2nd in San Diego. The southpaw has been pulled twice from the starting rotation this season. Coming out of the bullpen as a relief pitcher, Barry never gave up hope that he'd get one more start.
"It was very unexpected to come in yesterday and be asked if I could go tomorrow," he said. "I said definitely, I'm always ready. So to get this win against the Dodgers and do it at home, come out and see the fans one last time was special."
The Giants have decided to not pick up the $18 million option on his seven-year, $126 million deal, instead will pay a $7 million buyout. Bochy felt he deserved the start despite his struggles on the mound. And to the surprise of many, Zito pitched a good game.
Barry's outing lasted five frames, yielding four hits, allowing two runs (one earned) and one strikeout. There was no final bow in front of the fans because he was removed after being hit by Nick Punto's line drive that struck him on his left thigh to open the fifth inning.
"I let Bochy know this is my game," said Zito. 'He said, 'All right,' and walked away. I went to get my bat and he had a second thought, so I was frustrated. But I understand."
"There's no better competitor," Bruce [Bochy] said. "He wanted to stay out there and do all he could to help us win the game. That's a tough call. He almost had talked me out of it. We were thinking about winning the game. That's not a situation where your thinking about a curtain call, to be honest."
It's no secret, Barry's had his fair share of problems in San Francisco. Except for the 2012 season where he helped the team win a World Series. Zito finished with losing records in each season with the Giants. Back in 2010, he was omitted from the postseason roster after he went 0-9.
"I still remember where I was when the contract was finalized," said Barry. "I knew it was going to be a heck of a ride on the field and off, and it has certainly been that for me. I've been through some ups and downs to say the least. On and off the field a lot of things have happened over these years, I got married, became a christian, lost both my parents. The World Series in 2012 was such a great experience, I'm so glad I got to experience that and be apart of it and help bring it home for San Francisco."
"He's a class act," Bochy said. "Barry has never stopped working hard no matter what roll he's in. You know he never complained, he's been a standup guy in giving back to the community despite his ups and downs. He did his job tonight and I'm proud of him."