If you think of Western Pennsylvania at all, you probably imagine it to be Pittsburgh, and...... nothing else. But you'll find some incredible attractions and surprising stories within a 120-mile radius of that Steel City; north to Butler County and Erie, east to Altoona, and south to the Laurel Highlands. For more information about each destination, check the "Offbeat" travel experts, The Getaway Mavens.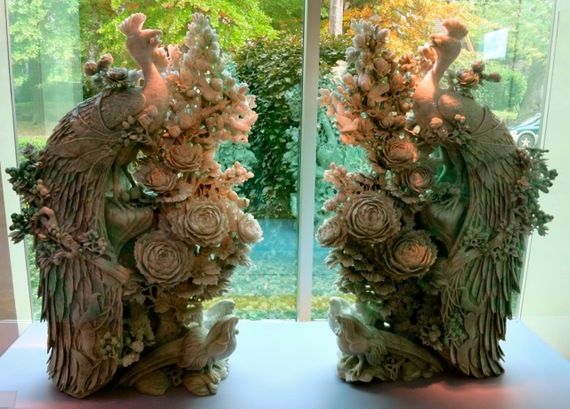 1. Examine an important collection of 20th Century Asian Art in the modest neighborhood of an unassuming town at the incomparable Maridon Museum. (Butler). A rare set of Quartz Foo Dogs, 650 lb Jade Peacocks, Carved Rosewood Happy Buddha, one of the world's most extensive collections of German Meissen Porcelain, over 100 enchanting miniature Netsuke that once attached to silk purses, and hundreds of other pieces of rare art - once stuffed in the finished basement of Mary Phillip's (wife of Big Oil heir, Don Phillips) modest ranch house - are now showcased in The Maridon's beautiful bright galleries. Naming her museum a composite of Mary and Don, this was Phillip's gift to the town she so loved. So fantastic, educational and engaging, the Maridon is worth a drive from anywhere.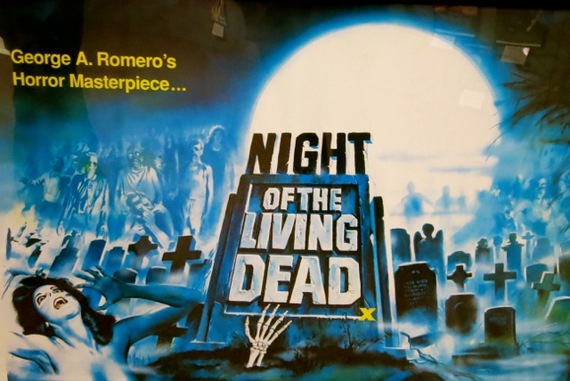 2. The Living Dead Museum is where it should be, about 30 miles from Pittsburgh near the Evans City Cemetery, where Night of the Living Dead was filmed. (Butler County). Acknowledged by Zombie experts as the genesis of the Flesh-Eating Undead, The Night of the Living Dead, George A. Romero's 1968 gory, low-budget movie, and his subsequent movies (Dawn of the Dead, Day of the Dead, etc) spawned a whole new genre. It's pretty much common knowledge that all movies and TV shows about cannibal zombies, including Zombieland, Walking Dead, World War Z, and especially the spoof, Shaun of the Dead, can be traced back to that one independent black and white film.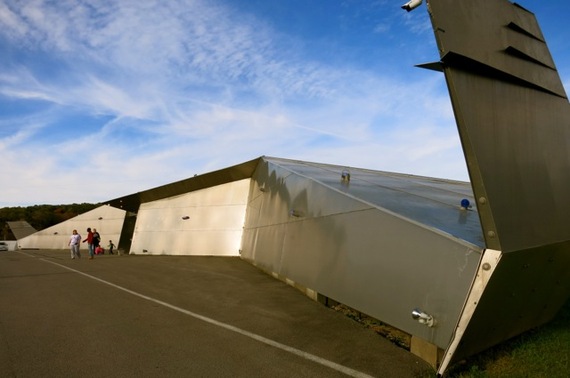 3. Shop for toys in a silver spaceship at Playthings, Etc. (Butler). The name, "Playthings, Etc," does not even begin to describe this stealth spaceship that seems to have just landed on busy Route 8, tantalizing drive-bys with its metallic mystery. Owners Nadine and Todd Shingleton had a wildly ambitious plan to build a "destination" rather than just a simple store, and succeeded. Ever since its construction in 2005, Playthings, Etc. has been packed with innovative toys, hobby crafts and people. Buzzfeed named it one of "17 Toy Stores Worldwide That Will Change Your Kids Lives." But why should kids have all the fun?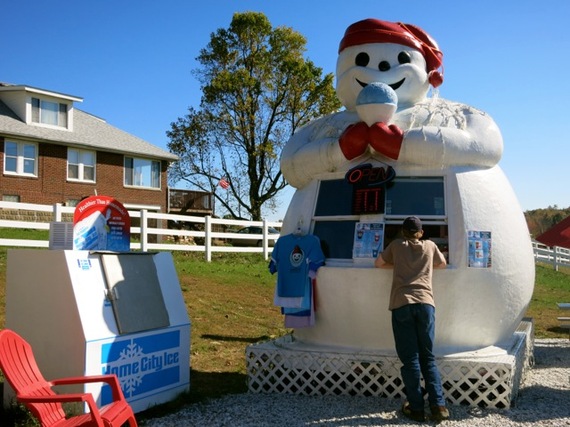 4. Buy, fluffy, sweet, shaved ice cones from a roadside Snowman, (Portersville, Butler County). What's that snowman doing on this Western PA country road? Brian LaChance and his wife noticed that a stream of cars were driving by their house on their way to the 16,000 acre Moraine State Park, which gets over 2 million visitors every year, and devised a way to capture some of them. In 2013, LaChance found this snowman-shaped concession stand in Cincinnati, hauled it within sight of his dining room window and started selling Blue Raspberry, Cherry, Root Beer and dozens of other inventive, soft, teeth-friendly icy treats right from the snowman's belly.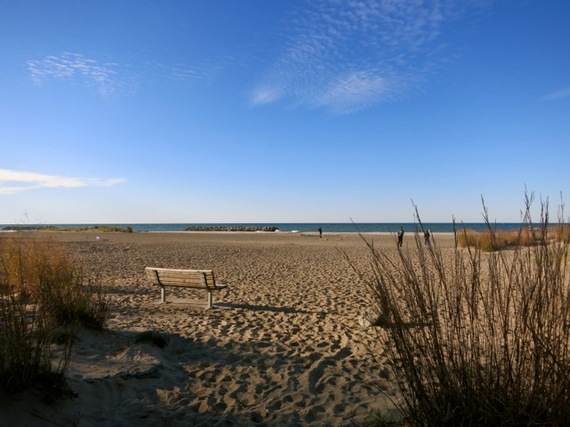 5. Presque Isle State Park, right on Lake Erie, is a National Historic Landmark, Pennsylvania's only "seashore" and a habitat for more endangered, threatened and rare species than any other area of comparable size in the state. (Erie). Consisting of over 3,200 acres, it's also an epic place to hike, kayak, bike and yes, frolic on a sandy beach.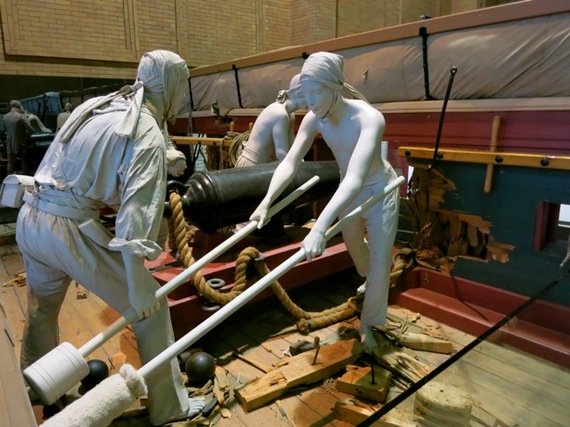 6. See a precise re-creation of the US Brig Lawrence, which sustained ruinous damage in the War of 1812's Battle of Lake Erie, at the Erie Maritime Museum. (Erie). Scientists and historians used the same wood with the same thickness as in the original ship and calculated range, weight of shot, and type of guns to re-create this detailed diorama. The museum's configuration of the splintered wood and holes in the hull is an accurate depiction of what the US Lawrence would have looked like after combat. Commander Oliver Perry managed to leave the US Lawrence and board the US Brig Niagara, from which he directed a decisive victory over the British fleet. "We have met the enemy and they are ours," Perry scrawled on an envelope to Major General William Henry Harrison, just as the smoke cleared. The Erie Maritime Museum is also home berth for the US Brig Niagara, rebuilt with some original parts in 1988, and visiting both the museum and ship are inspiring ways to learn about the confounding War of 1812.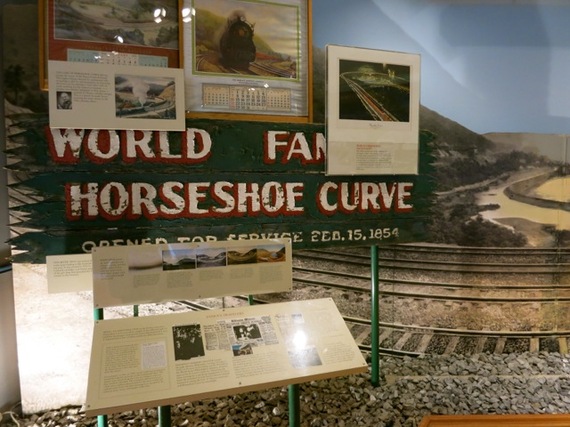 7. In 1854, the should-have-been-impossible-to-build Horseshoe Curve was constructed with only picks and shovels in an astounding display of railroad engineering and gumption. (Altoona). During the early stages of America's westward expansion, the Allegheny Ridge posed a 2,500 ft high roadblock between the Eastern Seaboard and the frontier. Pennsylvania Railroad ("Pennsy") engineers designed the Horseshoe Curve to circumvent rather than scale the ridge, and ever since then, Altoona PA has been a railroad town. Clinging to the side of a mountain, this portion of the Philly to Pittsburg railway is still in use, and it's a thrill to watch long freight trains coming 'round the curve.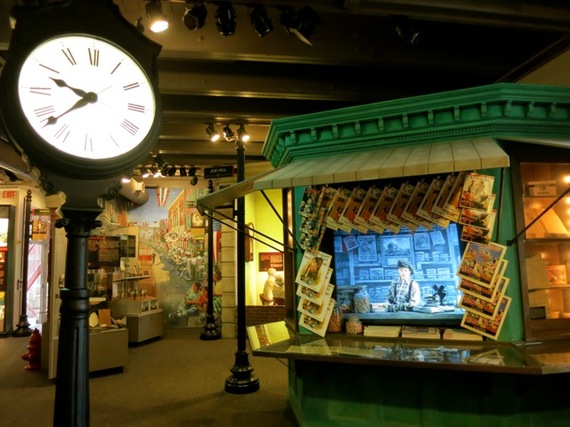 8. Engage with a newsboy, have drinks with linemen, and learn about terrible train wrecks at the interactive Railroaders Memorial Museum. (Altoona). Commemorating those who worked on the railroad and victims of local train wrecks, this phenomenal museum is far better than its nondescript exterior would indicate. When rails were first laid in the mid-1800's the Pennsylvania Railroad was a dominant force. "Pennsy" employees were pioneers, and despite several nightmarish wrecks (one, a freight train that lost its breaks and screamed into downtown at 75mph, killing three people), persevered. When built in 1910, the Pennsylvania Railroad's New York City terminus, Penn Station, was compared to the cathedrals of Europe.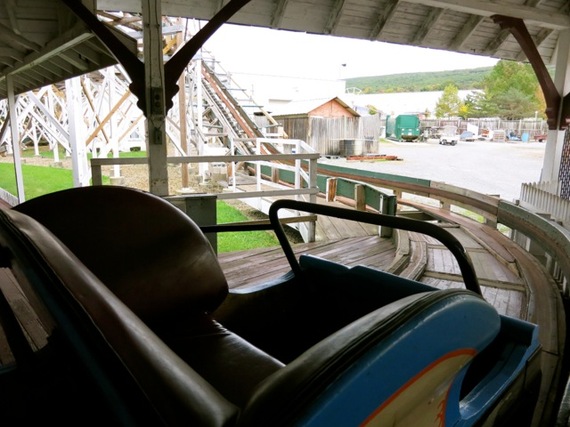 9. Ride the "Oldest Wooden Roller Coaster In the World," Leap-The-Dips. (Altoona) Built in 1902, Leap The Dips still clickity clacks away every day that the modest Lakemont Amusement Parkis open.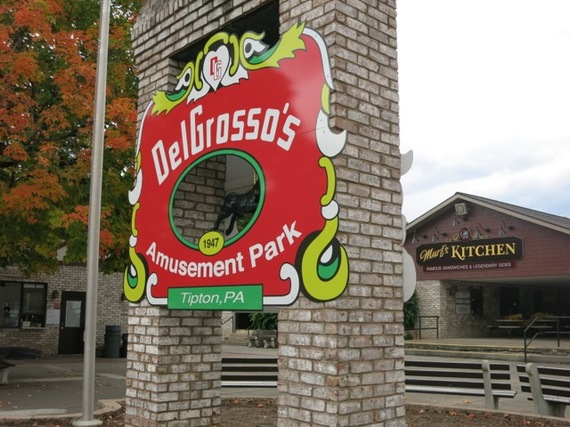 10. Dine on premier pasta sauce right from the pots then ride the Tilt-A Whirl at DelGrosso's Amusement and Water Park. (Tipton, near Altoona). In the 1940's, Fred DelGrosso Sr. was a railroader who loved the waitress at a small Altoona café as much as the sauce she made. Fred and Mafalda married and bought an operating amusement park, raising seven children and making DelGrosso's Sauce right on site. DelGrosso Foods is now considered the oldest major family-owned maker of pasta sauce in the United States, with its plant directly across the street from the carousel, tilt-a-whirl and other amusement park rides.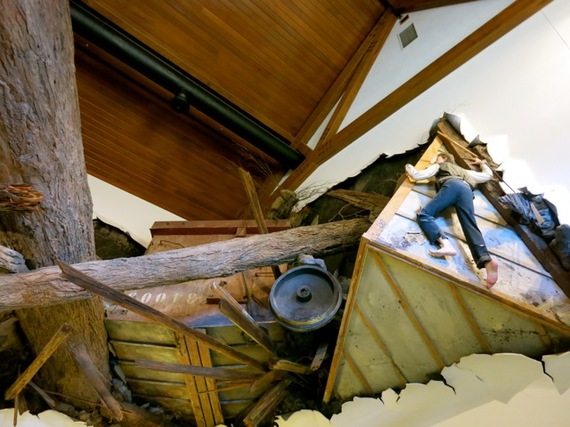 11. Learn about our country's most devastating flood (and the fourth most deadly natural disaster in the US of all time) in Johnstown, PA. (Johnstown). Begin at the Johnstown Flood National Memorial, the site of the dam, 14 miles from town, that suffered from decades of neglect and finally crumbled on May 31, 1889, sending a torrent of water - with a force compared to that of Niagara Falls - downstream, taking out everything in its path. Then, drive into town to visit the Johnstown Flood Museum in the Carnegie Library, which probes the aftermath and world response. By the time the violent surge of water hit downtown Johnstown, the crest of the wave measured 37 feet high. The flood took 2,209 lives - one out of every ten of the town's population. Artifacts, posters and photos are positively haunting.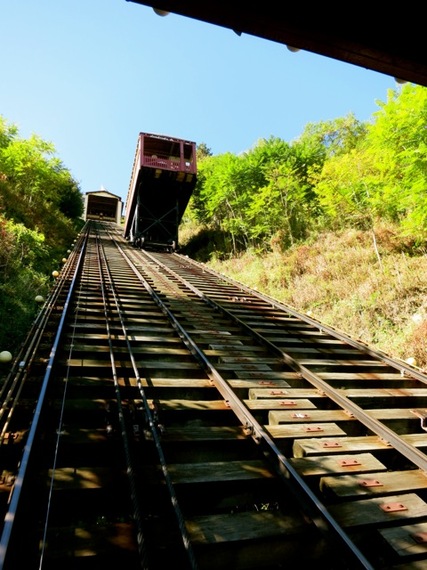 12. Ride up the Johnstown Inclined Plane, the steepest vehicular incline in the world. (Johnstown). Built one year after Johnstown's greatest disaster, and opened in 1891 as an escape route should another flood hit, this counterbalance funicular initially transported horses and wagons up the steep mountain, and can now haul automobiles as well as humans.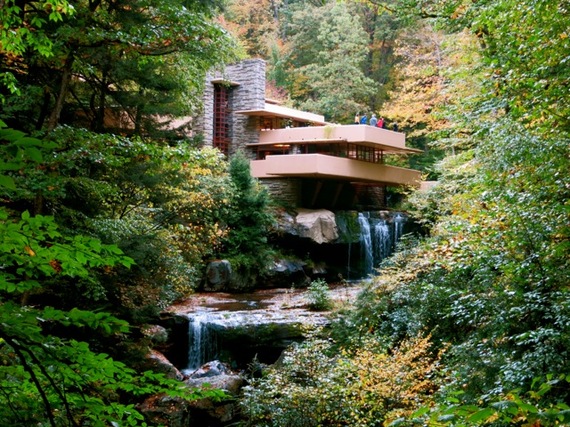 13. The Laurel Highlands of Western PA, about one and a half hours southeast of Pittsburgh, is so tantalizing, it proved the ideal setting for several Frank Lloyd Wright designs. Most know of Fallingwater - Wright's mid-career masterpiece. Built between 1936 and '37 for Pittsburgh department store magnate, Edgar Kaufman and his family, it's Wright at his best - a composition of stone, wood, and glass cantilevered over cascading water.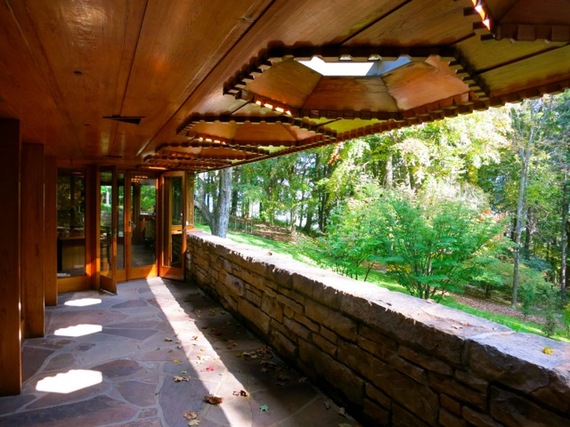 14. But you can also tour the lesser-known Kentuck Knob just seven miles from Fallingwater. Built in 1956, this was one of Frank Lloyd Wright's later commissions and, though still in private hands, has been open to the public since 1996. Built for I.N. and Bernardine Hagan (of Hagan Ice-Cream fame) on a ridge, views from an expanse of windows and balconies are absolutely lyrical. The home, constructed on a hexagonal grid (one of Wright's favorite shapes) - is a study in maximizing use of tight spaces.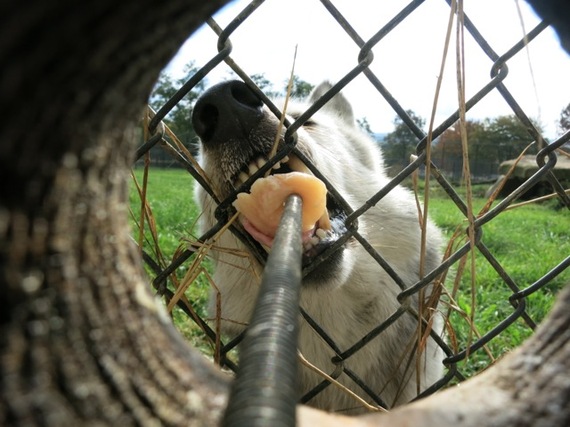 15. The very swanky Nemacolin Woodlands Resort is a deliriously wacky, extravagant, homey, fun resort complex; A true find in the Laurel Highlands just 1 ½ southeast of Pittsburgh and close to Fallingwater and Kentuck Knob. What exactly is Nemacolin? It's a wildlife sanctuary (guests can feed lions, tigers, bears, and as the above photo indicates - wolves). It's an award-winning golf course (Pete Dye designed Mystic Rock, The Links) and Golf Academy. It's a Holistic Healing Center and spa for both humans and animals, and much, much more. And to top it off, it's an overnight luxury resort with several award-winning hotels and restaurants on premises. All this, plus, Nemacolin is woman-owned, unpretentious (though with Five-Diamond awards for food and lodging, it has certainly earned the right to be pretentious), and downright friendly.
16. Stand a few inches from a pair of George Washington's saddle pistols and documents in Washington's own hand, reflecting on his time in Western PA at Fort Ligonier - a reconstruction built on the fort's original footprint. (Laurel Highlands) Fort Ligonier was one of many forts built every fifty miles or so by the British in the 1750's, as they expanded westward. In 1758, the fort was attacked by French troops and Native Americans on the frontier as the French-controlled colonies pushed eastward. George Washington arrived here late October to fight for the British as a young officer, and stayed only two weeks. Ligonier itself is as small-town-Hollywood-perfect as a downtown gets. Locals walk their dogs, stop and chat, window shop outside family owned stores: it's achingly old school, yet what we all yearn for deep down. Have a meal at The Kitchen on Main. Chef Josh Fryer's open-kitchen upscale "diner," then bed down at the Arts and Crafts-style Thistledown at Seger House, a former surgical outpatient center, now quite luxurious.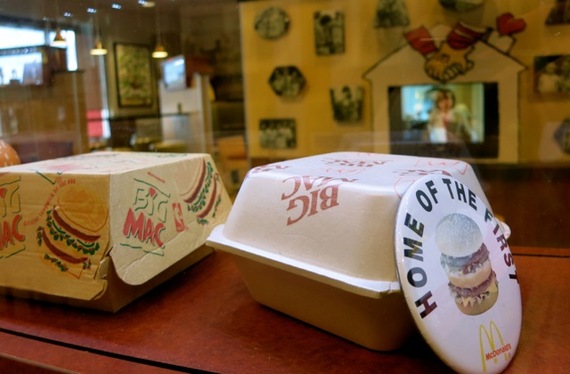 17. Yes, there is a Big Mac Museum (Laurel Highlands in North Huntingdon Township). It's in an operating McDonald's right next door to a Bob Evans and Auto Supermarket and is a paean to Jim Delligatti, who created "two all beef patties special sauce pickles onions on a sesame seed bun," in 1963. Fifty plus years on, the Big Mac is still a McDonald's best seller.