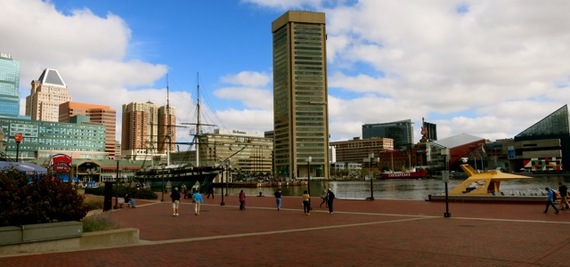 Baltimore. It's the city that inspired native-born Barry Levinson (Diner, Rainman) and John Waters (Hairspray), as well as the man who penned "The Star Spangled Banner", Francis Scott Key. We all know about the successful inner harbor redevelopment that brought tourists and condo-dwellers to formerly polluted shores, but Baltimore is also home to the first monument dedicated to an American president, headquarters of the first railroad company in the country, and where that Star Spangled Banner was sewn and once waved.
Here are 10 quirky, unsung places in Baltimore you may have missed on your first visit.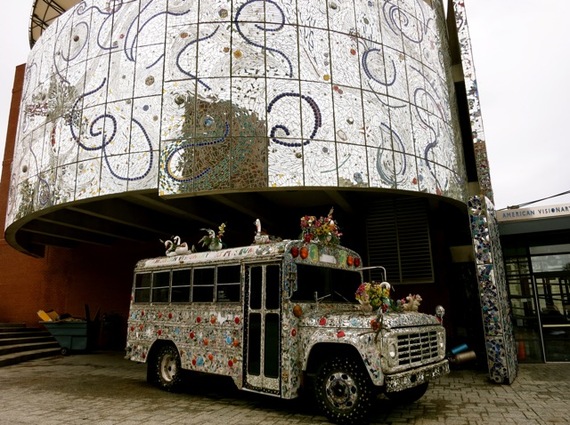 1. American Visionary Art Museum. Students, laborers, dyslexics, misfits, recluses, mental health patients -- and the rest of the unwashed, self-taught intuitive artists ignored by mainstream art world have finally found recognition at this unbelievably eccentric museum. My absolute favorite institution in Baltimore, The American Visionary Art Museum is filled with works produced from found objects, matchsticks, bottle caps, yarn, and lots of what other people would call "junk." War, workers, whackos, technology, terror, tchothkes; all here in this highly entertaining fun house of an art museum. Plus, the storage-shed of a gift shop will consume your attention for hours. $16 adults, $10 children/students. Tues-Sun 10-6.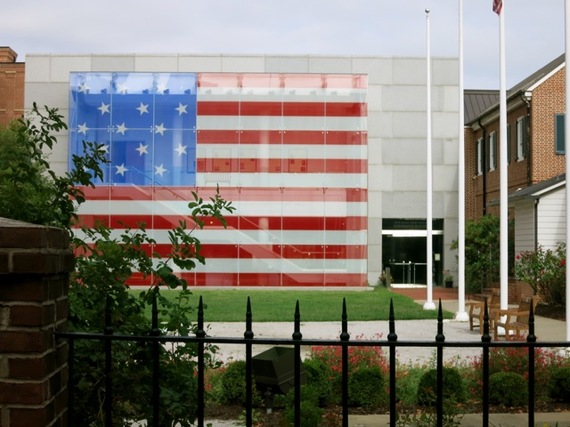 2. Star Spangled Banner Museum and Flag House. Seamstress Mary Pickersgill was asked to craft an American Flag 30 ft. x 42 ft, with each stripe two feet wide and 15 stars two feet each from tip to tip. With just a few aides, she managed to get the job done in six weeks. A visit to this museum complex includes a tour of Pickersgill's original circa 1793 home in its original location, exactly where she spent those 6 weeks sewing the fateful flag. With floorboards and windows over 200 years old, and samples of Old Glory folded in her workroom, it's a thrilling look at a perspective of US History we don't ordinarily consider. Museum open Tues. -Sat. 10-4, $8 adult, $6 kids
3. Fells Point. Most tourists are aware of the great restaurants and bars in this cobblestone street section of Baltimore's inner harbor, but most don't know that it was also the mustering site for Massachusetts Civil War recruits, houses the bar favored by Edgar Allan Poe, and features Row Homes that Frederick Douglas purchased after escaping slavery disguised as a seaman. "When I left Maryland, I was property. When I came back, I bought property," he was purported to have said.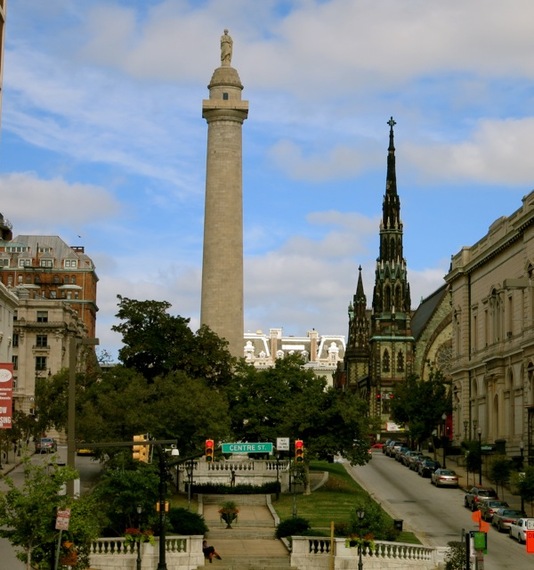 4. Mount Vernon is arguably the most beautiful area of Baltimore. The 178-ft. marble column and statue of George Washington, completed in 1829, was the first monument in the country to honor a president. When President John Quincy Adams came to town, he called Baltimore, "The Monumental City," and the name stuck. The adjacent gothic spire Methodist Church and a central city garden create a tableau that appears elegantly European. "This area unfortunately gets lost in the whole harbor thing," say in-the-know guides.
5. Fort McHenry. The British bombardment of Fort McHenry in 1814 (during the War of 1812) inspired an observer, Francis Scott Key, to write the words that would become our Star Spangled Banner. One of the most uplifting moments of the tour comes just after watching a short movie in the Visitor's Center when you are invited to stand to sing the national anthem as curtains open to reveal an American flag flying right outside. It's worth visiting Baltimore for that spine-tingling moment alone. Open daily 9-4:45, $7 adults, kids free.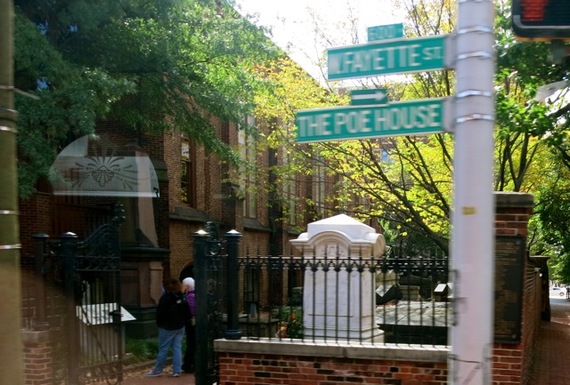 6. Edgar Allan Poe's Gravesite. Poe was on his way to New York from Richmond, VA when he was discovered in Baltimore disheveled and in great need of medical attention. He died under mysterious circumstances and was buried here.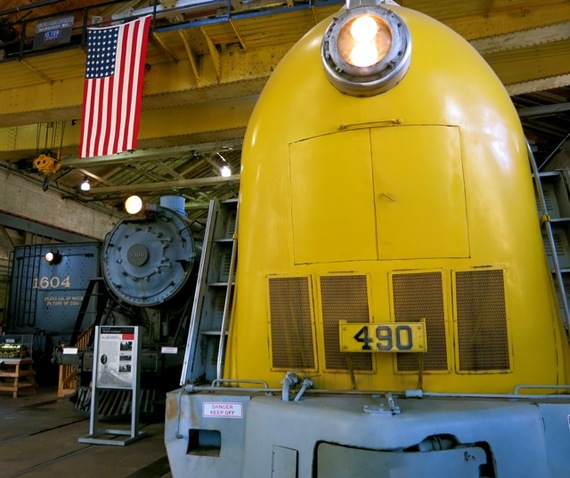 7. B&O Railroad Museum. Conceived as a new technology to compete with the New York Erie Canals, the 1827 Maryland State Legislators granted a charter to build a "road of rails" between Baltimore and the Ohio River. This 40-acre museum tells the story of railroading from the place of its origins, on the grounds where the very first commercial track was laid in 1829. Most of the train cars are arrayed within St. Claire's Roundhouse, which, at 235 feet interior diameter was designed to accommodate the largest passenger cars of the day, and was the largest circular industrial building in the world at the time of its construction in 1884. $6, adults, $4 kids, Mon-Sat 10-4, Sun 11-4.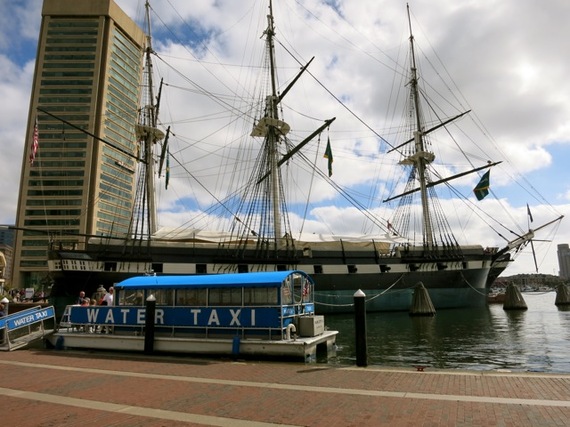 8. Take A Water Taxi. Ok, so it's not so unsung or quirky, but it is a must-do in Baltimore. Enjoy getting around the inner harbor for just $12 per day.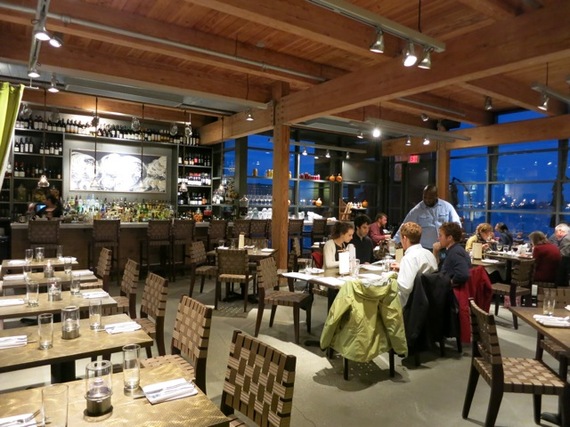 9. Have a meal at Waterfront Kitchen. In Fell's Point, this Spirited American cuisine restaurant doubles as training ground for at-risk kids and adults through the very successful Living Classroom. "Mission driven dining never tasted so good" owners boast, and how true it is. The food is outstanding. Eat well and feel good about the check: you're helping humanity in the yummiest way possible.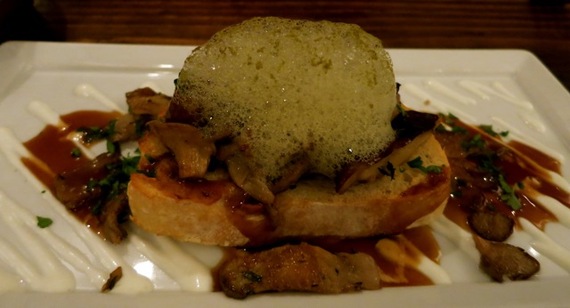 10. Visit John Water's old stomping grounds, the Hampden neighborhood for dinner or weekend brunch at The Food Market. Recently named one of Open Table's 2013 Top 100 Hot Spot Restaurants in the country, the menu is a witty mix of comfort foods, molecular gastronomy and unusual combinations of flavors, divided into "Little," "Small," "Big" and "In Between" categories. The Food Market elevates grazing to high art, compelling you to return to try everything you missed.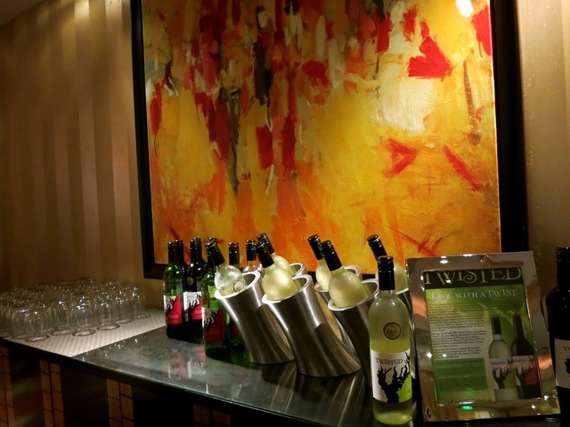 To optimize your "Offbeat" Baltimore visit, stay at the Baltimore Hotel Monaco, formerly the B&O Corporate Headquarters, just three blocks from the Inner Harbor. High ceiling guestrooms are perfect lairs for CEO's and those who like to travel like them. Rich blue leather headboards on Frette linen enrobed beds, red lacquer desks, Poupon-yellow leather walls in dark marble baths, the Monaco caters to lovers of the colorful. And here's an "offbeat" amenity: if you're lonely, staff will bring up a companion goldfish to keep you company. Rooms $179-$399, Majestic Suite, $1500. Includes complimentary hosted wine hour, use of bicycles, companion goldfish.
For more about what to do in Baltimore and other destinations from Virginia to Maine, check out GetawayMavens.com.