Wedding related stress is behind you (or, if you are with child, will soon be just beginning). Now is the time to take a breath and relax into each other, if only for a night or two. Sometimes it's tough to carve out a whole week or more, not to mention shell out a few months' salary, to celebrate your union (or your last days as a duo). The following are ten romantic destinations in the Northeastern U.S. for every kind of newlywed or nearly newlymom&dad. (For more on what to do in each destination, visit GetawayMavens.com).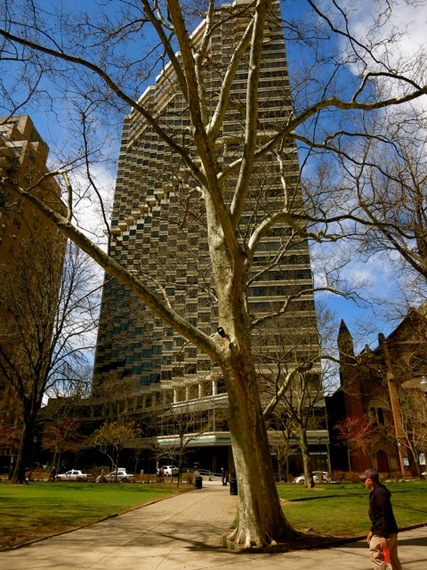 Rittenhouse Hotel, Philadelphia PA
$1500-$2000 weekend
Just emerging from a top to bottom renovation, this Five Diamond Hotel places just-married's right on Rittenhouse Square, perfectly positioned for a stroll in the park or taking on this arts-focused city. The new Library Bar; backlit bookshelves, black walls with black glass chandelier is a stunning and impressive place to sip a wake-up Cappuccino or before-dinner cocktail with your honey. Opt for a 650 or 857 sq. foot suite through the "Remarkable Rittenhouse Package," which gives you $100 credit towards the incomparable, in-house destination restaurant, Lacroix, where wunderkind chef Jon Cichon comes up with inventive dishes that are as aesthetically delightful as they are delectable. Pair this lovers getaway with a Mural Arts Tour - the Love Letter Train, which takes place on SEPTA's elevated railway on Saturdays 10:30, Sundays 1pm year round (rsvp required, $20 per person). Renowned artist Stephen Powers created fifty murals, like Berma Shave signs, that together form a love letter from a guy to a girl. Or walk around the corner to the Rosenbach Museum and Library to behold the love letters of Keats and other poets and writers in its extensive rare book collection. Park View King Suite "Remarkable Rittenhouse Package" $750 per night includes $100 towards Lacroix or Mary Cassatt Tea Room, complimentary wi-fi, coffee (in lobby from 5am-8am), overnight shoe-shine, morning delivery of newspaper of your choice.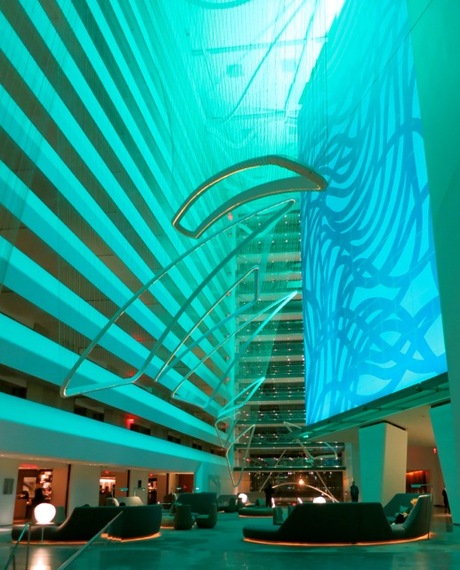 Conrad Hotel New York, Lower Manhattan, NY, NY
$500-$600 for one Quickie Evening
The new Conrad Hotel, a Modern Art knockout, is a perfect retreat for artsy, cutting-edge, city hounds. In the shadow of the new World Trade Center and a scant block from the Hudson River within view of the Statue of Liberty, the Conrad is surrounded by poignancy and beauty. Enter on the ground floor and what strikes you first is the 13-story blue and purple work of art by conceptual op-art genius, Sol LeWitt that looms over the Jetson's-era lobby of curvy couches and orb lamps. Ask for a river view, and you can spend entwined hours watching barges and boat traffic slip by Jersey City skyscrapers. In season, the hot rooftop bar, Loopy Doopy (named after the LeWitt lobby installation) serves up its own specialty, Prosecco & Ice Pops. Romance Package includes a one-of-Kind floral arrangement from BLOOM in-room upon arrival, bottle of champagne and chocolate-covered strawberries in your suite, continental breakfast-in-bed for two daily, late checkout until 2pm (based on availability) - $475-$525 for a King Superior Riverview suite.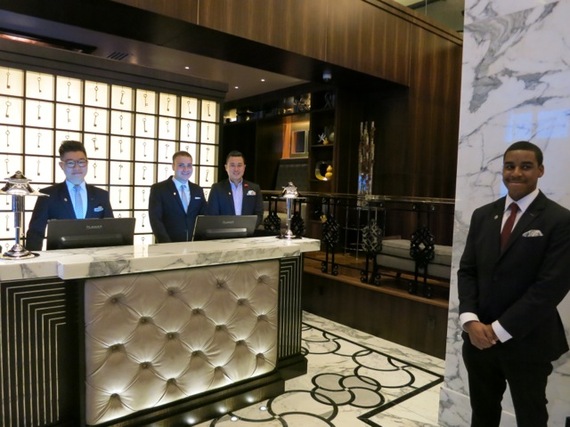 Westhouse Hotel, Midtown New York, NY
$1,500 and up for the weekend
Do you seek to impress, with the world of New York City at your feet? If money is no object, a stay at the Westhouse is as close as you're going to get on this list to having your own Fairy Godmother. Wish you had access to that hot celeb-magnet club? Granted. Wish you had VIP Tickets to NY Fashion Week? They're yours. Inspired by a grand 1920's Art Deco Townhouse and envisioned as a "home away from home," this member of Small Luxury Hotels of the World, fills a particular niche - that of the sophisticated traveler who craves exclusive, personalized service and is willing to pay for it. Exemplary service here goes beyond the passive "if there's anything I can do for you, just call" platitude, and into the realm of mind reading. Rooms $375-$1200 per night.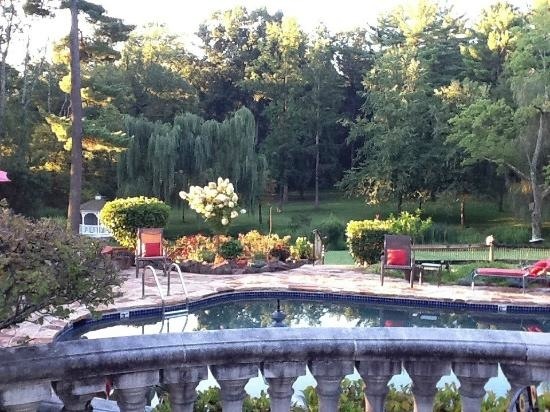 The Inn at Bowman's Hill, New Hope, PA
1 hour from NYC, 45 minutes from Philadelphia
$1,200-$2,000 for the weekend
A gorgeously landscaped 5-acre country estate on a mansion-studded lane, the Inn at Bowman's Hill makes spoiling its guests a priority. Four suites outfitted with spacious marble bathrooms sporting double and triple glass rain-showers, golden fixtures and Jacuzzi baths are larger than most NY City apartments. All four rooms and four suites are meticulously decorated in French Country style. On hot summer days, lounge by the pool with a blessed misting system that will keep you cool, with ice-cream (and pickles?) delivered at your beck and call. Arrange for an in-suite massage (given by professional therapists from a local doctor's office) to work the kinks out of your aching muscles. Some masseuses specialize in pre-natal massage, a sublime and pain-easing rubdown, rendering the Inn at Bowman's Hill the perfect Babymoon hideaway. Suites $505-$625 per night include gourmet breakfast (using straight-from-the-chicken eggs), free wi-fi, snacks, bottled water and parking, In-Room Massage $130 per hour, champagne and strawberries $70.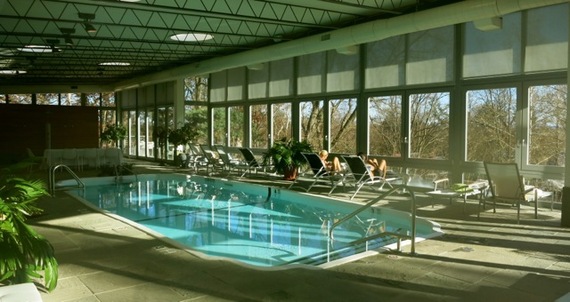 Buttermilk Falls Inn, Milton NY
1 ½ hours from New York City
$750-$2000 for the weekend
Featured on the National Geographic "Stay" list, Buttermilk Falls Inn, which juxtaposes renovated 1700's cottages with abstract contemporary buildings on 75 Hudson River acres, is the place for the Farm to Table bride and groom. An invigorating stroll (or snowshoe hike) around Buttermilk Falls Inn property rewards you with the pleasures of river and farm. Watch for four friendly Angora goats, five voguing llamas, three Alpacas and three cuddly miniature donkeys as well as a bunch of laying hens (fresh eggs in the morning!), beehives (creamy honey) and sizable organic garden on your way. Ask for the Romancing the Getaway Package, beginning at $595 (plus 10% tax) per couple, for two nights in a standard room, which includes charming accommodations, fresh flowers in your room, a complimentary bottle of Prosecco and a plate of chocolate covered strawberries upon arrival, along with multi-course, eggs-fresh-from-the-hen breakfast each morning and afternoon tea each day, and unlimited use of indoor pool, steam room & sauna located in the contemporary eco-friendly spa just steps away from your room.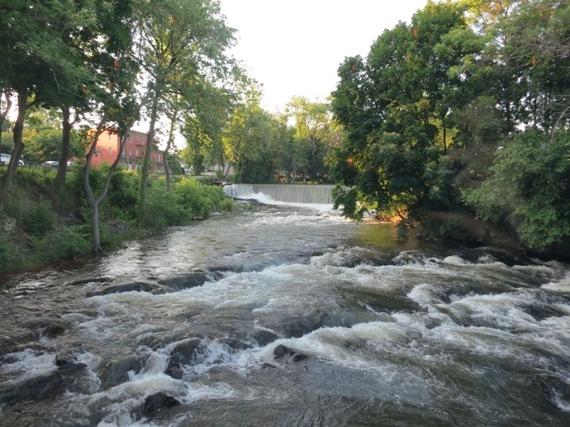 The Roundhouse At Beacon Falls, Beacon, NY
1 ½ Hours from New York City, Three Hours from Boston
$2000 for a Weekend
Most people come to Beacon, NY for the world class large-scale art installation museum, DIA:Beacon. But they stay for the sensational Roundhouse at Beacon Falls. In a repurposed dye-works factory, The Roundhouse, perched on Fishkill Creek, will impress creative spirits who appreciate contemporary accommodations in a low-key walkable Hudson River town. Ask for Room 101: this off-white, minimalist suite is built for a weekend of romance. Right outside its six windows, the raging boulder-strewn creek makes a dogleg turn, affording a view only outdone by diving into the water (not recommended). The spacious open bedroom-bathroom space with soaking tub and large exposed-stone rain shower is a fine place to celebrate a "Moon" of any kind. If you'd rather enjoy the falls from your private patio, reserve one of two Penthouse Suites; each with dramatic bath and hand blown glass lighting. Rates in Roundhouse begin at $289 for street view and $329 for falls-view. Penthouse suites and room 101, $669-$729.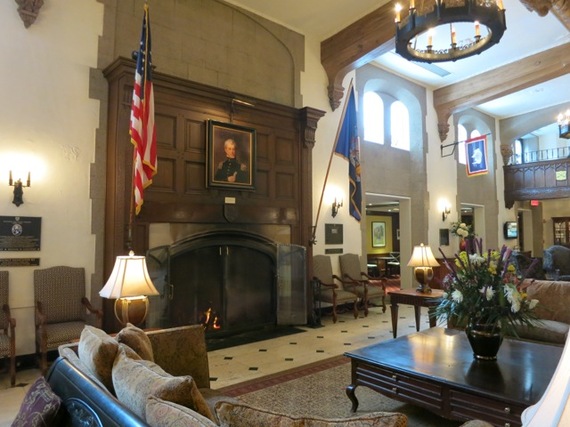 The Thayer Hotel, West Point, NY
One Hour from New York City
$600-$1000 for the weekend in Executive Suite
Perfect for the patriotic couple, the Thayer, perched like a fortress just inside the West Point Military Academy gate, allows past, present or future army officers - and curious civilians - the chance to bunk down in luxury. Several years ago, a group of West Point grads chose to purchase this hotel from the government, turning it into lodging that reflects the standards of the Academy. The effect is understated luxury and an upscale hotel experience. Stay in a room dedicated to an astronaut, a Major General or another West Point notable. On warm summer evenings, see boats ply the Hudson - or a wicked game of woman's softball - from your window. Newly renovated two-room Executive Suites are perfect for honeymooners. While here, take a one-hour bus tour of West Point Military Academy($14 per person) to learn about its history, traditions and graduates through engaging stories. Rates range from $119-$509 per night depending on room size and time of year.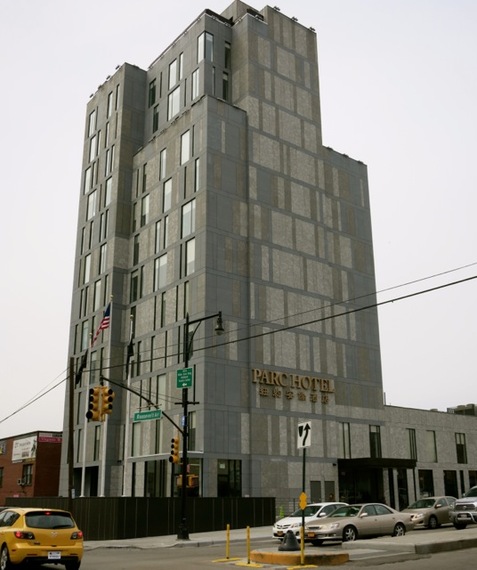 Parc Hotel, Flushing, NY
7 Subway from NYC - 20 Minutes
$250/night for King Studio
Do you want to honeymoon in China but don't have the time or bucks? This brand new 96-room boutique hotel, located on a strip occupied by car part shops and the Big Box Skyview Mall places you squarely in Asia. Overlooking LaGuardia Airport, planes fly so low, you can see their underbellies from the floor to ceiling windows in your streamlined, and yes, Zen-designed room. In wood and eggshell white, with an extremely comfy bed, flat screen TV, and pristine subway tile bathroom (with Bigalow Apothecary toiletries), guestrooms are a serene oasis from the frantic hustle and bustle of life just outside on Roosevelt and Main Streets, where street signs are both in English and Chinese. Some not even in English. Go for authentic Dim Sum, dumplings, noodles or hot pot cuisine in slew of restaurants a stone's throw from the hotel, and check out the newly renovated Queens Museum a mile away - it's Five Borough Panorama and 140 ft. steel Unisphere are New York icons. Rooms from $140, King Studio $250 per night.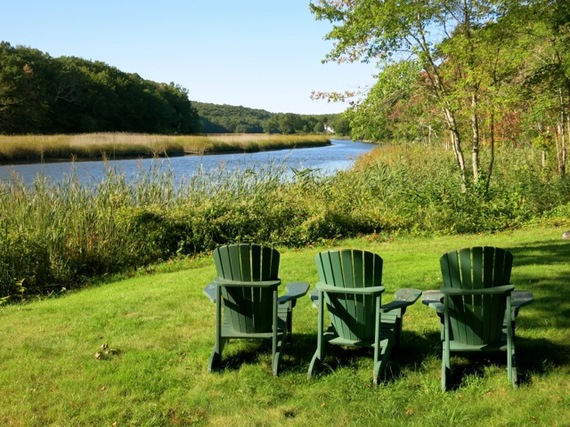 Bee and Thistle Inn, Old Lyme CT.
Two Hours from both New York City and Boston, MA
$800-$1200 for a weekend
Art history aficionados take note: Old Lyme CT is considered the birthplace of American Impressionism, and this charming luxury B&B sits right next door to the Florence Griswold Museum, the Old Lyme Art Association and down the street from the Lyme Academy of Fine Arts. Inn owners Linnea and David Rufo have befriended emerging artists of every medium, who pop in from time to time to visit their masterpieces, which are on display throughout this elegant and eclectic place. Outside, enjoy sunset on Adirondack chairs facing the same salt-marsh river that early impressionists painted. Rooms are plush and lovely with four-poster beds, wingback chairs and gas fireplaces. Ask for the Romance package: Two Nights Accommodations, Gourmet Breakfast each morning, Champagne and Chocolates Upon Arrival, One Hour Couples Massage, Dinner for Two at The Chestnut Grille and Two Passes to the Florence Griswold Museum.Midweek Package- $650, Weekend Package- $750 (does not include taxes)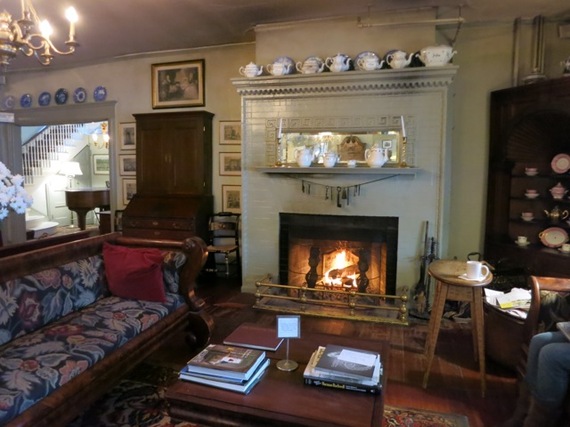 Red Lion Inn, Stockbridge MA
2 Hours from Boston, 2 ½ Hours from New York City
Rooms start at $99/night
It's a rambling old gal, with wide painted porches and sloping floors: the essence of American folksy hospitality. Norman Rockwell's painting of Main Street Stockbridge in winter depicts a dark Red Lion Inn, closed for the season. But now, winter is one of its most enchanting times of year, with snowfall and Christmas lights straight out of a Rockwell illustration, and if you decide to stay over on a Sunday night, you can book a recently updated country-styled room for $99. Do you have a pooch you loath to leave home? Bring him along, the Red Lion Inn is Pet friendly. Rooms start at $99 - $250.