Imagine a crackling fire, a fine glass of wine, a decadent meal, and no need to call for a taxi or grab your car keys. Your room is right upstairs. Who wants to go out in that raging blizzard or ferocious thunderstorm, anyway?
The weather inside's delightful at the following ten hotels, inns and B&B's renowned for stylish accommodations, excellent staff, and exceptional, innovative chefs who will see to it that you are fed -- body and soul.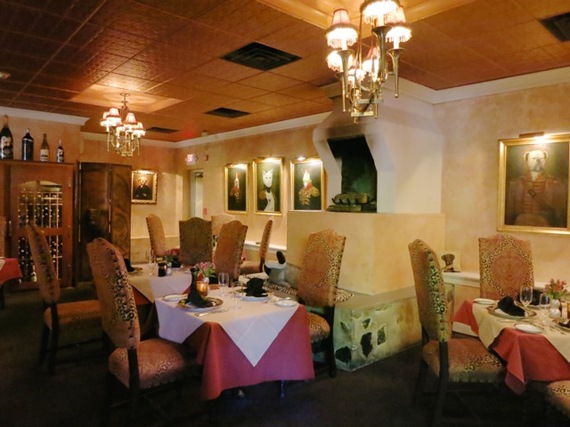 Inn @ Montchanin Village/ Krazy Kats
Montchanin, Delaware
Once housing the laborers who worked at the Hagley Powder Mills nearby, you can't help but feel a sense of irony as you meander down "Privy Lane" - original latrines line the street where upscale guest cottages now stand. The Inn at Montchanin Village maintains its historic value while providing seasoned travelers with the highest degree of service, amenities - and whimsy. Rooms are scattered throughout the property, so you might have to step outside for a few seconds, but it will be worth it for a meal at on-site Krazy Kats, the perfect example of clubby luxury that doesn't take itself too seriously (portraits of aristocratic cats and dogs line the walls). Known for wild game (e.g. Smoked Rabbit Chowder) and marvelous Crab Bisque, the chef does an expert job with Lamb Porterhouse, perfectly coated Caesar Salad, and flash-fried caramelized Brussels sprouts to die for. Afterwards, make a beeline to the main building and stunning "gathering room" where guests are free to read, enjoy a glass of wine (honor bar) or play board games in front of a huge fireplace. Rooms and suites at Inn at Montchanin Village from $192-$399 include free parking, wi-fi, coffee/tea and all the Hershey's Kisses you'll ever want.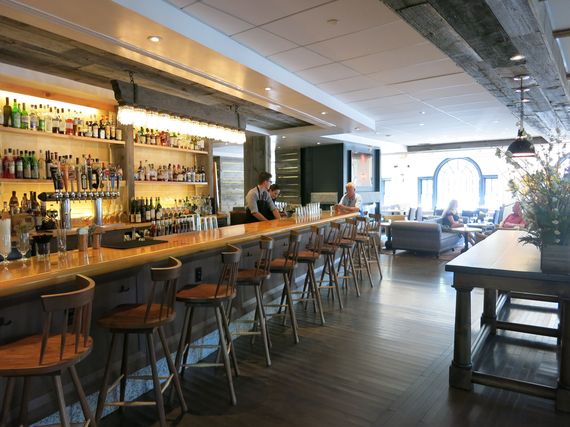 Hanover Inn/Pine Restaurant
Hanover, New Hampshire
A $43 million redo, completed in 2012, has updated The Hanover Inn to 21st century standards and style - a long way from its origins as a 1790 stagecoach stop. Rooms are now high-end, bright, and clad in local Pompanoosuc Mills furniture and down-the-road-neighbor Simon Pearce blown glass. Bathroom floors are composed of speckled grey polished granite and grey-veined marble. Hannover Inn's restaurant, Pine, has also been lightened up and modernized - and that includes a brand new Small and Big Plates menu expertly executed by Chef Justin Dain. Walls are covered in namesake planks of pinewood, reclaimed from a decayed campus barn, lending rustic flare to the cozy dining space. You can make a complete meal out of terrific starters like Homemade Sour Cream Potato Chips with Truffle and Onion Dip, Gnocci, and phenomenal Deviled Eggs, or dive into main dishes like Cauliflower "Steak," Slow Roasted Salmon, and Grilled Filet Mignon.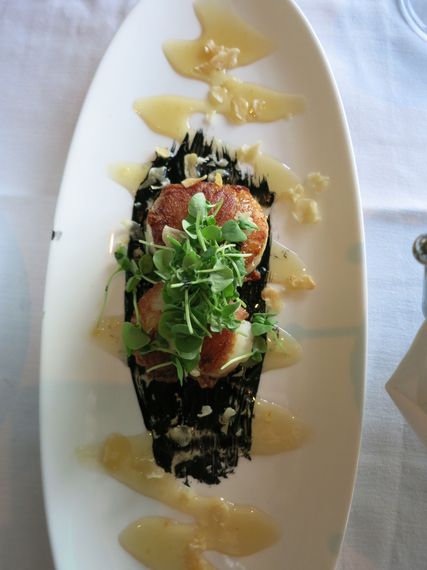 Wentworth By the Sea/Salt Kitchen and Bar
New Castle, NH
One of New Hampshire's last grand hotels, the 1874 Wentworth- a landmark in Victorian-era travel- was rebuilt as a flagship Marriott Hotel in 2003. As a full-service resort, rooms are luxe and come with a number of amenities and activities. The new in-house Salt Kitchen and Bar used to be a fusty dining room, but is now contemporary, crisp, and bright, retaining its original hand-painted domed mural. Dine on raved-about small plates like Handmade rustic Wood Oven Roasted Meatballs, light and ethereal Hand Rolled Gnocchi, Prosciutto Wrapped Maine Scallops, and lip-smacking Aragosta Flatbread with Caramelized Shallots, Lobster Cream, Lobster chunks and a tinge of honey - in essence, a Lobster Bisque pizza. Room rates start at $179 off season.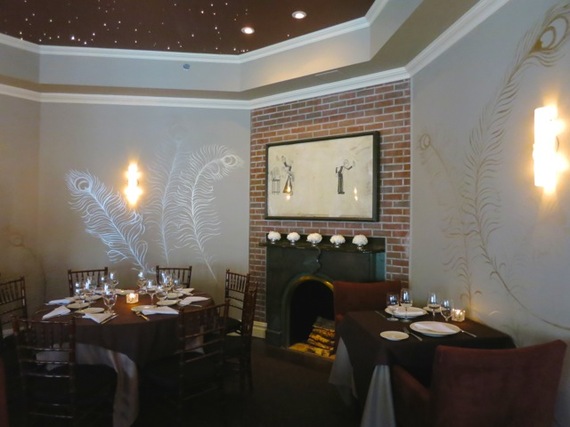 Peacock Inn
Princeton New Jersey
This 16-room Peacock Inn has been redesigned as the only boutique luxury lodging in Princeton. First opened in 1911, Albert Einstein stayed here while his house was being built in town, and F. Scott Fitzgerald, Ernest Hemmingway and other notables were purported to have raised more than one glass in the basement when it was a speakeasy during Prohibition. Rooms feature spa-retreat Asian-style bathrooms with stone tiles, multi-head rain shower and Molton Brown toiletries. Celebrated Chef Manuel Perez and his pastry chef wife, Cynthia, helm the exceptional restaurant. Dine surrounded by lavender and eggplant colored walls etched with peacocks, candles flickering, French music softly playing. Polished, anticipatory wait staff will offer recommendations to your liking, but do try the tasting menu. It might include astonishments, like silky Hudson Foie Gras Terrain ringed with Marmalade, Onion Soup - with a stamp of pureed caramelized onions over which sweet Vidalia Onion broth is poured, discs of crispy-soft Ricotta Gnocchi - in a bed of asparagus, sundried tomatoes and mushrooms, Organic Scottish Salmon "En Croute" - velvety fillets wrapped in the slightest hint of filo, and Sticky Toffee Date Cake to complete the meal. Rooms and Suites $200-$610 depending on season include full Continental breakfast, wi-fi, parking.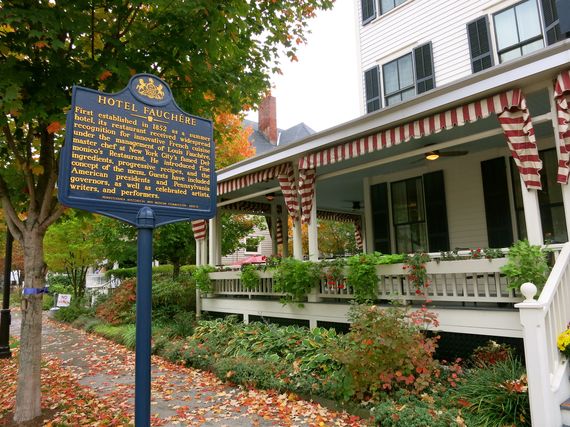 Hotel Fauchere/Bar Louis
Milford, PA
The 16-room Fauchere radiates cool from the moment you step onto the original black and white marble floor in the entry hall. Rooms here are simply elegant. In natural shades of browns and whites, floor to ceiling curtains, and tan jute carpeting, they are restful sanctuaries - in even the worst of weather. In the basement, Bar Louis is where the hep cats gather, deals are done, introductions are made - all within sight of Chris Makos's sassy photograph of Andy Warhol kissing John Lennon. It's a city-folk-visit-country crowd, dressed funky-smart as if going to an art opening. Dishes are adorably inventive: I'd return for the multi-textured-flavored signature Sushi Pizza and grilled Thai Ribs alone, but everything is tasty and perfect for sharing. Offseason (Jan-March), the hotel is open only on weekends, and rooms are deeply discounted. You can score a corner Deluxe Room for just $254 ($274 with tax) per night- which includes a gourmet fresh-baked Continental Breakfast, wi-fi and parking. Smaller, Superior Rooms start at $221 ($241 with tax) per night and affords you the same Relais and Chateaux standard of service as you'd receive during high season.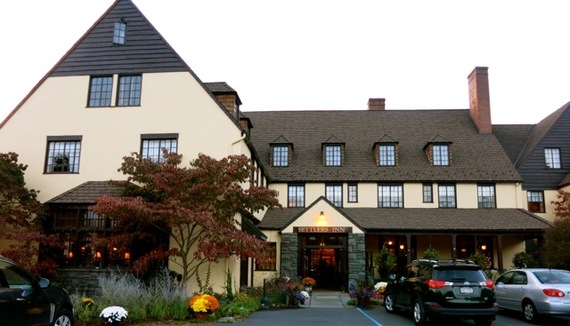 Settlers Inn
Hawley, PA
If you are a fan of the English Arts and Crafts movement, you'll love the Settler's Inn. Common areas, rooms and the excellent in-house restaurant are all dressed in Stickney-like finery - an unusual motif for a full-service boutique inn. Rooms and baths in tawny shades are up-to-date with flat-screen TV's, handsome duvets and dreamy high-count linens. Some have gas fireplaces, which of course can be put to good use when bad weather sets in. The downstairs restaurant is considered one of the best in the area. Produce and meat come from organic farmers nearby. You can't go wrong with the succulent signature Applewood local trout smoked right on site -along with Chicken Roulade and a nice glass of merlot. Room rates include a hot, made-to-order breakfast. I am still dreaming about the Smoked Salmon on Potato Gallet - a colorful amalgam of orange lox, white cream cheese, crispy potatoes and red caviar. Rooms from $160-$300 per night include gourmet breakfast.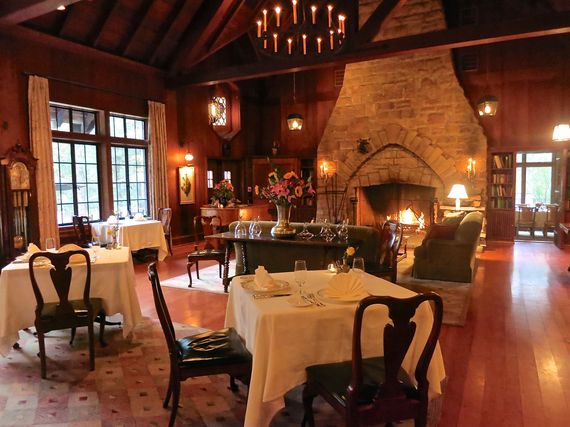 Lodge at Glendorn
Bradford, PA
Glendorn, built by the wealthy Dorn family in 1927 on 1600 acres for fly-fishing and grouse hunting, is now comprised of several luxury cottages and The "Big House" - part log cabin, part Swiss Chalet, part tree house and 100% exquisite: A hunting retreat as imagined by Cole Porter. The Dorn Suite features two fireplaces, and is particularly cozy in a snowstorm. Dinner begins with cocktails and hor d'oeuvres in a billiards room built for whisky and cigars after the hunt. So by the time you wander into the great room, massive fireplace aglow, you are primed for a transcendent meal. Executive Chef, Joe Schafter, seems to imbue seasonal ingredients with magical powers. The likes of Smoked Sturgeon and Veal Chops with Wild Mushroom Risotto are both beautifully plated and thrilling to eat. Rates from $525- $2,300 per night, (Dorn Suite $680 per night) includes $100 Resort Fee, gourmet breakfast, use of fly-fishing equipment, tennis rackets, access to trout streams, use of bikes, s'mores bonfires, and use of facilities.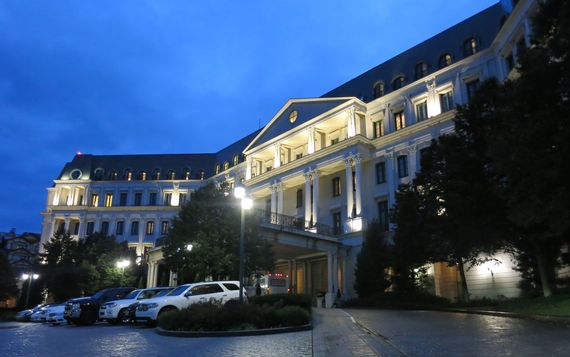 Nemacolin Woodlands Resort
Farmington, PA
This golf, spa, art museum, wildlife sanctuary, luxury dining and hotel resort on over 2,000 acres in western PA is as tough to define as it's easy to love. Nemacolin is a deliriously wacky, eccentric, extravagant, homey, friendly, fun whirlwind of a place, and should you be caught in a storm here, you'll have days upon days worth of things to do, and some of the best wine and food to keep you satisfied. There are two high-end hotels on the property - the Frank Lloyd Wright style Falling Rock has garnered both Forbes and AAA Five Diamond awards. At Falling Rock's in-house restaurant, Aqueous, Chef Mathew Gale presides over an excellent kitchen where the 48 oz. signature Tomahawk Ribeye is seared to perfection. Gale demonstrates talent with non-beef dishes as well - Elk Chops, "Veggie Meatloaf" and a wonderful Candied Salmon appetizer, among other innovative dishes. Chateau Lafayette, modeled after the Paris Ritz Hotel, is tastefully done in marble and crystal chandeliers - which extends to each elegant guestroom. In-house restaurant, Lautrec, highlights the best of Namacolin's 25,000-bottle wine cellar (21,000 stocked right now). You'll dine on contemporary, lighter French cuisine beneath the lithographs of famous French artists including Henri Toulouse Lautrec. Exceptional dining all around, Lautrec has also been awarded Five Stars by both Forbes and AAA. Chateau rooms start at $370 per night, Falling Rock at $510 per night.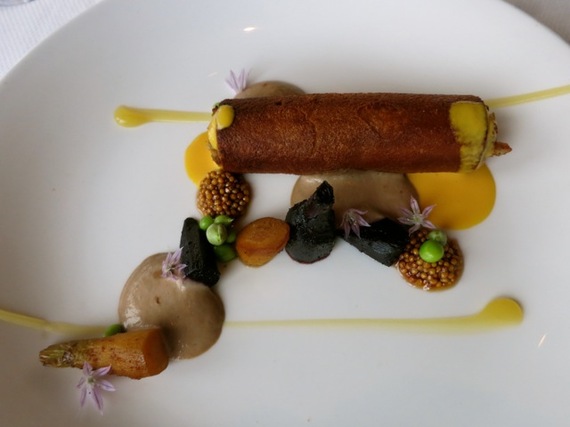 Castle Hill Inn
Newport, RI
Three miles removed from the madness of downtown, the Castle Hill Inn sits on headlands overlooking Narragansett Bay, making it the perfect vantage point to watch boat traffic coming in and out of Newport Harbor no matter what it's doing outside. Built as a Marine Laboratory and summer home for Swiss-born copper-mining tycoon, Alexander Agassiz, whose studies formed the basis for the modern science of Marine Biology, Castle Hill Inn encompasses both Agassiz's chalet-like house, his own lighthouse, and newly built beach cottages. In the off-season, opt for one of seven rooms in the Agassiz Mansion - you won't have to leave the premises for the some of the most inspired dining in Newport. The conservatory-like Dining Room offers stunning Narragansett Bay views to equal the food plated like Miro compositions. Dine on raved about signature Lobster Braised in Butter and Rabbit Confit "en croute." I went with the Salmon With Smoked Beats, which, just FYI, should remain on the locally sourced menu. Smoking, it turns out, is a fascinating and oddly delectable way to cure root vegetables. Offseason rooms start at $375 per night and include parking, wi-fi, full gourmet breakfast and guest-only afternoon tea.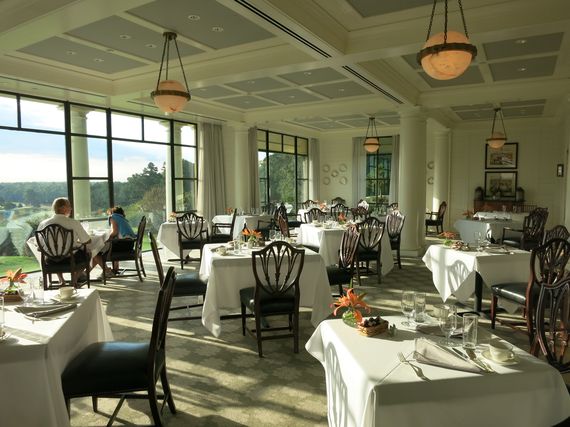 Keswick Hall
Charlottesville, VA
The Keswick Hall Resort encompasses 600 stunning acres where visitors can play golf on a celebrity designed Pete Dye golf course, lounge around a gorgeously set infinity pool, and dine on exceptional cuisine overlooking the links. But what makes Keswick Hall such a standout is its impeccable, personalized service that begins at the front door. Walk through the grand entrance into an inviting living room lobby, with affable, earnest hosts at antique desks ready to make your stay as wonderful as possible. You'll sit down and begin a dialog about your needs and wants. Personal and serene, it's more like a conversation with your own private concierge than a hotel check-in. Should the weather outside be frightful, this greeting warms you right up. Sit by the fire in the lobby, shoot pool in the billiards room or watch the snowfall from Fossett's - the in-house restaurant overlooking the exquisite golf course. And yes, cuisine lives up to the view. Fossett's was named for Edith Fossett, Thomas Jefferson's head cook at nearby Monticello, who was trained under a French Chef, and utilized local fish, game produce and cheese as her signature style, just as the restaurant does today. Room rates from $170 to $930 depending on size and season.