The stunning Rakia Reynolds, President of Philadelphia fashion-design incubator Skai Blue Media, sat on a small stage with Mary Wilson and a selection of Wilson's knock-out gowns from her Supreme's days.
"I am so star struck," Reynolds gushed, "to interview this legendary woman!"
"Oh, don't worry," Wilson, svelte, beautiful and dressed casually in black knit pants and jacket, said humbly. "It's just us girls."
Mary Wilson, second only to Diana Ross in name recognition when the topic turns to one of Motown's most profitable singing groups, is currently promoting her specially curated exhibit, "Come See About Me: The Mary Wilson Supremes Collection," which will be on display at the African American Museum in Philadelphia from January 25 - June 30, 2013. A showcase conceived by Wilson, who has by default become keeper of the Supreme's gowns (those she can find), this exhibit "brings to mind three little Black girls who dared to dream at a time when it was an impossible dream." Because Wilson's mother couldn't read or write, she wanted her daughter to escape from the projects by being the first in her family to go to college. Wilson managed to do much more.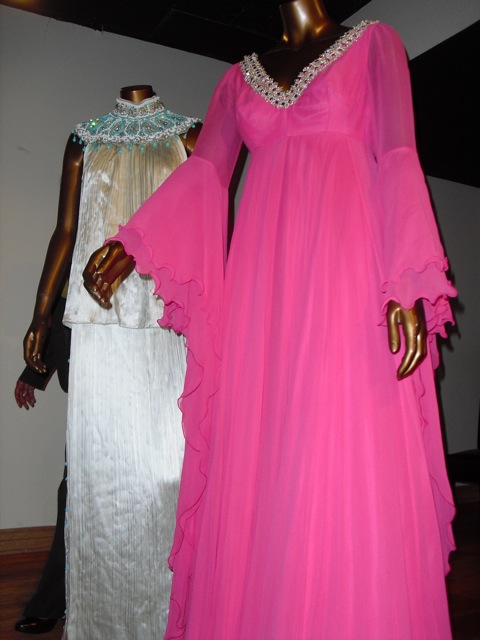 "I grew up listening to Lena Horn, Ethel Waters....glamorous women," Wilson began. "Even though we were poor, as kids, we dressed to the nines." By the time Wilson was tapped by Motown in the early 1960's at age 16 to become a Supreme, she was already dressing up. "We'd have our $5 pearls from Woolworths."
Bemoaning the unprofessionalism of our "reality star" era, and the "total collapse" of the recording industry, Wilson misses the dignified way she and her fellow Supremes were coached by specialists, like Maxine Powell, who emphasized grace, refinement and sophistication. "Ms. Powell told us, 'You girls are diamonds in the rough. Soon enough you'll be performing for Kings and Queens.' We were choreographed right down to our hand movements." Millions of Supremes fans who sing Stop in the Name of Love with its signature palm-out gesture has Maxine Powell to thank for it.
Berry Gordy, then the Grand Poobah of Motown, saw such promise in the girls he called in his best team of writers. "It was all about the talent," Wilson said. "We weren't trying to get out the projects, we just wanted to do what we did best. I was still living in the same apartment I grew up in when our first hit record started playing on the radio."
Gordy also invested in and fostered the careers of dress designers like Bob Mackie, Michael Travis and Pat Campano, who hand-stitched each sequin and bead on the most lavish gowns. "Back then, we traveled by bus. We had to; we had tons of hatboxes, trucks full of gowns and dresses. There wasn't enough space on an airplane for everything!"
At a time when Blacks were relegated to the back of the bus and separate water fountains, a troupe of glamorous and talented African American women on tour made world headlines.
"It was a tumultuous time in American history," Wilson said. "We gave a face to the Civil Rights struggle, and helped the world embrace Black culture. The music was an ambassador for bringing people together."
Plan to visit Philly in early 2013 to see thirty of the most glamorous gowns in R&B history, each with its own back-story.
There's one with the "baby bump" that Wilson wore while pregnant, the Bob Mackie black velvet number - voluminous sleeves covered in paisley patterned gold and pearl beads, the pink chiffon gown Wilson claims as her "least favorite" and twenty-seven other singular designs that have indeed graced three Black girls from the projects as they preformed for Kings and Queens and, of course, for the rest of us.
"Come See About Me," The Mary Wilson Supremes Collection, in cooperation with Blair-Murrah Exhibitions and presented by PNC Arts Alive will be on display from late January through June 2013.