I may have been the envy of a billion Indians when I met President Obama recently in Los Angeles, even more so when I met him a second time at the White House Correspondents Dinner -- but who am I to gloat?
No matter how the approval polls waver in the U.S., the American president continues to be a rock-star in the rest of the world. I try my best to understand the opposition to him here stateside as well as of those people who promote conspiracy theories about him, and to acquaint myself more with his politics I recently visited a site called WhatTheFuckHasObamaDoneSoFar.com and thought to myself, "Wassup with you people??" It's all there. The guy's done a good amount of work. Imagine how much more he could do without obstructionism!
When I asked an American friend recently if they thought there was any way Obama would lose his bid for reelection, she quipped, "No way. There's no one that can beat him. And besides, we gave Bush 8 years to wreck the country the least we can do is give Obama a second term to continue to fix it."
My country, India, may be the world's largest democracy (with a hella lot more than 2 political parties that gain seats in government -- even a democratically elected communist state government!) but we are not without our problems. There's been a fair amount of news in India lately about corruption issues, so much so that a politician named Anna Hazare recently became a hero for "pulling a Gandhi" and publicly fasting until anti-corruption legislation got fast-tracked. Millions of people stood behind him and his efforts got results.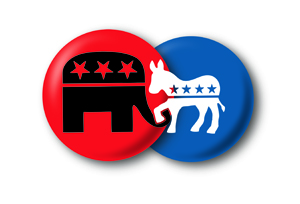 Russell Simmons, my friend otherwise known as the "CEO of Hip-Hop" and a political activist, best-selling author, philanthropist and practicing yogi, has also been supporting my upcoming (and first all-American) film, Politics of Love (formerly Love, Barack), I think mainly because of it's even-handed but hard-hitting political message wrapped up in a fun rom-com. Even our film's logo is all about working together for the common good: an elephant holding hands with a donkey!
Besides an amazing cast that includes the great Loretta Devine, the legendary Ruby Dee, hottie Brian White, profane Gerry Bednob and yours truly, I'm told it's the first film where a Republican falls in love with a Democrat, and also the first film with a black Republican lead character. Well, just the logline gives you an idea:
Politics makes strange bedfellows, but never stranger than when a month before the 2008 U.S. Presidential election, a sexy, savvy, African-American conservative reluctantly falls for his Republican counterpart: a beautiful, Indian-American local Obama volunteer coordinator. Sparks fly, tempers flare, heads turn, and romance blossoms for this mismatched pair of campaigners in the frantic and intoxicating days leading up to Election Day. Can the politics of love conquer all?
Well... Can they? As the election season really starts to heat up here, I guess we'll have to wait and see... Codeblack Entertainment releases the film later this summer. If you're into rom-coms, politics, scandals, or you just happen to be Bi(partisan;), it might be your thing. I dare ya.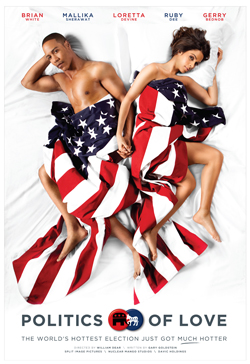 I've said it before and I'll say it again: Some have noted that there would be no Obama without Martin Luther King, Jr.. And many realize there would have been no MLK without Gandhi. He went to India and studied non-cooperation and non-violence with Gandhi's disciples. And MLK was Republican, too! See, we're not so different, after all! I truly believe whether we're talking nationally or internationally, "united we stand, divided we fall."