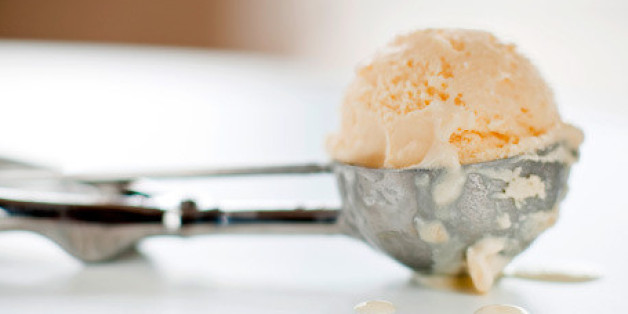 My mother hailed from Nashville, Tenn. I spent many childhood summer vacations there visiting my grandmother. During my stays in Nashville, I learned about family values, and also about the unique way of life in the Southeastern U.S., including the marvels of Southern cuisine. Southern food, how do I love thee? Let me count the ways, especially one.
I've always been an aficionado of ice cream. My trips to Nashville allowed me to indulge in the unique delight of homemade peach ice cream. If you haven't tried it, put it on your bucket list now. Much of the peach ice cream that I got to enjoy as a child was done in hand-cranked White Mountain ice cream makers. I observed the science and art of producing optimal peach ice cream with the same zeal that I felt many years later while attending a seminar on how to make quiche, given by Julia Child. Following is what I learned about gastronomy, family values, and life while making homemade peach ice cream during those warm summer days in Nashville.
1. Use the best ingredients possible. Stellar cooks can make do with a few unspectacular ingredients; but they need top-notch ingredients to make sublime dishes. Skimping on the core ingredients rarely gets any cook far in the kitchen; or in many other aspects of life. Superior results are rarely the product of short cuts, or avoiding effort.
2. Focus on the fundamentals. True experts of any discipline in life are Jedi Masters of the fundamentals of their area of competence. Peaches are the essence of peach ice cream. Select fragrant, properly ripened and, above all, juicy peaches. Before you set out to make peach ice cream, make sure that the peaches are full of flavor and juice. Dry or mealy peaches make very poor ice cream.
3. Excess is rarely positive, but it is acceptable when it comes to homemade peach ice cream. Increase the cream to milk ratio as high as your palate appreciates milk fat. An all cream-no milk edition is not unthinkable. Go ahead. How often will you get make this? It's OK to allow yourself some indulgence once in a while.
4. Childlike enjoyment is the "secret sauce" of a well-lived life. Together with eating peanut butter out of the jar, licking the dasher of an ice cream maker is one of life's great gastronomic pleasures. It's messy. It's fun. And, it should be the reward for the person who did most of the cranking. Never let go of your childlike wonderment at everything in life.
5. "Goodness," not "the devil," is in the details. Figure out what you need to do. Then focus on the essential details. Repeat. Elements of success: optimal peaches, cream, sugar, ice and rock salt. Sounds simple? Practice makes perfect. Beware of how you dispose of the brine!
6. You may seek satisfaction in any corner of the world, but there is no place like home. In Paris, there is Berthillon (I highly recommend their Fig, Caramel or Pear flavors.) In Buenos Aires, there is Freddo (imagine various varieties of dulce de leche ice cream!) Chef Alain Ducasse served a peppercorn ice cream in his first New York restaurant. Wonderful these, and many others, may be; but none compares to homemade.
7. Someone else might craft the ice cream just as well, but making it yourself adds to the enjoyment. There is always more love in anything homemade. I'd take my mother's or grandmother's cooking over any other food, no matter how exquisite it may be. Sorry, five-star chefs of the world.
8. It may be a psychological mirage, but hand-cranked homemade ice cream tastes better. It's better than any made with the exact same process, but using a motorized ice cream maker. There's just something about the texture of hand-cranked. Call me fanatical.
9. I still have something to learn about making homemade ice cream: how to "pack" it well. This is the process of letting the ice cream harden in the brine. There is always something left to learn.
10. Sharing food with family is indescribably important. Cooking food with family, and then consuming it together, is my definition of happiness. Families who break bread together, stay together. Well-adjusted children often come from families who spend much "quality-time" together. In the movie The Godfather, the character Don Corleone says: "Tell me, do you spend time with your family?... Because a man who doesn't spend time with his family can never be a real man." Correct. Spending time with family while hand-cranking homemade peach ice cream: priceless.