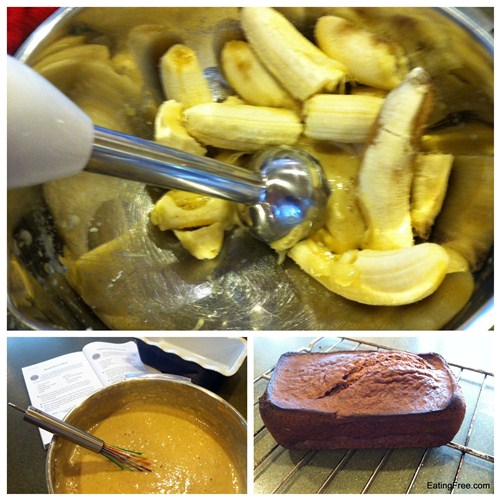 Para el día de Acción de Gracias prepara este queque de plátano que es uno de mis queques favoritos. Al sustituir el azúcar por miel de agave y el aceite por puré de manzana, vas a poder disfrutar un queque con menos grasa y azúcar y sin culpa. Pero a si sea bajo en azúcar o grasa siempre mide tus porciones. ¡A sus hijos les encantará este queque tan sabroso también!
3 plátanos maduros medianos
1/2 taza de néctar de agave
1/2 taza de puré de manzana
1 cucharadita de extracto de vainilla
2 huevos, crudos
1 cucharadita de bicarbonato de sodio
1 cucharadita de polvo para hornear
1 cucharadita de sal
2 tazas de harina
1. Precaliente el horno a 160 grados C. Coloque los plátanos en un tazón grande y hágalos puré con una batidora eléctrica. Añada el néctar de agave y dejar reposar durante 15 minutos. Nota: Debido a que el néctar de agave tiene un índice glucémico más bajo que el azúcar, por eso se utiliza menos de néctar de agave y se pone marrón más pronto, por eso el queque se hornea a una temperatura inferior durante un tiempo más prolongado.
2. Añadir el puré de manzana y los huevos y bata bien. Agregar los ingredientes restantes y mezcla bien. Vierta la mezcla en un molde de hornear de 23 cm x 13 cm. Rosee con aerosol de aceite vegetal el molde. Hornear durante unos 75 minutos, o hasta que un palillo de madera insertado en el centro del queque salga limpio. Nota: Cada horno es diferente, así que el tiempo total de cocción puede variar. Utilice un palillo de dientes a los 60 minutos para comprobar la cocción del queque.
3. Retire del horno y deje reposar por 10 minutos antes de sacarlo del molde. Dejar enfriar sobre una rejilla.
Calorías por rodaja (74g) 120, Grasa: 1g, Proteína: 3g, Carbohidratos 26g, Fibra 1g, Azúcar 12 g

Receta obtenida del libro: Eating Free: The Carb-Friendly Way to Lose Inches, Embrace Your Hunger, and Keep Weight Off for Good
Mira qué opinan otros y deja tu comentario aquí
Manuel Villacorta es un galardonado dietista registrado y reconocido a nivel nacional como un experto en nutrición y pérdida peso. Es el fundador de su práctica privada, MV Nutrición, un centro de pérdida de peso premiada como la mejor en San Francisco, California. Él es portavoz nacional de la Academia de Nutrición y Dietética y el creador del programa de Comer con Libertad. Manuel es el autor de su nuevo libro Eating Free: The Carb Friendly Way to Lose Inches, Embrace Your Hunger, and Keep Weight Off for Good!