It's been four years since comedian-turned-commercial-filmmaker Jordan Brady used the low-budget documentary I Am Comic to give us a glimpse of what the world of stand-up looks like from the inside. Chronicling the return to the live comedy stage by Ritch Shydner, who had settled into the more sedentary life of a writer, the movie made us privy to the pain and difficulty of performing at one-nighter gigs in rundown bars and comedy clubs, many of which had seen better days in the hallowed "comedy boom" of the 1980s to mid-90s.
Now Brady's back, with a follow-up film inspired by some of the elements of the first. I Am Road Comic dives deeper into the rough and ready "trial by fire" that awaits the comic -- wary and unwary alike -- when they venture out to play "the road".
The core of the movie is centered on a single weekend gig that takes place at Jack Didley's, a club in Kennewick, Washington. Located in Eastern Washington's Tri-Cities area, Jack Didley's is a nightclub that sometimes features comedy but it's clearly not a comedy club per se. (In a city of 75,000, it's probably hard to get by featuring just one kind of entertainment.)
As a central subject to follow, Brady makes himself the guinea pig. Shaking off the mothballs - mostly directing TV commercials these days, it's been 20 years since he did standup on a regular basis -- he plops himself in the middle of a three-act bill featuring veteran Wayne Federman as the headliner and relative newcomer Seth Milstein from Eugene, Oregon, as the show's opener.
As the story unspools, it's not so much the show on stage that's the focus here, but the day-to-day life of being on the road. Living in motels (and sharing a room, as Brady and Milstein do.) Eating on the cheap (free motel breakfasts, swiped yogurt from the free breakfast hoarded for lunch, then a free meal at the club.) And dealing with an audience that may not get your urbane references.
Most road gig club owners want to do the minimum to make things happen. A microphone and a stage with a few lights should be sufficient. In I Am Road Comic, headliner Federman requests a piano which, in most fulltime comedy venues, are often standard equipment. Brady is able to round one up but not without first being turned down flat by a music store right down the block who doesn't like how rough things can get at Jack Didley's.
Surrounding the gig at the center of the documentary is a fleet of interviews with comedians who will, for the most part, be familiar with many viewers. These are primarily performers who have made a name for themselves in movies, television, or -- as is becoming the comedian's medium of choice, it seems -- podcasting.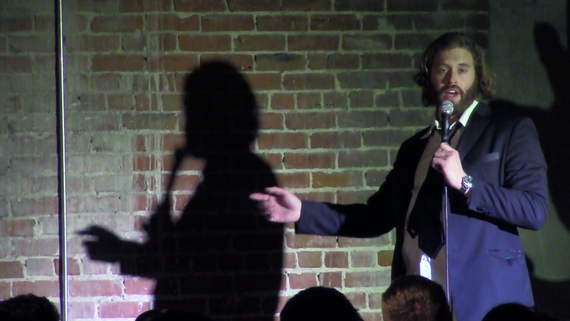 Comedian T.J. Miller is one of the acts interviewed for "I Am Road Comic"
T.J. Miller (Transformers: Age of Extinction, Silicon Valley), Marc Maron (Maron, WTF Podcast), Pete Holmes (You Made It Weird podcast), Alonzo Bodden (winner of Last Comic Standing), Maria Bamford (The Special Special Special, Arrested Development), W. Kamau Bell (Totally Biased), Doug Benson (Doug Loves Movies podcast, Getting Doug With High) and many other comedians relate their tales of life on the road. They talk about accommodations, food, travel, sex, and many other elements that can make a career on the road a living hell.
What makes these particular comedians of interest is that they are still getting themselves booked into the gigs that take them far from home. We learn that some enjoy the solitude. It may give them the chance to write new material. Or just golf. Others use the road to sharpen their acts against the diverse sensibilities found around the country. After all, a joke that kills in Hollywood or Manhattan may not tickle many funny bones out in the nation's hinterlands.
One shared element that becomes evident from most every comedian interviewed is how vital working the road can be in developing a standup comedy act. Once you get your jokes working in front of audiences in clubs across the country, both the material and the confidence on stage goes up exponentially.
This is summed up wistfully toward the end of the film by rookie Milstein, who has been performing for only three years. As Brady and Federman drop him at the Greyhound station for the 322-mile bus ride home, he relates that he feels like he's finally arrived. That he is, now, a "real comedian."
The documentary may feel a little too "inside comedy" to some people. Those who can't distinguish between an act shaped for the road and one geared for TV, for example. But for the humor aficionado, comedy nerd, or anyone curious to see what makes these performers tick, this movie is both eye-opening and entertaining.
Although the film has yet to find a distributor, Brady is making it available for download from the I Am Road Comic website , following the self-distribution model pioneered by comedian Louis CK and many others since.
--
Marc Hershon is host and executive producer of Succotash, the Comedy Podcast Podcast.