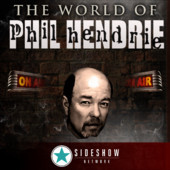 What's so new about The New Phil Hendrie Show, especially if it's already up to Episode 157 as of Monday this past week? The fact is that Hendrie is now a podcaster as opposed to being a broadcaster, which he was since 1973 when he got his first terrestrial radio gig outside Orlando, Florida.
For the past couple of years, he's been slicing and dicing the archives of his famed broadcast into podcast-sized pieces but, as of March, he's washed his hands of the flagging radio biz.
Now he does a morning podcast Monday through Friday, joined by the cast of crazy characters that used to interact with live callers on the air. Folks like Margaret Gray, General Shaw, David G. Hall, and Jay Santos now spend most of their time getting in Phil's way, it seems, as he tries his best to get through news stories of the day.
In this edition, Hendrie sounded off about last week's firing of Anthony Santos from the Opie & Anthony Show on Sirius XM, offering some suggestions how Opie could survive by going it alone.
Santos, of the Citizen's Auxiliary Police, called in to comment on a recent TSA ruling about confiscating cell phones and laptops with dead batteries -- but an odd speech impediment kept him from delving too deeply into the subject.
And Don Burman from Channel 19 News called in from Disneyland but was being hassled by people in the park for being a 40-year-old man standing alone and wearing Mickey Mouse ears.
While I miss the fun of Phil bamboozling unsuspecting callers with his amazing ability to be many people at once, the formula works well in this new format, too.