Grabbing Lunch with Matt Knudsen
Epi 52 w/guests Helen Slater & Rob Watzke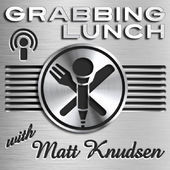 Eschewing a cardinal unspoken rule of traditional radio, "Thou shalt not eat on the air," Grabbing Lunch's Matt Knudsen tucks into the midday meal at different restaurants and chats amidst the clatter of tableware and the chatter of nearby diners. Joining the comedian/actor this week to celebrate a year of talking with his mouth full is actress Helen Slater (City Slickers, Supergirl) and her husband, editor and improvisor Rob Watzke.
Rather than an interview per se, this feels like a true lunchtime chat that unfurls very naturally.
During the course of the chat, we learn that Slater is a self-taught musician who can't read music but writes original compositions all the same; that Knudsen was a merchant marine who landed in LA to pursue his career with no prior standup experience whatsoever; and even what horchata is -- a rice-based beverage that Watzke proclaims tastes exactly like rice pudding.
It takes a few minutes to tune out the hustle and bustle of the audio activity going on around the conversation, at which point you feel like you're at the table. (Interviewing host Knudsen at the recent Los Angeles Podcast Festival, he told me that he's heard from fans that they like to listen to his show while they're eating lunch.)
Bon apetit!
Picking Favorites
Epi 2: Cranking the Dish with Adam Baldwin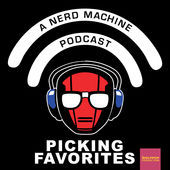 The advent of the Wolfpop Network last week has inundated Podcastland with not just a baker's dozen of new shows, but of a bunch of new hosts as well. Picking Favorites is a product from The Nerd Machine, and features founders Zachary Levi (Chuck) and David Coleman, Tyler Labine (Deadbeat, Tucker & Dale vs Evil) and comic Razzle Dangerously.
The premise is that "everybody has a favorite something something" and this show chats up what those things are for the hosts and their guest. This second outing features Levi's Chuck co-star Adam Baldwin (The Last Ship, Firefly) and the trio of topics the gang covers: Their favorite Mel Brooks movie, guilty pleasure movie, and favorite 80's band.
This chatfest (as their homesite calls it) is a fun listen even though, with five guys in the room, it take awhile to figure out who's who. As a listener, you kind of get to play along, too -- with five chances that someone on the show is going to hit your favorite no matter what the subject matter might be.
--
Also listening to: Affirmation Nation Epi 204: Nate Corddry & Jason Mantzoukas; and The Bugle Epi 278: Spacecats -The Search for Merch.
--
This review originally posted as part of This Week In Comedy Podcasts on Splitsider.com. Marc Hershon is host and executive producer of Succotash, the Comedy Podcast Podcast.